The Haircare Ingredients You Need If You Want Volume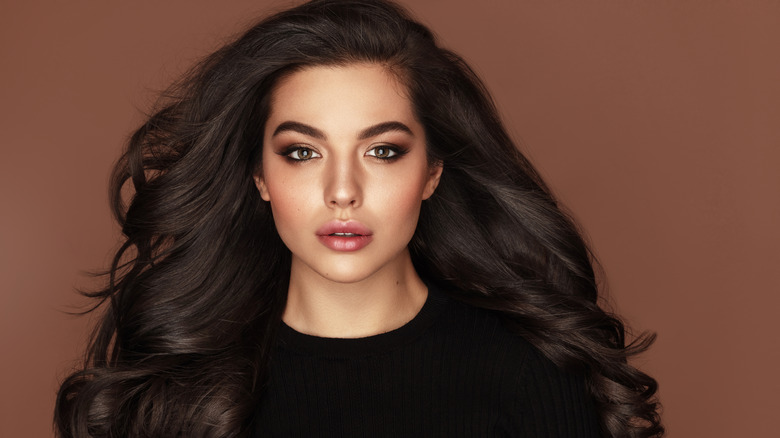 Shutterstock
Keeping your hair from going flat in the humid conditions that summer brings can be quite the challenge if you have fine, straight hair. That's why it's important to first understand your hair type and why this happens. Celebrity hairstylist Michelle O'Conner told makeup.com, "Humidity in the air changes the way that the protein bundles are configured and can break them down." O'Conner added, "The more curly the hair is naturally, the more frizzy it will become, whereas straight hair can turn limp and lifeless."
According to O'Conner, this is because fine hair strands are more flexible than thicker strands. So fine hair tends to get weighed down by humidity, which causes a flat head. Tackling this issue involves finding the right ingredients to boost hair volume, but it can seem confusing to narrow down the ingredients you specifically need. Luckily, there's plenty of natural ingredients and reasonably-priced products that are proven remedies for flat hair.
Use ingredients that improve scalp health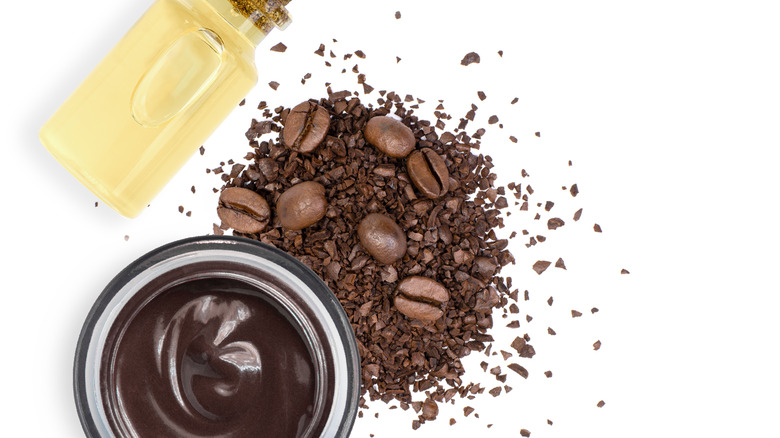 Shutterstock
Dermatologist/scalp specialist Francesca Fusco recommended the Clear Scalp and Hair Therapy Volumizing Root Boost line to Glamour, saying, "Ingredients like vitamins B5, C, E, and sunflower, almond, soybean, and coconut oils all help add volume and body, but you also want your shampoo to clean the residue that weighs down hair." One promising ingredient that Redken and L'Oreal Paris are including in their products is filloxane, a thickener that penetrates the hair shaft and volumizes the strand from the inside. If you are experiencing hair loss, this ingredient that perks you up in the morning could also help your hair follicles perk up as well — caffeine. 
According to Healthline, studies have found that caffeine can hinder the effects from dihydrotestosterone (DHT). DHT is a sex hormone, which in excess, can damage hair follicles and lead to balding. Caffeine is also a stimulant, and can therefore stimulate blood circulation to the hair follicles. The end result — hair can grow faster and stronger, which creates fuller, thicker hair. Healthline suggests massaging coffee grounds into your scalp. However, if you want a less messy option to apply caffeine to your scalp, you can also try The Inkey List Caffeine Stimulating Scalp Treatment. The Inkey List also carries a treatment to help boost the volume of hair strands — the Peptide Volumizing Hair Treatment, which contains peptides that can boost the thickness and volume of hair strands.
Surprising ingredients that can boost volume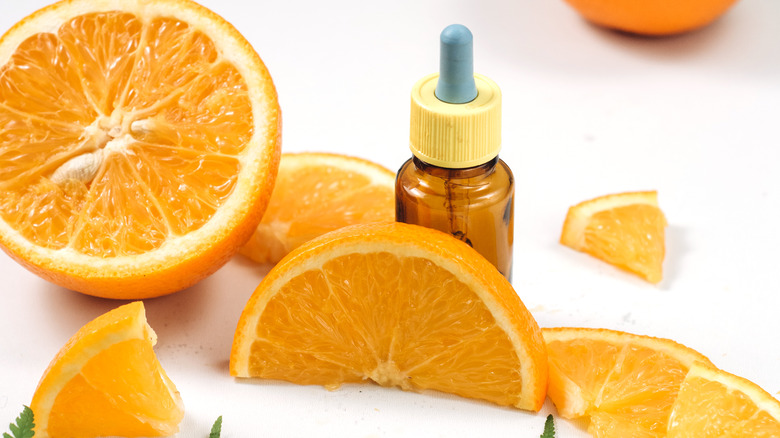 Shutterstock
Sea salt adds volume to your hair, which causes those wavy locks when you go to the beach (via Hello Glow). To mimic this look, you can look for texturizing sprays like Not Your Mother's Beach Babe Texturizing Sea Salt Spray. Applying cornstarch to your scalp can act like a dry shampoo and volumizing powder, as it absorbs excess oil and refreshes the scalp. According to Medical News Today, orange puree is a natural ingredient that could help lift your roots. Often times, leftover residue from hair products and the oils from your scalp can cause build-up, which can inhibit hair growth. The citric acid in oranges helps dissolve the build-up and cleans your scalp in the process. Medical News Today recommends juicing a few oranges and working the puree into your scalp and hair as a pre-wash treatment for shiny, voluminous hair. 
There's another more surprising ingredient you can use to volumize your hair and it's one you might also enjoy during happy hour — beer (via Femina India). Beer can give you voluminous, shiny hair that's frizz-free. That's because the minerals in beer can help absorb excess oil, which will help increase volume and leave a shiny, silky finish to the hair. Just rinse your hair with flat beer and massage it into the scalp. Let the treatment soak by putting your hair in a shower cap for 10 minutes before rinsing it out. Cheers to a blowout look without the cost of the salon!