The Internet Can't Stop Talking About Lil Nas X's Racy BET Awards Performance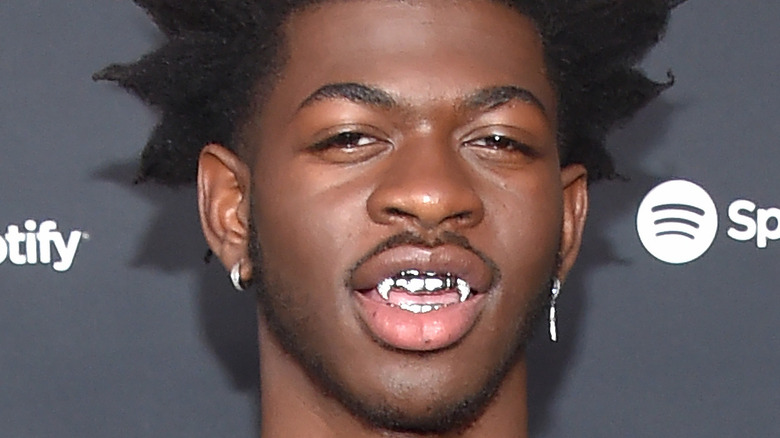 Shutterstock
The 2021 BET Awards were held on Sunday, June 27, and the night delivered many memorable moments. Among them was Lil Nas X's performance of his hit song "Montero (Call Me By Your Name)." The young rapper-singer previously made headlines after coming out as gay, and his live performances always spark conversation.
"Montero" is Lil Nas X's first song after his coming out in 2019 to feature explicitly queer lyrics, and the song's music video made it clear that the "Old Town Road" singer will never live in the shadows again (via Slate). It's important for queer people to be themselves, so this growth for Lil Nas X is incredibly important, and it's also important for young queer people to see themselves represented in the media. 
According to NPR, "Montero" has done just that. University of Virignia professor and author Ashon Crawley writes for the outlet that this song has helped him feel seen and helped him understand himself and his place in society. "What is so striking about the song, the video and the running commentary he has offered through social media is how Lil Nas X works with, really metabolizes and thinks with, fear," he writes, explaining that Lil Nas X pushes back on traditional ideas of fear in relation to queerness. 
The international star is helping queer people feel seen and helping them process their own feelings, which is really magical.
The kiss that sparked a thousand tweets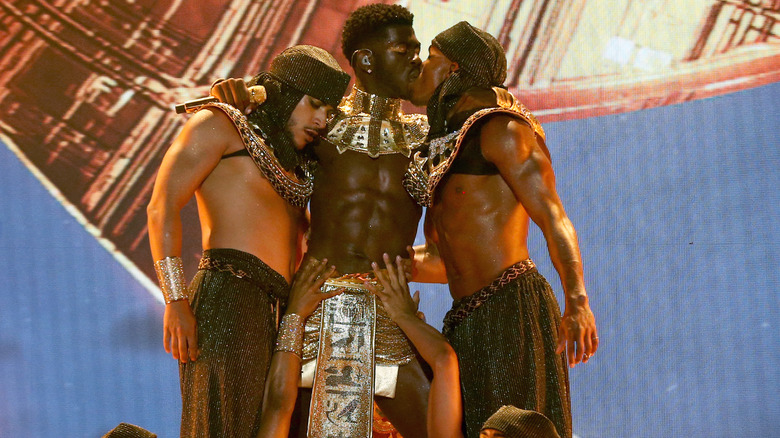 Bennett Raglin/Getty Images
Lil Nas X came out as gay on the final day of 2019's Pride Month (via Pitchfork), and now that the singer is free to be himself, he's celebrating Pride Month by pushing boundaries in his award show performances. At the 2021 BET Awards, Lil Nas X performed his queer anthem "Montero (Call Me By Your Name)" with a group of backup dancers, which ended up with the "Old Town Road" singer kissing another man as one final statement (via People).
The combination of the kiss, the performance itself, and the song's existing lyrics and connotations made people around the world ecstatic — and feel seen. Naturally, it created a Twitter moment to which people flocked to comment on it, and this moment also noted that Lil Nas X paid homage to Michael Jackson's "Remember the Time" dance break. This homage was another layer of greatness in this performance that elevated it to legendary status.
Fans everywhere took to social media to share their love and thoughts. "I'm glad Lil Nas X did that kiss at the end. So many needed to see that for different reasons," one user tweeted, while another commented, "Lil Nas X swallowed that young brotha's whole tongue on live TV. I love that for him." 
Others commented on Lil Nas X's ability to ignite conversations with everything he does, with one fan tweeting, "One thing about Lil Nas X, he gone break the internet." Ultimately, this performance was spectacular, and we see why everyone is talking about it.