Why Twitter Can't Stop Talking About Megan Thee Stallion's BET Awards Performance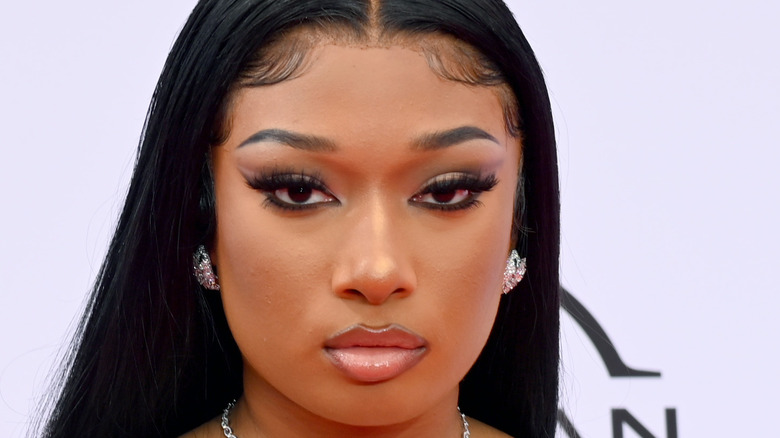 Paras Griffin/Getty Images
Megan Thee Stallion just proved that hot girl summer is headed for a sequel after her stunning performance at this year's BET Awards, seen on YouTube. Singing her latest single "Thot S***," Megan gave us bars and lots of "Body-ody-ody." But this performance was worlds away from her previous award show appearances, showing a new side to the rapper. As expected, Twitter took note — and didn't hold back with the commentary.
Stallion is one of the hottest rappers now, with platinum hits like "Savage," "Body" and her feature on Cardi B's "W.A.P." The multitalented singer has tons of iconic performances under her belt, including her Tropicana-inspired "Body/Savage" remix featuring tap dancers at this year's Grammys (via YouTube). Twerking in a 1940s naval outfit to "Hot Girl Summer" and "Cash S***" with DaBaby at the Hip Hop Awards 2019, seen on YouTube, it's no secret Megan Thee Stallion knows how to put on a show. But the inspirations behind her latest "Thot S***" performance really set this one apart for fans, and with good reason.
As one user explained on Twitter, Megan's latest performance took inspiration from George Michael's music video for "Too Funky," proving the rapper's penchant for hidden references. Just like Michael's video echoed "I am not trying to seduce you," showing a model removing a black piece of clothing, Megan started out her performance with "I am not here to please you," taking off a black veil. But that wasn't the only reason fans like Lil' Kim herself gave Thee Stallion a standing ovation (via Twitter).
All about the stunning performance
Johnny Nunez/Getty Images
Fans also pointed to Stallion's similarities to Queen Bey herself. One user posted a side-by-side of Megan's sleek, black "Thot S***" performance outfit and one of Beyoncé's signature black patent bodysuits, showing Stallion's probable costume inspiration. While both Megan and Beyoncé took home the Viewers Choice Award for their song "Savage (Remix)" (via ABC), Megan also joined Beyoncé as the only women in history to win four BET awards in a single night (via Twitter). Icons getting inspired by icons — we love to see it.
While figuring out all the Easter eggs in Megan Thee Stallion's latest performance, fans were all-around swooning, too. One user wrote, "Megan the stallion brought the hot girls party to the BET" (yup!), while another quipped, "we can all agree that megan had the best performance." One fan said, "MEGAN ATE THAT PERFORMANCE AND THAT DRESS PURR," referencing the rapper's incredible blush pink and crystal Jean Paul Gaultier gown (via Daily Mail). With another viewer just happy "female rap won tonight," it's safe to say Stallion had an incredible BET Awards performance.