Inside Roger Federer's Marriage To Tennis Player Mirka Federer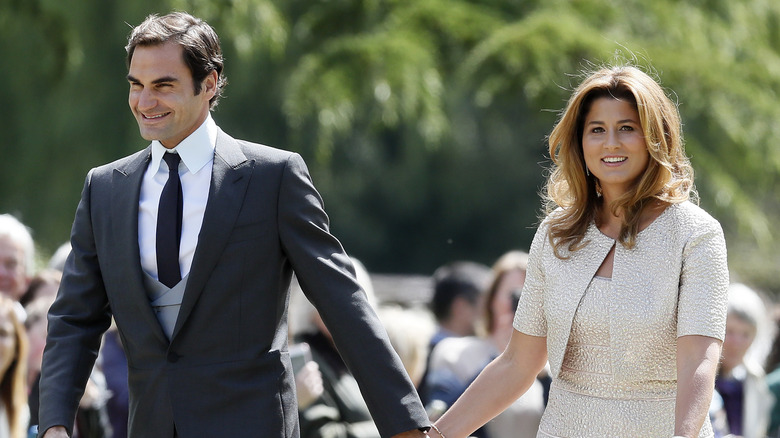 Wpa Pool/Getty Images
World renowned tennis player Roger Federer is not only one of the best tennis players of all time, with 20 Grand Slam titles under his belt, but also quite the family man (via Forbes).
Currently ranked 8th in the world, Federer's class and elegance, as well as his consistent performance in the world of tennis has made him a fan favorite (via ATP Tour). Starting his career at a young age, Federer entered the ATP's Top 100 list for men's singles. By 2003, Federer won his first Grand Slam title at Wimbledon, a tournament he's continuously had success at (via YouTube).
Although the Swede has been struggling recently with knee injuries, he is scheduled to be back for his favorite tournament this summer. With already 8 Wimbledon titles in his name, Federer's career may be coming to a close soon (via Yahoo Sports).
But like the old saying goes, behind every great man is an even greater woman, even more so in the world of sports. So who is the woman behind tennis' greatest man?
The ultimate tennis power couple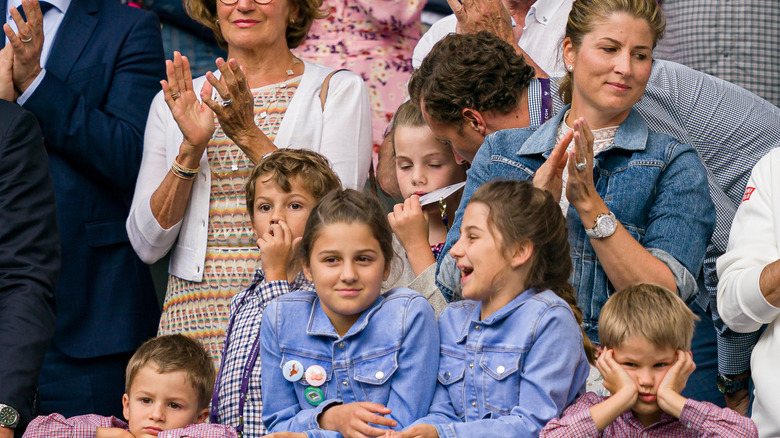 Andy Cheung/Getty Images
Federer and Swiss tennis player Mirka Federer (maiden name, Vavrinec) met like all great tennis couples do — on the court. Partnered to play together at the 2000 Sydney Olympics for their home country, the then-18-year-old Federer had a crush on Vavrinec, three years his senior, per Yahoo Sports. So how did the two go from doubles partners to the ultimate dream tennis couple?
Wrestler Ludwig Küng revealed how the two came together as the wrestlers and tennis players were housed together at the Sydney Olympics. "We knew that Roger was into Mirka and then we helped him a little," he said (via TennisNet). They locked the pair out the back door and told them to get to know each other a little. "From then on, they were a couple," he added. By the last day of the Olympics, the couple had shared their first kiss (via Express).
After the Olympics, Federer and Vavrinec would continue to play together in mixed doubles and to represent their county. Already dating, the two continued to have some of the sweetest on-court moments as they played against Lleyton Hewitt and Alicia Molik (via YouTube).
After she retired in 2002 due to persistent injuries, Mirka became Federer's manager (via Yahoo Sports). The two dated until marrying in 2009, before becoming parents to a set of twin girls — Charlene and Myla, aged 11 — and twin boys — Lenny and Leo, aged 7 (via Who).