These '90s Style Baguette Bags Are Making A Comeback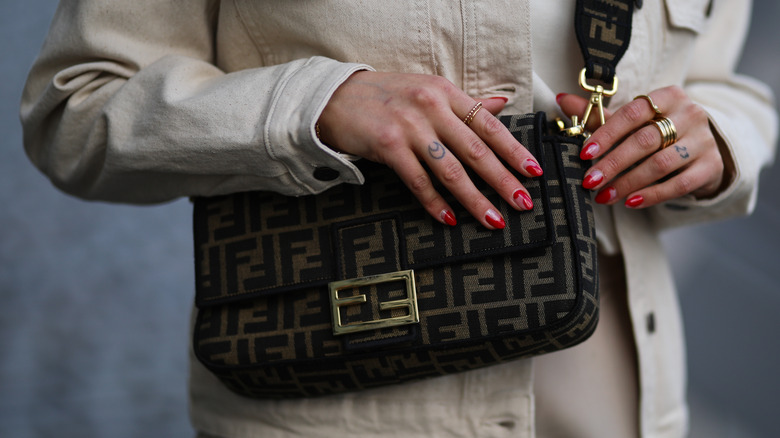 Jeremy Moeller/Getty Images
The '90s nostalgia is real. While Gen Z may have made a few remarks about millennial fashion trends like skinny jeans and side parts, Cosmo notes they also can't seem to get enough of the golden age of millennial nostalgia, the '90s. From Cher Horowitz-approved matching plaid sets, to the ubiquitous crop top, '90s trends are dominating catwalks and casual fashion alike, which naturally also means the return of the "it" bag.
In this case, it's the baguette silhouette that's making its return, and naturally, it's Fendi leading the trend once again. The baguette bag style is a simple one — an elongated rectangle (no, not as long as the bread; think more like a baguette-cut diamond) usually with a fold over closure, and a strap that's just large enough to slip over your shoulder. Per What Goes Around Comes Around, the name was chosen by the design house to indicate how it should be held and cites Silvia Venturini Fendi saying, "This easy-yet chic- way of carrying a handbag made it the perfect size to hold all of the essentials. Nothing more, nothing less."
Indeed, a baguette bag is big enough for one's wallet, phone, keys, and lipstick. (You could probably squeeze a face mask and hand sanitizer in there, too, just to keep it modern.) But you won't be bringing along a packed lunch or a spare layer if you're rocking one of these.
Don't forget! It's not a bag — it's a baguette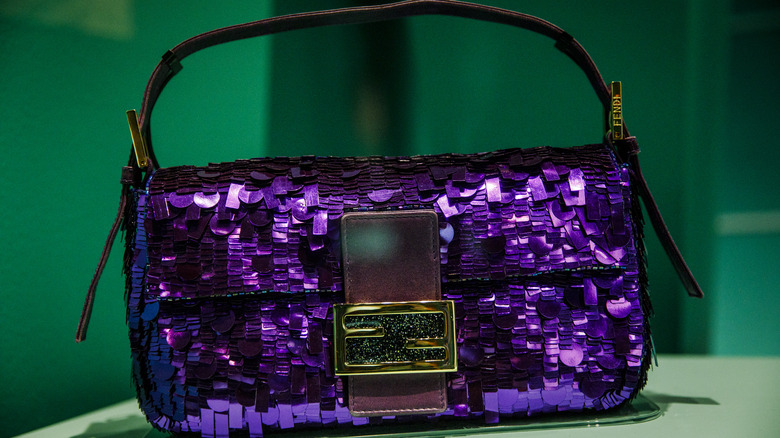 Tristan Fewings/Getty Images
Of course, we would be remiss if we left out Carrie Bradshaw's role in skyrocketing the bag to it's lofty gotta-have-it status. In Season 3 of "Sex and the City," Sarah Jessica Parker's Carrie is robbed at gunpoint after she "took a wrong turn while looking for the right shoes." When the thief demands her bag — a sparkly purple Fendi — she replies incredulously, "It's a baguette!" (via YouTube).
In Rizzoli's art book on the bag, Fendi Baguette, Parker writes that, in earlier seasons, the costumers were mostly looking for holy grail finds in thrift stores, but when the show "Sex and the City" began to be recognized as a fashion vehicle, things started to change. "Fendi was really the first important design house to loan us items, with the baguette handbag being the first." Thus, as much as Carrie's love for her handbag on-screen drove love for the bag off-screen, Fendi helped elevate the show's fashion influence, as well.
Arguably the original professional influencer, Carrie Bradshaw — we mean, Sarah Jessica Parker — is once again helping the bag (and the brand) out (via Harper's Bazaar). Its latest ad shows German influencer Caroline Daur being beaten to the purchase line by an impeccably stylish SJP — we mean, Carrie Bradshaw — who responds to Daur's frantic, "Ma'am, I need that bag!" with a self-satisfied, "Oh, this isn't a bag. It's a baguette."