Here's Why You Should Think Twice About Drinking Alcohol On The Beach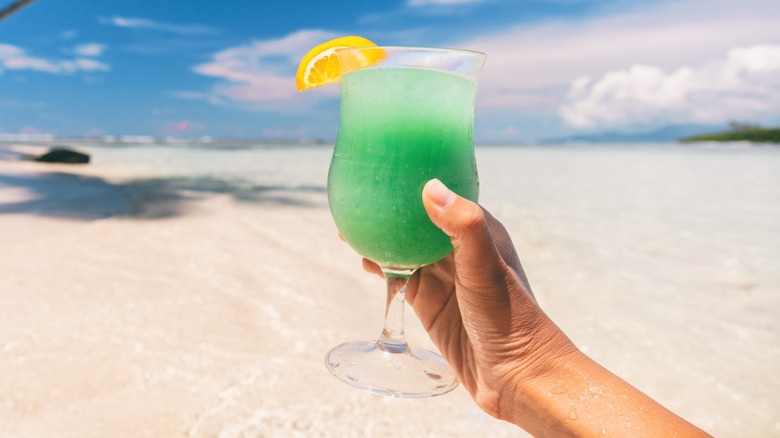 Shutterstock
Since 2021 has become the year of reclaiming the time we lost due to the coronavirus pandemic, this means that some people will be going on vacations because they couldn't last year. It's natural to drink while you are on vacation at the beach, or even just on a day trip to the coast. In either case, there may be some things you want to keep in mind when doing so.
Before even thinking about the beach, think about what kinds of drinks you want to have on the beach, as your precautions may vary based on what you're drinking. Some cocktails are perfect for 2021 and some cocktails can even be fermented at home before being taken to the beach.
Generally, drinking is perfect for the beach because you have the day off work and it'll help you relax, soak up the sun, and enjoy the summer while it lasts. Some alcoholic drinks are even refreshing and keep your palette light while you swim or sunbathe. However, there can be dangers when drinking on the beach. Alcohol bottles, for example, can explode if left in a hot car, or if let sitting in hot sand under a hot sun (via Big Moonshine). Here's what you need to keep in mind before prepping your boozy beach getaway.
These tips will help you have fun all summer long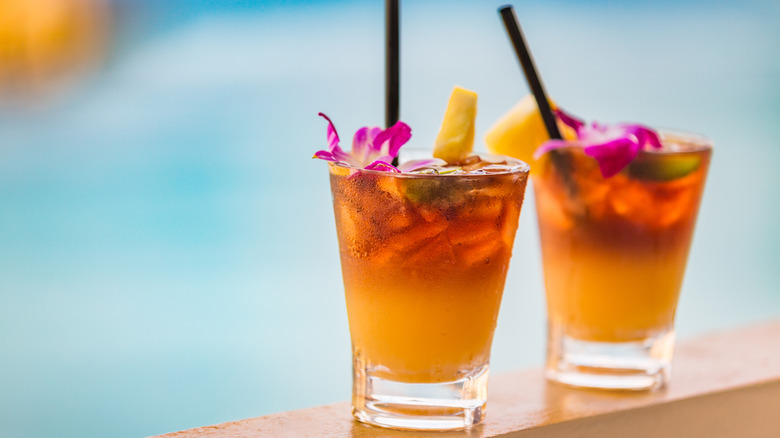 Shutterstock
It's best to read up on the risks of summer drinking before heading to the beach. After all, no one wants their beach outing ruined, right? According to the National Institutes of Health, one of the biggest risks is becoming dehydrated. The combination of alcohol and sun can zap moisture from your body. This will make you feel bad, but it can also mean the alcohol will hit you harder than usual. This can even lead to heat stroke. To prevent this, you need to drink plenty of water while drinking during the summer.
You can also run into issues with physical safety. You should gauge your sobriety when operating a boat just as you would a vehicle. Boating accidents can easily happen when drinking on the beach and the water, just as car accidents can happen after you leave the beach if you have not sobered up yet (via UnityPoint Health). Moreover, if you are not careful, you could drown if you are too drunk to be fully conscious in the water.
The National Institutes of Health also notes that sunburns may happen quicker to those who have been drinking, so you'll want to layer up your sunscreen throughout the day. According to University of Missouri Health Care, you can stay safe during the summer by designating someone to stay sober and drive your boat, understand your limits and stay in touch with your body, be cognizant of your alcohol portions, and always hydrate between drinks.