The Best Cocktails Of 2021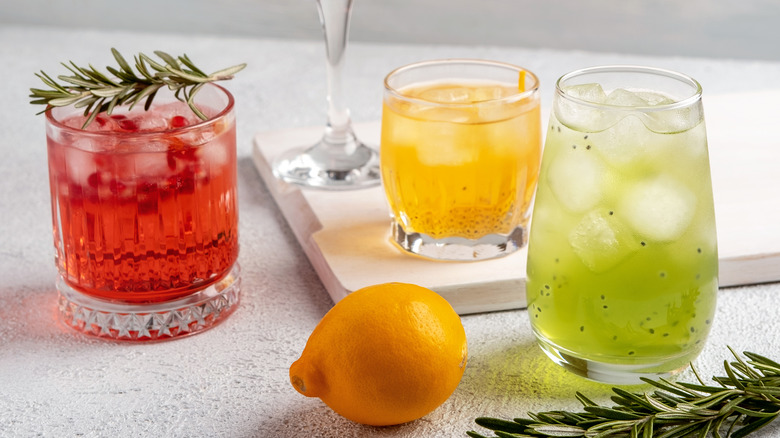 Shutterstock
Although we rang in 2020 in the usual way — clinking glasses in packed bars with friends and family — we ended the year picking up to-go cocktails for one (contact-free, of course), and we've been doing it ever since. According to experts at Wine Enthusiast, the trend is here to stay. "I think 2021 is going to be the definitive year of the large-format bottled cocktail to go," Anu Apte, proprietor of Seattle's Rob Roy bar, told the magazine. Other predictions include a rise in tropical or nautical-themed bars as well as more low and no-alcohol offerings. 
After months of mixing classic cocktails at home, everyone will be hankering for elaborate and elevated apéritifs as well. As Scott Gingerich, senior vice president of restaurants and bars for Kimpton Hotels and Restaurants, puts it, "Imbibers will be more likely to try a memorable concoction." At one of his Tokyo locations, unusual ingredients like lamb fat-infused gin and dried mushrooms are gaining popularity. Sounds ... interesting? 
Have no fear, though, because although the best cocktails of 2021 contain some fun and fresh tastes, they aren't that far outside of the box.
This year's best-selling cocktails are sure to ring a bell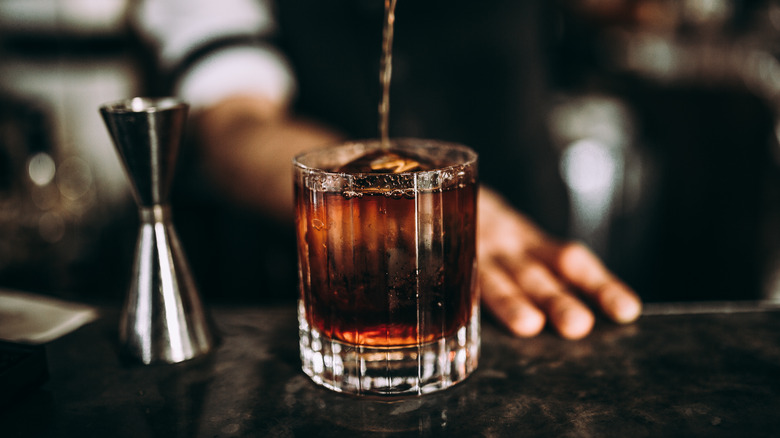 Shutterstock
Every year, Drinks International asks 100 of the best bars in the world to rank their bestselling cocktails. It's no surprise that the top five slots are taken by tried and true classics. Curiously, though, each one features a different base liquor. In this contest, every liquor wins. But let's be real — us happy hour fanatics are the real winners, here.
Up two places from last year's list, tequila's flagship drink and the forever bride to chips and salsa — the margarita — came in fifth. In its simplest form, this drink only requires three key ingredients: tequila (ideally silver or reposado), freshly squeezed lime juice, and orange liquor. Of course, if you're an "on the rocks" type of gal, you can't forget salt for the rim. 
One half of Grace and Frankie's drink of choice, dry martinis, ranked fourth. In their words, "I get a lot of help from my two Italian nutritionists: Martini and Rossi" (via Yarn). Then comes rum, coming in third with the simple daiquiri (no strawberries or blenders allowed). This year's runner-up is an Italian classic: the trifecta that is gin, Campari, and sweet vermouth — otherwise known as the Negroni. And finally, Drink's International crowned the unofficial drink of Prohibition — the cherished Old Fashioned — its 2021 champion for the seventh year in a row. It might be time to branch out, folks.
The trendiest cocktails of 2021 put a twist on classic tipples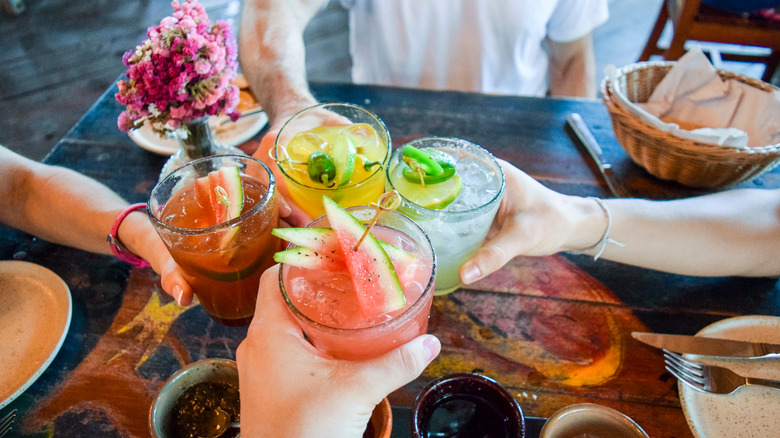 Shutterstock
Speaking of branching out, let's dive into the new and exciting concoctions making their dive-bar debuts, per Taste. In other words, these are the kinds of cocktails bartenders across the board have to secretly Google once they turn their back away from you (no judgment here).
First up, we have charred chili and orange Aperol spritz. The recipe for this bold and spicy drink involves grilling orange slices and fresh red chilies until they're charred to perfections and then adding them atop the traditional mix of Aperol, Prosecco, and soda water. Another on-trend tipple — passionfruit and lime cooler, complete with real and juicy passionfruit pulp — screams summer afternoons. But for your next special occasion, raise your glass to the hottest champagne cocktail of the year: French 75. According to Bon Appétit, it consists of London dry gin, fresh lemon juice, sugar or simple syrup, and last but not least, a bottle of bubbly. 
If you're counting down the days until you can entertain guests again, get the ingredients for this next party cocktail ready. To make vodka and watermelon punch, you'll need Smirnoff red vodka, fresh basil, lime cordial, and fresh watermelon. The best part about this recipe, however, is that it's served in the hollowed-out watermelon. 
Whether you order them from your local watering hole or brew them up at your at-home bar, these cocktails are sure to impress your friends — not to mention your tastebuds.