The One Outfit RuPaul's Drag Race Banned From The Show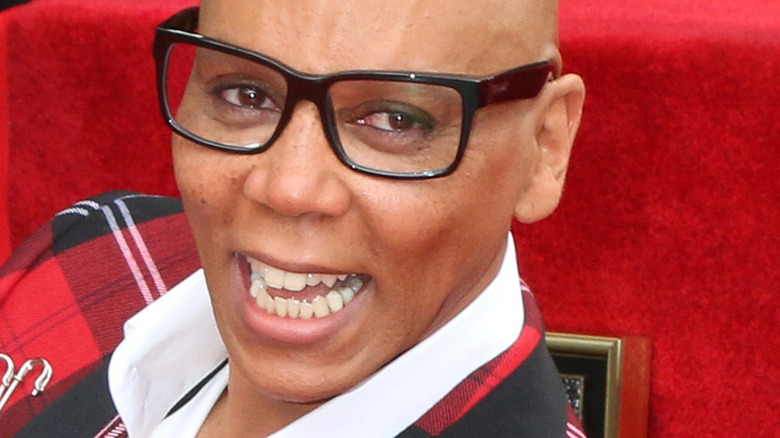 Shutterstock
The 6th season of "RuPaul's Drag Race All Stars" has begun airing on Paramount+, and while some fans might wish former fan favorite contestant Manila Luzon had been included, there might be a reason the drag queen isn't on the new season. While some viewers might have found "RuPaul's Drag Race" Season 3 winner Raja's Native American costume to have been the most controversial outfit worn on the show (per Bustle), there's at least one more outfit viewers will never see on an episode. 
Luzon, best known as the 3rd season runner-up of "RuPaul's Drag Race," shared an image to Instagram of a gown that was banned from appearing on the show during the 4th season of "RuPaul's Drag Race All Stars." "Ru said my ORIGINAL Curves & Swerves Runway look was in 'bad taste' and production told me to wear my back up," Luzon wrote in January 2019, adding that she felt the dress celebrated a normal experience for women. "But because of Ru, I have my very own platform to speak for myself and show you all my interpretation!"
So, what did the offending outfit look like? Luzon posted an image of herself wearing a dark red gown, which displays a blood-stained maxi pad at its center.
Manila Luzon wanted to wear a gown that empowered young women
Manila Luzon, who is also known as Karl Philip Michael, wrote on Instagram that her motivation in wearing the gown was to normalize menstruation. "Many of my fans are young women who may feel pressured by society to be embarrassed by periods. It's empowering to teach young women about their bodies, encourage them to celebrate them AND to question people who tell them not to!"
Luzon noted that she respected RuPaul's opinion and wore a beautiful quilted dress on the episode instead. Luzon's elimination from Season 4 of "RuPaul's Drag Race All Stars" is one of the most controversial in the show's history. Considered a frontrunner by most viewers, Naomi Smalls elected to send Luzon home instead of Latrice Royale, whose performance was considered to be inferior by many fans, according to Vanity Fair. 
Luzon has remained active as a drag queen since her time on Season 4 of "RuPaul's Drag Race All Stars." She hosts a YouTube show called "Inspire Me" and co-hosts a podcast "The Chop" with her fellow "Drag Race" partner Latrice Royale.