Why Ted Cruz's Recent Criticism Of Jen Psaki Has Twitter Fuming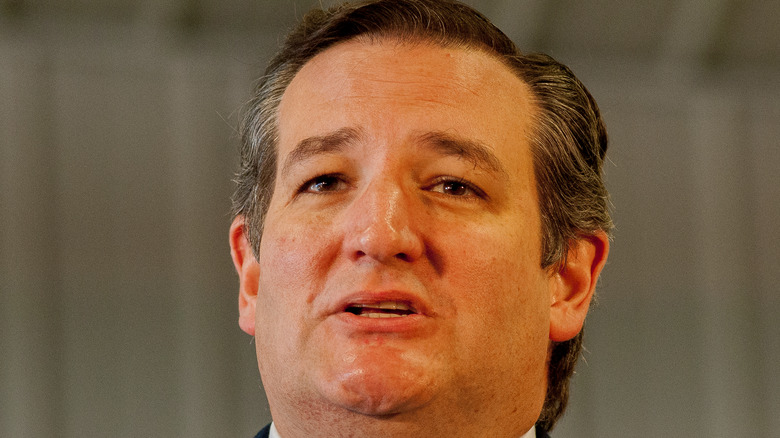 Shutterstock
Another day, another Ted Cruz controversy. It's no secret that people across the country have been hyper-critical of the Republican senator over the last six months, given his many headline-making decisions, tweets, quotes, and more. In January, Cruz was one of the many Donald Trump loyalists who helped spread misinformation and propaganda about the 2020 election and, in turn, led a number of Republicans who all refused to certify the election results after Joe Biden was elected President (via Axios).
Just a month later, after a freak winter storm ravaged Texas, Cruz came under fire again after he and his family fled the state on a vacation to Cancun, Mexico while millions of people were without water and power were left in the cold. Cruz blamed the spur-of-the-moment trip on his young daughters, telling reporters at the airport, "Yesterday my daughters asked if they could take a trip with some friends, and [my wife] Heidi and I agreed, so I flew down with them last night, dropped them off here and now I'm headed back to Texas" (via Twitter). 
Cruz also left the family's poodle, who is ironically named Snowflake, behind in the freezing cold (via Intelligencer).
Twitter is having a field day with Ted Cruz's recent tweet about Jen Psaki's 'brazen gaslighting'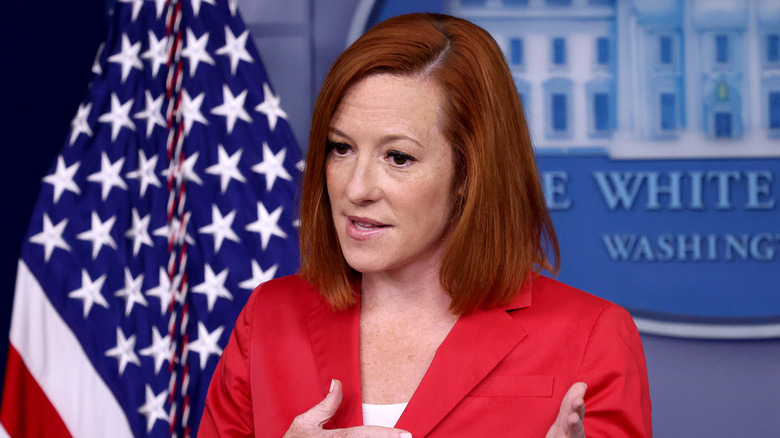 Win Mcnamee/Getty Images
On June 28, Ted Cruz retweeted a video clip of Jen Psaki telling Fox News reporter Peter Doocy that Republicans are actually the ones who are defunding the police, given the fact that not one Republican voted for the coronavirus relief American Rescue Plan, which had a staggering $350 billion set aside for local law enforcement agencies (via HuffPost). Cruz called Psaki's take on defunding the police "brazen gaslighting," which didn't sit too well with social media users.
"Gaslighting? That's rich, coming from a man who watched Texans FREEZE TO DEATH, while he escaped to sunny Cancun, then blamed the vacation on his daughters," one Twitter user pointed out, while another echoed the "rich" sentiment, tweeting, "This is rich, coming from the man who told us January 6th was just a bunch of tourists being a little rowdy." 
Another Twitter user said, "You gotta lot of nerve whining about gaslighting. Not only do you all not fund police, but your proud 'Back and Blue' and 'Blue Lives Matters' was revealed to be lies, in the starkest, harshest, most tragic terms imaginable." The Twitter user is likely referring to Republicans' cries of "All Lives Matter" and "Blue Lives Matter" during the Black Lives Matter protests in 2020, even though a Capitol police officer was beaten to death during the January 6 Capitol riots, where four other people also died (via The New York Times).
Fox News anchor Chris Wallace made a similar point during an interview with Rep. Jim Banks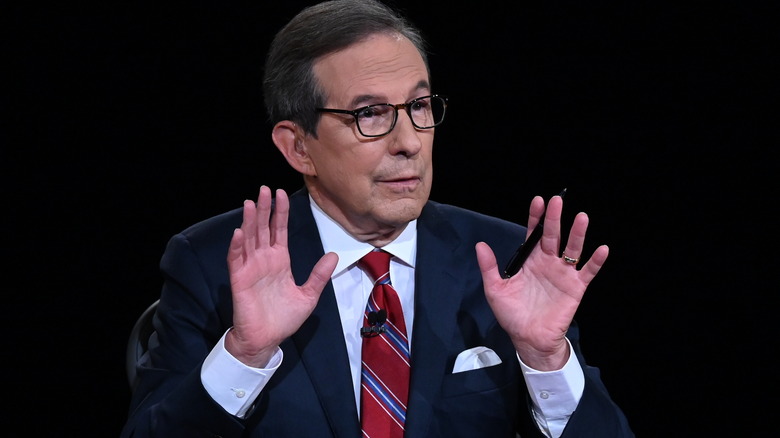 Pool/Getty Images
On Sunday, June 27, "Fox News Sunday" anchor Chris Wallace basically said the same thing during an interview with Indiana Congressman Jim Banks, telling the GOP lawmaker, "Congressman Banks, you voted against that package, against that $350 billion, just like every other Republican in the House and Senate. So, can't you make the argument that it's you and the Republicans who are defunding the police?" (via The Hill).
After taking the time to bash Nancy Pelosi and Ilhan Omar for their past takes on defunding the police, Banks' replied to Wallace's question, telling the news anchor, "You can give them more funding, and that's good, but if they can't recruit people to become a police officer because we've stigmatized one of the most honorable professions in America, than [sic] we are at a dangerous point..." (via Twitter).
However, many social media users rebuked Banks' attempt at an argument and backed Wallace, with one Twitter user writing, "Jim Banks has ZERO answers to these questions other than #whataboutism. He is an ideological hypocrite. His cronies in congress are ideological hypocrites. They are only interested in opposing, not collaborating or contributing. Kudos to Chris Wallace for exposing him."