Ray MacDonnell's Worth At The Time Of His Death May Surprise You
Emmy-winning soap opera star Ray Macdonell has passed away at the age of 93. Macdonell was best known for his role as Dr. Joe Martin on "All My Children." His daughter, Sarah MacDonnell, confirmed her father's death, and also told Michael Fairman TV that there will be a private memorial for Ray that will be attended by close family members and friends.
MacDonnell began acting in 1953 when he earned parts on television programs including "Robert Montgomery Presents," "The Jack Benny Program," "Producers' Showcase" and "Armstrong Circle Theatre" (via TMZ). His soap opera career really kicked off in 1961, when he joined the cast of "The Edge of Night," and MacDonnell joined what would become his television home at "All My Children" in 1970. He would remain on the show until 2013.
That impressive career helped MacDonnell amass a net worth that might surprise you. According to Idol Net Worth, MacDonnell was worth an approximate $3 million at the time of his death.
Ray MacDonnell was committed to 'All My Children' for most of his life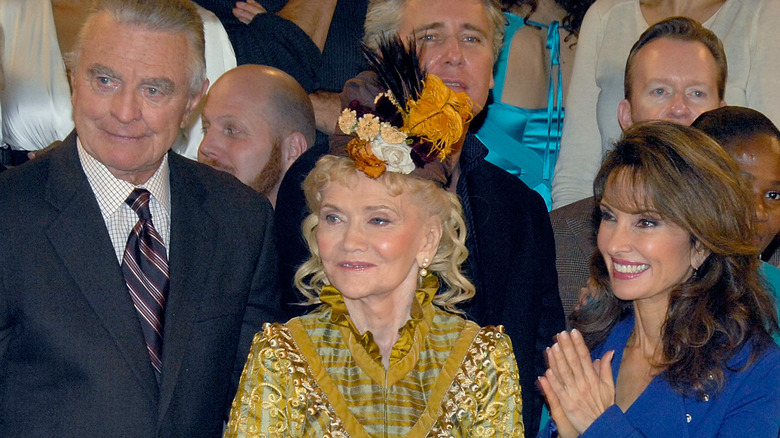 Joe Corrigan/Getty Images
While Ray MacDonnell officially retired from "All My Children" in 2009, he ended up returning in 2011 for several episodes, including the series finale (via Deadline). He even returned again in 2013, when "All My Children" was briefly rebooted as a web series. The series did well, garnering approximately two million views each day it aired (via The New York Post).
MacDonnell was awarded a Lifetime Achievement Award for his work on "All My Children" at the Daytime Emmys in 2004. Despite achieving such a professional high, MacDonnell largely kept his personal life, and especially his home life with wife Patricia and their children, Kyle, Daniel, and Sarah, out of the press. 
MacDonnell attended the Royal Academy in London prior to his long, varied acting career. He had the opportunity to bring a "Dick Tracy" series to life as the title character, but the series didn't pan out. He came on board "All My Children" only three years later.