The Truth About Gossip Girl Star Jordan Alexander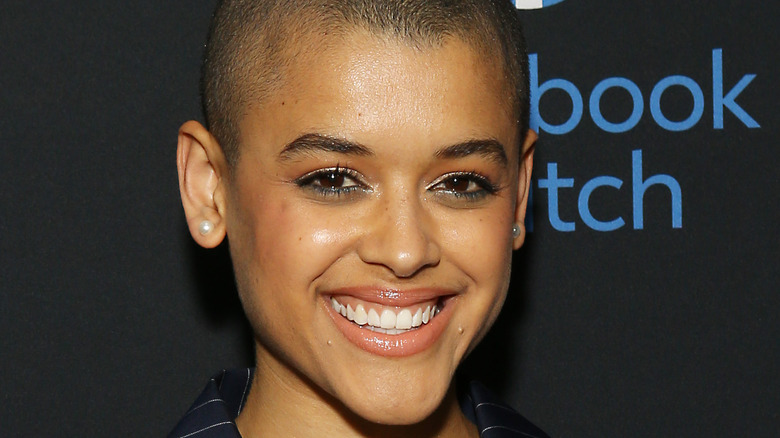 Michael Tran/Getty Images
Your favorite gossip queen is back and ready to stir up a new generation of drama. As HBO revives "Gossip Girl" fandom, the fan-favorite show is getting a whole new cast of Upper East Side elites. Set in the same streets of New York City fans grew to love the first time around, the 2021 reboot will see new characters dealing with the troubles and tribulations of a new anonymous threat, but this time – by way of Instagram.
Joining the cast of the reboot as Julien Calloway is Jordan Alexander, a Canadian actress-singer-songwriter. The multi-hyphenated star previously worked across Juliette Lewis as Elsie on the Facebook Watch series "Sacred Lies: The Singing Bones" (via Deadline). Her other acting credits include "Unbury the Biscuit" and "Please Kill Mr. Know It All" (via IMDb).
Regardless of the role, Alexander is trying to stay true to herself. A fierce activist and advocate, she's not letting stardom and influence – much like her character, per HBO - get to her head.
"I have a solid group of radical people around me who will definitely check me and make sure that I'm staying true to my course and what I believe in," Alexander told Fashion.
Jordan shaved her head to stand out in her audition
The Vancouver-born, Toronto-raised artist is more than just an actress. Although Jordan Alexander moved to Toronto at the age of 12 to pursue a career in acting, she quickly became disillusioned with the lack of diversity in the space. Feeling like she looked like every girl at an audition, she shaved her head. 
"I was trying to figure out what I wanted, and one of the things that I didn't want was hair," she told W Magazine.
When she was 18, she decided to invest her time in music. As a singer-songwriter, Alexander has had quite the success, opening up shows for major artists including Kehlani at the 2018 Toronto Pride celebration, and collaborating with Carly Rae Jepsen at a 2019 Pride performance. She released her latest single, titled "You," in 2020 ahead of filming "Gossip Girl" (via PopSugar).
Now the 20-something artist is staying true to herself, shaved head and all. So when the role of Julien came her way, she knew she had to take it. "I liked that they were trying to hire a mixed-race Black girl with a shaved head for their show," she told W Magazine. "I was like, 'Well, if they're willing to do that, then this is something I'd be interested in because it's so left-of-center.'"
The reboot is set to start streaming on July 8 on HBO Max. Until then, we'll be counting down the days for the return of the famous "xoxo, Gossip Girl."