Michelle Obama's Stunning Net Worth Revealed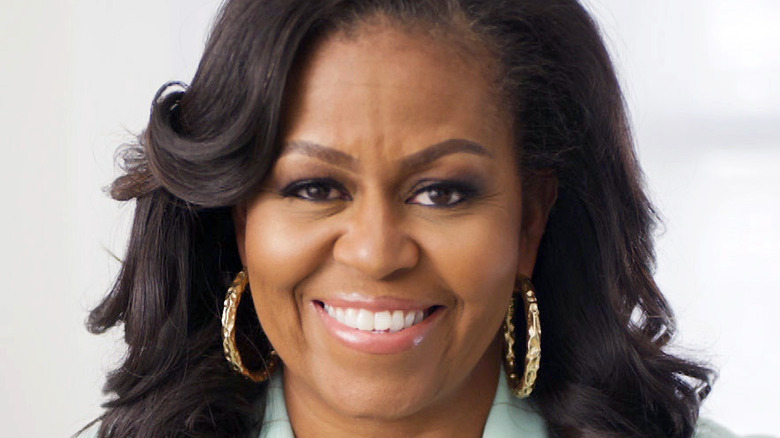 52nd Naacp Image Awards/bet/Getty Images
When young lawyer Michelle Robinson met fellow young lawyer Barack Obama when the law firm they were both working for assigned her to be his mentor in 1989 (via Insider.com). We can assume the Chicago native never dreamed she would have a life of wealth in which she'd spend eight years married to the most powerful man on the planet. As a Harvard Law School graduate, she was ready for success and found it beyond her wildest dreams.
At the time, the woman who would soon become Michelle Obama was working at the Chicago law firm of Sidley Austin handling marketing and intellectual property. She soon left the corporate law world to work in public service, becoming an assistant to Chicago Mayor Richard Daly, and eventually the city commissioner for planning and development.
As both she and her husband worked more within the community, the one-day first lady became the Associate Dean of Student Services for the University of Chicago, while her husband was getting his feet wet in the political world (via History).
Public office takes a backseat to community service for Michelle Obama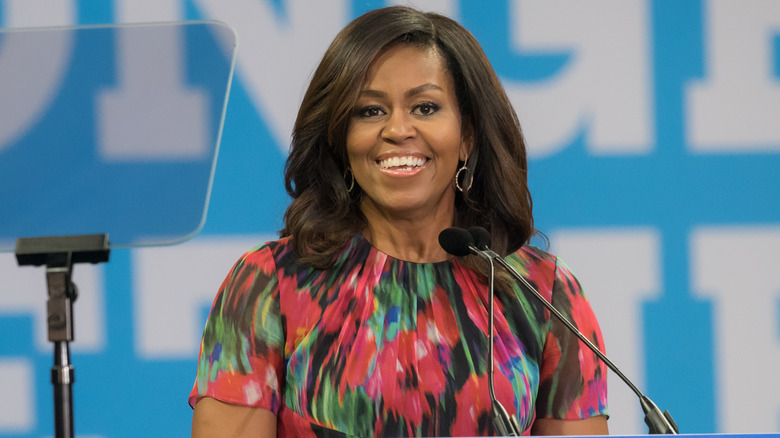 Shutterstock
Michelle Obama moved ahead in her career as the wife of an aspiring politician and the mother of two young girls. She found herself spending most of her time with their children at the time when Barack Obama was elected to the United States Senate in 2004, according to Insider. She continued to work as her husband shuttled back and forth between Washington, DC and Chicago, but reportedly was not prepared for him to decide to run for the United States presidency just a few years later.
At the time, the former president had already published one book in 1995 titled "Dreams From My Father" but it was his second book in 2006, "The Audacity of Hope" (via Good Reads), that earned the couple more money than they could have earned in higher education or even in the Senate. 
Celebrity Net Worth reports that in 2006, Barack and Michelle Obama earned a combined $983,826, but in 2007 after Barack Obama's second book was published, their income jumped to $4,139,165. The outlet reports that the Obamas earned seven figures their first few years in the White House starting in 2009, but their income per year dwindled to six figures by 2011.
Life after the White House adds to Michelle Obama's net worth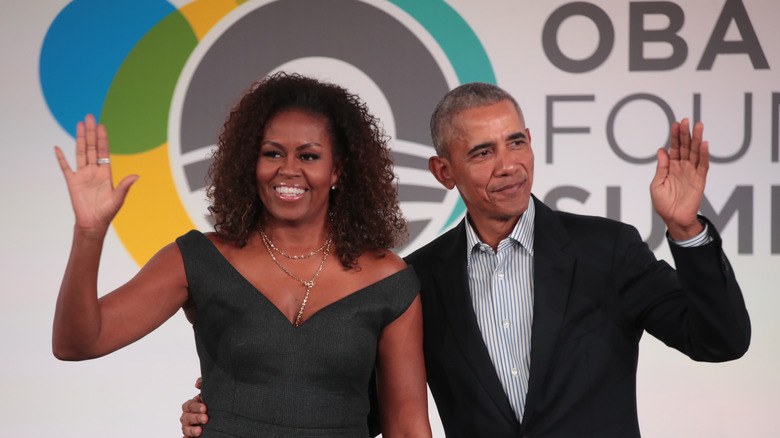 Scott Olson/Getty Images
While in the White House, Barack Obama earned the regular presidential salary of $400,000 while Michelle Obama gave up her career to become first lady, a position that earns no salary, according to The Balance.
However, things changed after the couple left the White House and became private citizens again. Their combined income jumped to a staggering $65 million in 2017, according to Celebrity Net Worth. That's when both Obamas were paid a joint $65 million advance from Penguin Random House for their separate memoirs (via Cheat Sheet.com).
In 2018, the former first lady released "Becoming," which sold 750,000 copies on its first day alone. By 2020, the book had sold more than 10 million copies, according to Celebrity Net Worth. The former president also released a memoir in 2020 titled "A Promised Land," which was the year's best-selling book, according to Publisher's Weekly.
Business Insider reported in 2017 that Mrs. Obama was making $200,000 per speech for speaking engagements, something she continues doing as of this writing. In addition, the Obamas own an $8.1 million property in Washington, DC, as well as a second $14.9 million property on Martha's Vineyard, bringing the Obama combined net worth to $70 million.