The '60s Inspired Bangs That Are On Trend For Summer 2021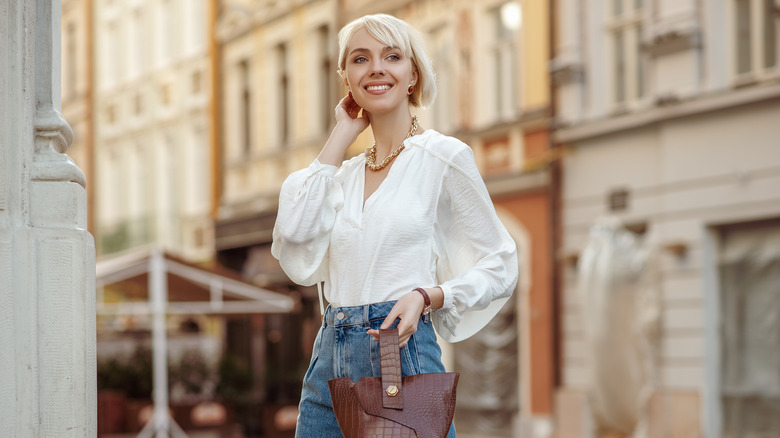 Shutterstock
Summer is well underway! And while we're enjoying our iced coffees, oversized shades, and strappy sandals, yet another trend raging in the heat. Just as the '60s birthed the mini-skirt (which has made a groovy comeback) we're also noticing a bangs style of the same era growing in popularity.
Enter curtain bangs. This peekaboo face-framing cut works on both short and longer hair styles. Can't picture it? Think of Hilary Duff, Alexa Chung, and Dakota Johnson. Three celebs that are currently making this hair trend look oh-so attainable (via Mane Addicts). "Curtain bangs are a result of people wanting a change but not ready to chop all the length to change their look drastically — they work really well to frame the face," says Dhiran Mistry, a dry cutting specialist at David Mallett New York (via Byrdie).
Wanting some fringe of your own? Well, it may not be as easy as finding your scissors for a little DIY time in front of the bathroom mirror.
Head to a hairstylist instead of finding the scissors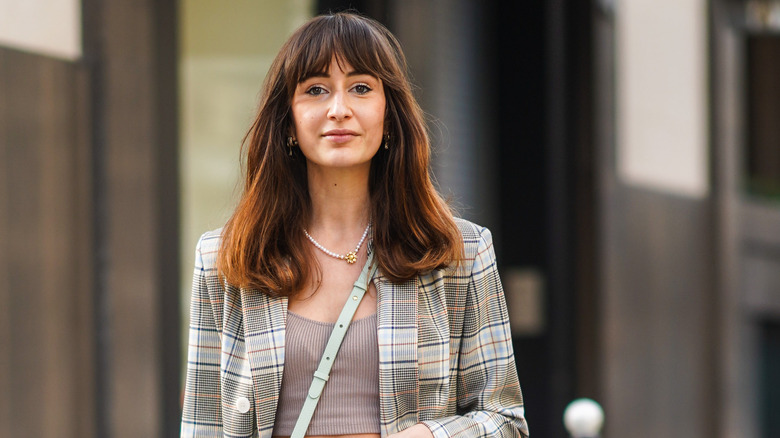 Edward Berthelot/Getty Images
"Curtain bangs are tricky, and making them open up to frame your face does take some skill," says celebrity hairstylist Justine Marjan. She goes on to recommend booking an appointment with a professional hairstylist for the look (via Glamour).
If you think you can do it at home, take some time and sleep on your decision for the night. Way too many of us have our own tragic tale to tell of an impromptu bangs clip. But if you're positive you can conquer your desired look, then start by cutting your bangs longer than you want for a little wiggle room. And find a specific reference picture that will help guide you, Glamour suggests. One final tip is to make sure you cut them when your hair is dry. "The best thing to do with bangs is cut them dry in their natural falling state," said Harry Josh, celebrity hairstylist (via Parade).
If you're debating over a little fringe to compliment your oversized shades, it's best to grab an iced coffee and make an appointment with a hairstylist.