The Surprising Warm Weather Fashion Trend That You Probably Already Own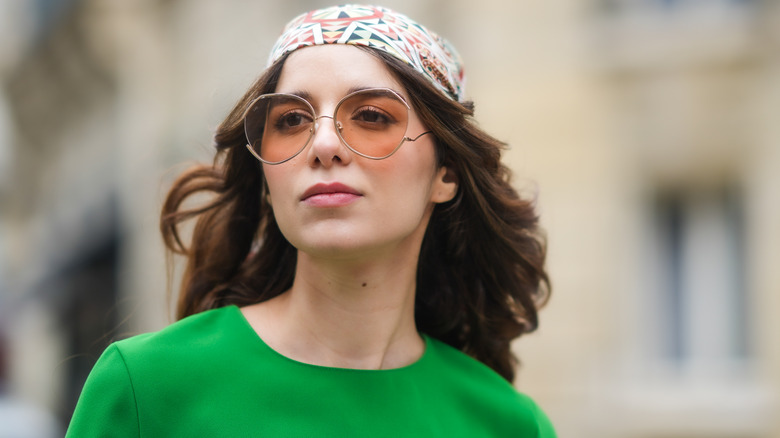 Edward Berthelot/Getty Images
Surprise! The biggest trend of summer 2021 is something you definitely already have tucked away in the back of your closet: a scarf. Nope, it's not just for those cold winter months anymore. The viral scarf trend essentially turns silk scarves and bandanas into crop tops, hair accessories, and belts. And if there's a trend where we don't have to buy something new, we're all for it.
The new style can be seen everywhere — on your favorite celebs, influencers, TikTokers, and more (via Page Six). It's become so popular this summer, that retailers like SheIn and Urban Outfitters sell real tops that mimic scarves (with actual straps and longer back ties), and show models showing off the versatility of a normal neck scarf.
Even celebrity stylist Monica Rose loves the scarf trend and told Refinery29, "Sometimes my outfit is so boring, and I'll put a cool scarf on and feel so cool. You can turn it around and wear it as a choker, knot it, tuck it, or add a necklace."
We totally agree. And the best part is, shopping is probably not required to try out these looks. Dig out that old, weirdly big scarf in your room and try it out in the chic and easy styles below.
How to wear a scarf as a top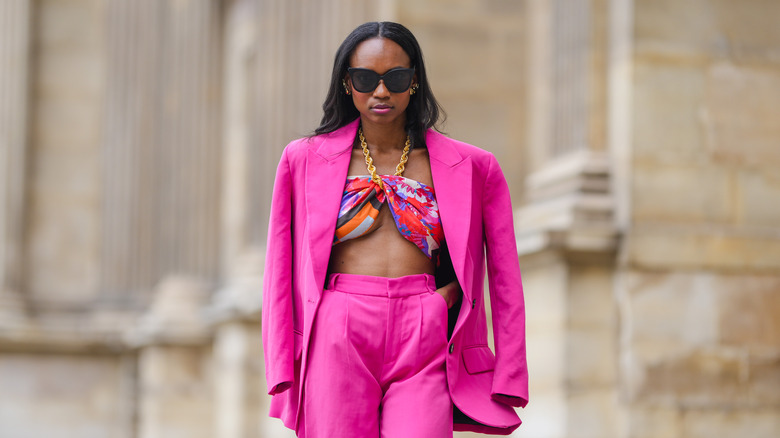 Edward Berthelot/Getty Images
The number of ways you can wear a scarf as a top should be overwhelming, but honestly, it just gets us more excited for hot weather, vacations, and Instagramable picnics with our best friends. Halter tops, bandeaus, crop tops — you name it and it can be done. It just all depends on your folding.
To get the simple scarf crop top, fold the scarf in half diagonally so that each end comes to a triangular point. You should have three points and one more side being totally straight and flat — this will be the top of your shirt! Hold the top against you, take the longest two ends, and simply tie them securely in the back. That's it! According to InStyle, many people tuck a small portion of the top into a bralette underneath for extra security (we don't need anything slipping!).
If you want to get a little more chic, grab your favorite chunky chain necklace and use that to turn your scarf into a halter top (via InStyle). First, knot your scarf of choice in the middle of the necklace before putting it on (this will help you visually). Note that there's no need to fold, we want to use as much fabric as possible to cover up the chest. Once secure, fasten the necklace and take each side of the scarf, wrap it around you, and tie it in the back. Pull down and adjust the chest coverage as needed, and voilà!
How to wear a scarf as an accessory in Summer 2021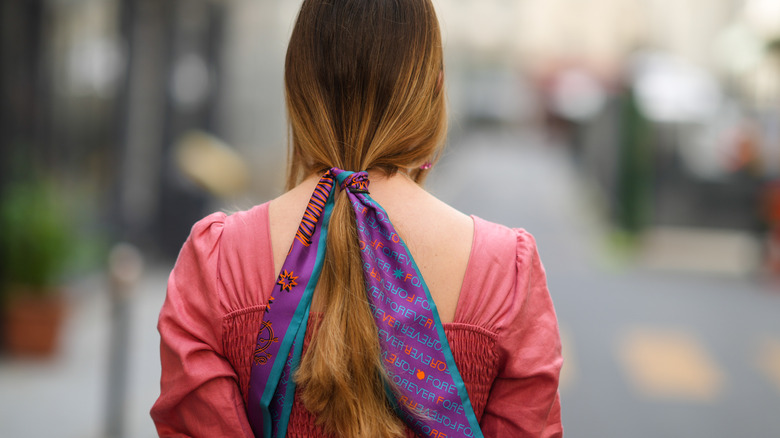 Edward Berthelot/Getty Images
Wearing a scarf as an accessory during the summer may have seemed a little unnatural a couple of years ago, but we're happy to say that that's no longer the case. Possible options include the classic neck scarf, wearing it as a belt by tunneling through your belt loops (this will take a simple denim look to new heights!), and wearing it as a head bandana (fold it just like the scarf crop top but wear on your head). But we've got to admit, our favorite option is wrapping it around a ponytail or bun! Using it as a hair accessory is really on par with the trendy cottage girl aesthetic which everyone (including us) is obsessed with this summer.
The appealing thing about this summer scarf trend is that there are tons of levels you can take it to! Want fashion week chic? Add the chain. Sweet girl next door? Wear it in your hair. Looking for Hot Girl Summer vibes? Wear it as a crop top! Each style technique is super easy, and even better, super cheap. It's time to try it out yourself!