Where Will Bill Cosby Live Now That He's Out Of Prison?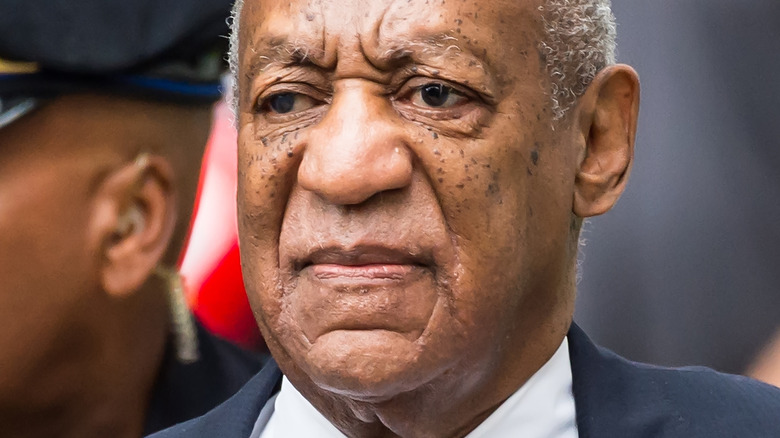 Gilbert Carrasquillo/Getty Images
The world was stunned when the Pennsylvania Supreme Court announced it had overturned actor Bill Cosby's 2018 sexual assault conviction on June 30. The news came after the court discovered a "vast violation" of Cosby's due process rights when he was criminally charged and convicted, per CNN. He was sentenced to three to 10 years in a state prison, but was released Wednesday after serving only two years, according to Forbes.
Cosby was arrested in 2015 following accusations by Temple University sports administrator Andrea Constand, who claimed the actor drugged and sexually assaulted her at his home in 2004, per CNN. In his deposition, Cosby admitted to giving Constand Benadryl, despite taking to Twitter after his release to maintain his innocence. "I have never changed my stance nor my story. I have always maintained my innocence. Thank you to all my fans, supporters and friends who stood by me through this ordeal. Special thanks to the Pennsylvania Supreme Court for upholding the rules of law."
So what is next for Cosby now that he's been freed from prison?
Sources question whether his home in Pennsylvania is private enough for him to continue living there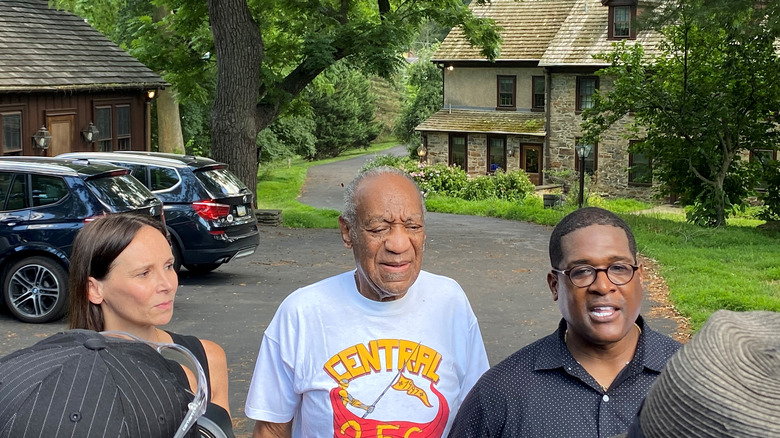 Michael Abbott/Getty Images
Upon his release, the "Cosby Show" actor was brought to his home in Cheltenham, Pennsylvania, where crowds of media awaited his arrival. He gave the peace sign to cameras as he was led inside his home, wearing a white T-shirt from his alma mater, Philadelphia's Central High School. He was escorted by his spokesman, Andrew Wyatt, and his appellate attorney, Jennifer Bonjean (via USA Today). Bonjean shared that Cosby is "extremely happy to be home" and is "looking forward to reuniting with his wife and his children."
Bill Cosby and his wife Camille have owned their Philadelphia estate since June 1983. According to Fox Business, they paid $225,000 for the property. The property is an impressive 5,835 square-feet and includes five bedrooms, four bathrooms, and a half-bath. The 3-acre property includes a gate blocking the driveway and a sign on it that reads "NOT Stand Around In This Area!"
It is not yet known if Cosby and his family will continue to live at the Cheltenham property, as information regarding his release and the subsequent happenings remain to be seen. The property isn't especially private, and has reportedly already had a number of protestors waiting outside of it as Cosby returned home from prison (via the Los Angeles Times).