The Best Sunglasses If You Have A Diamond Face Shape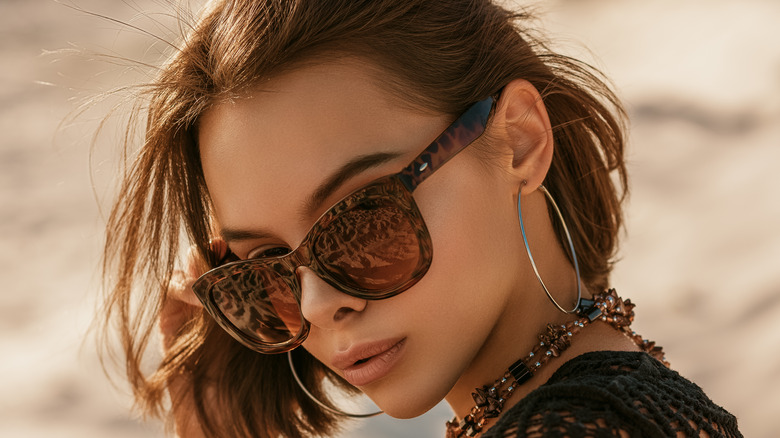 Shutterstock
Summer brings sunny days; ice cream runs; and the desire to buy bikinis, sandals, and the best part of all — sunglasses. With countless shade styles to match your mood, this summer's best sunglasses are fun, playful, and flattering.
Do your sunglasses match your face shape? While oval faces should avoid overwhelmingly large sunglasses and square shapes look great in rounder styles, there are specific parameters that diamond-shaped faces should follow, too. A face shape shared by celebs such as Megan Fox, Ashley Greene, and Freida Pinto, diamond shapes are defined by a small forehead, an angular chin, sharp cheekbones, and an overall "narrow appearance" (via Total Beauty). Moreover, your face is probably wider in the middle than at the top and bottom (via Kraywoods). 
Sound familiar? If so, here are all the best summer-ready sunglasses for those with a diamond-shaped face.
Diamond faces should opt for round sunnies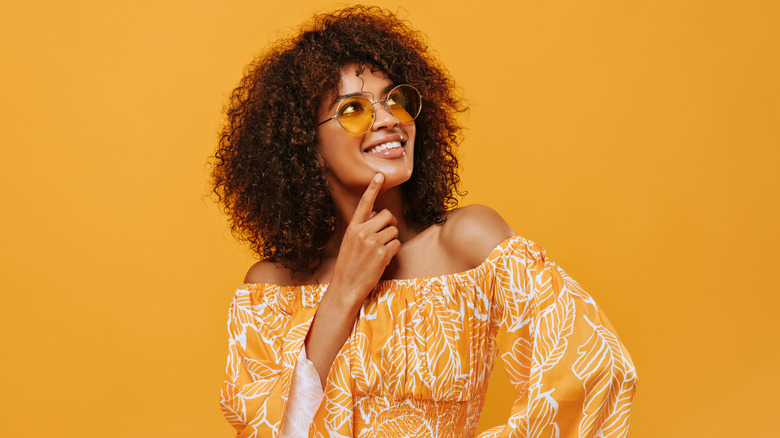 Shutterstock
As Kraywoods explains, diamond-shaped faces "work perfectly with softly-curved frames" that downplay angular features. Eye Buy Direct echoes this, recommending oval shapes, and Specscart suggests "Harry Potter shaped circle glasses" that will highlight cheekbones while minimizing the chin. Since diamond-shaped faces look so great in rounder frames, try vintage-style oval shapes like the Oliver Peoples The Row Parquet or circular hippie sunglasses like the Ray-Ban Round Flash Lenses. Extra points for colored lenses, especially in sunset colors, or pastels like baby pink. Extra-large round sunglasses look amazing on this shape,  too, such as Celine's Chunky Round Acetate Sunglasses.
Apart from round frames, diamond shapes can get away with a few other styles as well. Per Eye Buy Direct, try glasses that are heavier on top, such as half-rimmed shades. Why? "They give more structure to the top of the face and distract from the bottom where the jawline is elongated," according to the outlet. For this silhouette, try the iconic Ray-Ban Clubmaster Classic.
You can't go wrong with cat-eye glasses, either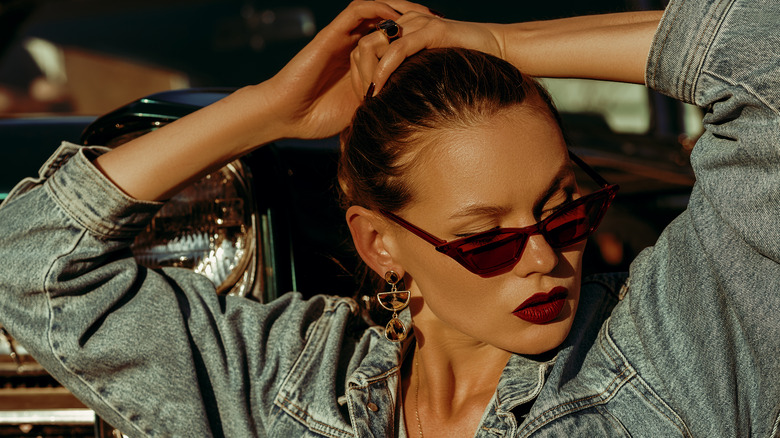 Shutterstock
Cat-eye sunglasses are another seriously flattering silhouette for diamond-shaped faces since they bring all the attention to your enviable defined cheekbones (via Eye Buy Direct). Kraywoods agrees, stating that cat-eyes are single-handedly "the best style for your face structure" since the "bold brow lines and sharp temples help bring the focus to the upper part of your face" while downplaying the jawline. Overall, '50s-starlet-style cat-eyes will balance a diamond face to perfection, so try styles like Le Specs' Air Heart (Meghan Markle approved!) or the J.Crew Pacific Cat-Eye Sunglasses. Rectangular frames with contrasting lines can add "contour to your cheeks and draw more attention to the upper half of your face" (via Eye Buy Direct), so feel free to try styles like the on-trend Loewe Acetate Rectangular Sunglasses.
Each of these styles will have you shining seriously bright — just like a diamond should!