The Jennifer Aniston Comedy You Never Knew Meghan Markle Appears In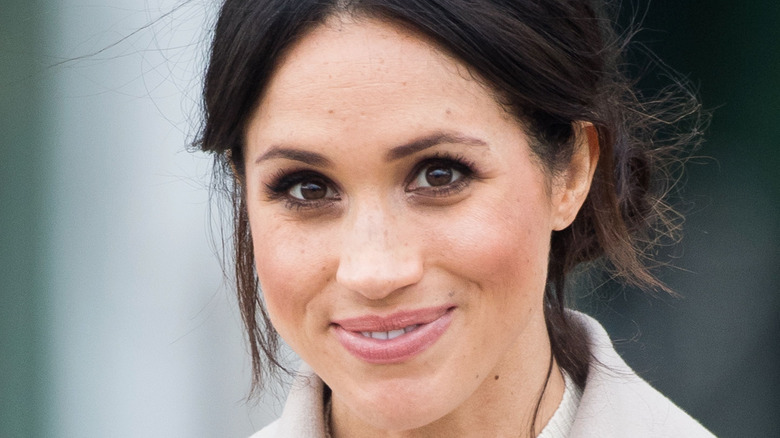 Shutterstock
Believe it or not, Jennifer Aniston is not the most famous person to come out of one of her best-known movies. The film we speak of also features Jason Sudeikis, Kevin Spacey, and Jason Bateman — but there is a star who played a bit part in this picture who is probably the most famous woman in the world (via IMDb). Yes, of course we mean Meghan Markle, who as fans are well aware, had a TV and film career before marrying Prince Harry.
Markle's most popular role was Rachel Zane on "Suits" from 2011 to 2018, most would argue (via IMDb). But around the time the current Duchess of Sussex played this part, she also briefly appeared in a film starring the person who played the most famous Rachel — Rachel Green, from "Friends."
It was a blink-and-you'll-miss-it moment in which Markle appeared in the dark comedy. And if you're thinking we are referring to "Horrible Bosses," then you'd be right!
Meghan Markle had only a few lines in the Jennifer Aniston movie
Markle played Jamie in "Horrible Bosses," who was a FedEx worker, according to The Hollywood Reporter. Sudeikis' Kurt Buckman flirts with Jamie, and says she is "too cute to just be a FedEx girl" (via IMDb). He goes on to say she must be a model or an actress, while Markle shakes her head in amusement (via YouTube).
"I'm just the FedEx girl," she swears. And then, she leaves, simply saying, "Bye." Scene over. That's it. The scene is less than minute long, and who knew from that brief cameo that Markle would go on to marry Harry, who is sixth in line for the throne of England (via Royal.uk).
According to SCMP, her "Horrible Bosses" scene was far from the only somewhat-forgettable moment from the royal's TV past, with Markle also having appeared on "Deal or No Deal," and in a Miller Light commercial. She also appeared on "Castle," ironically, and "90210," among other roles that are now pretty much the least interesting things about one of the only people who can say they are more famous than Jennifer Aniston (via IMDb).