Julia Roberts Just Shared A Rare Selfie With Her Husband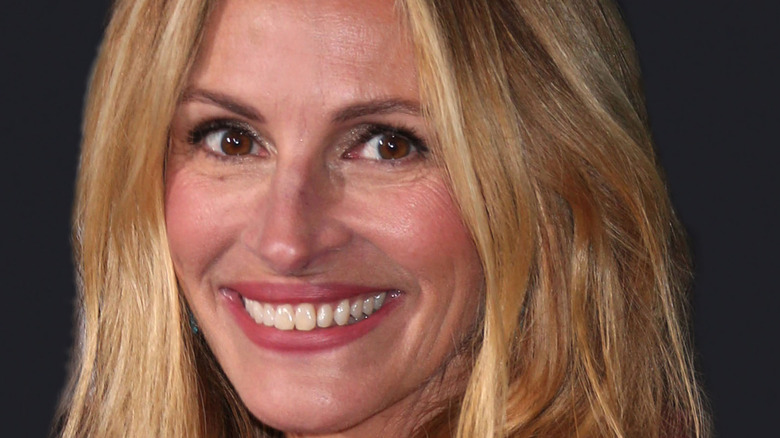 Shutterstock
Julia Roberts might be one of the most famous actresses in the world, so it's no surprise that her love life is of public interest. Early in her career, the Oscar winner had a string of high-profile relationships with Keifer Sutherland, Dylan McDermott, Matthew Perry, Jason Patric and Liam Neeson (per US Weekly). She was even married to singer Lyle Lovett for less than two years (per Country Fan Cast).
But when it comes to her current marriage to cinematographer Danny Moder, Roberts has deliberately kept the relationship out of the spotlight. The two famously met on the set of "The Mexican" in 2000 when he was married to another woman. Once Moder's divorce was finalized in 2002, he and Roberts wed in New Mexico. Two years later, the couple welcomed twins Phinnaeus and Hazel, and son Henry was born in 2007. But while Roberts has continued to appear in films and series such as "Wonder," "Mother's Day," and "Homecoming" — and she and Moder have even continued to work together — she rarely walks the read carpet with her husband. Still, that doesn't mean they aren't blissfully happy. In fact, Roberts calls marrying Moder "the best decision" she has ever made.
"I felt I really had a sense of ownership of my destiny," she said (per Entertainment Tonight). "I've never said that before, to examine it like that. He truly is the best decision I ever made in my entire life was to hitch my wagon to Danny Moder."
Julia Roberts and Danny Moder just celebrated 19 years of marriage
While Julia Roberts and Danny Moder have managed to keep their relationship private, they have been known to share some sweet photos of one another on social media. In fact, the actress just posted a picture with her husband to celebrate their 19th wedding anniversary. She captioned the shot of the two on the beach with, "19 years ... Just getting started!"
Moder has also shared photos now and then of the couple's three children, Phinnaeus, Hazel and Henry, on his own Instagram page. The kids are now teens, and Roberts opened up to Oprah Winfrey in 2018 about the challenges of parenting in this day and age.
"It's different than when I might have said to my mom, 'Mom, you don't know what it's like to be a teenager today,' even though she probably did," Roberts said (per Best Life Online). "Danny and I really don't know what it's like to be a teenager today. Sometimes my kids ask me things and I just say to them, 'I'm going to say no, and I'm going to look into it because I don't even know what we're talking about.'"