How To Recreate Beth Harmon's Makeup Looks From The Queen's Gambit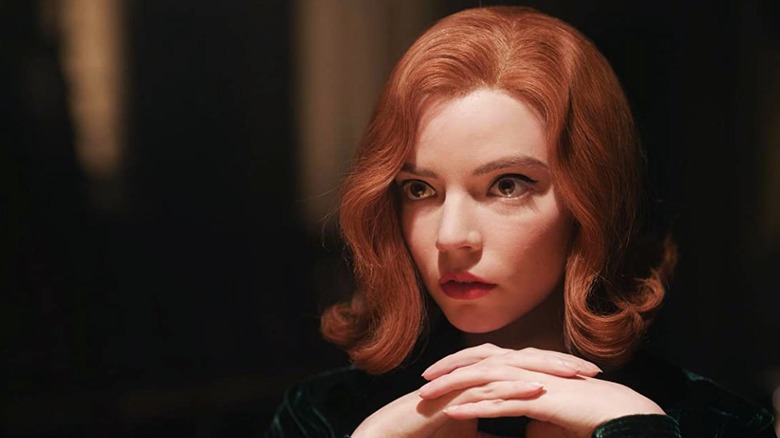 Netflix
When it comes to "The Queen's Gambit," heroine Beth Harmon (Anya Taylor Joy) isn't just a chess genius: The main character has some seriously gorgeous beauty looks up her coat sleeve, too. With fans everywhere taking notice, it's no wonder chess-obsessed viewers are trying Beth's '50s and '60s makeup on for size. Curious? Here's everything you need to know about how to achieve "The Queen's Gambit" inspired beauty — we promise it's a checkmate.
By the time Beth is adopted and enters her teenage life, we see her begin to trade her orphanage uniform and bleak clothing for fun, '60s looks. As the show's hair and makeup designer Daniel Parker explained to Marie Claire, even little Beth's infamously choppy haircut at the orphanage was meant to convey "a mix of severity and charm." Truly "not meant to be flattering," we soon see Beth evolve like a full-blown butterfly, becoming a greater chess player and choosing beauty looks to match her genius. Explaining the evolution to Vogue, Parker stated, "She goes from being baby Beth to grown-up Beth. The makeup and hair had to tell that story ... to show her becoming more mature." And the trademark messiness? It was used to convey Harmon's battles with addiction, adding complexity to the golden-era looks.
Parker told Vogue that Harmon's beauty was inspired by Hollywood sirens like Natalie Wood, Rita Hayworth, Lauren Bacall as well as "the sleekness and beauty of Grace Kelly." Using powder, eyeliner, blush, and lipstick to achieve it, Beth's look is all about "perfection without being overly made-up." Here's how to achieve her beauty look yourself.
Everything you need to know to nail Beth's look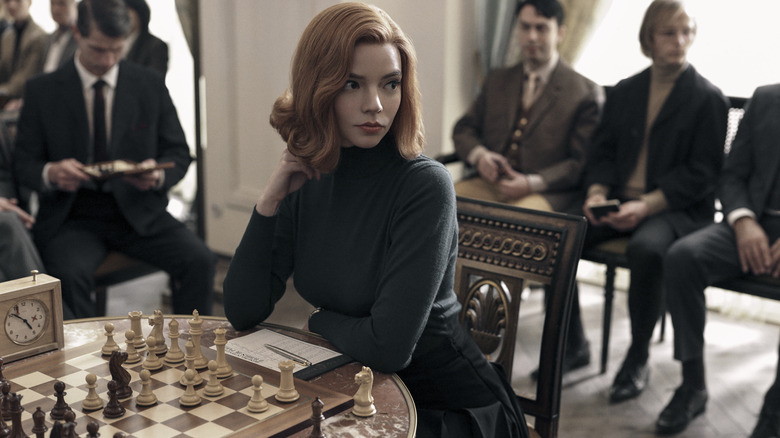 Netflix
So, how to achieve Beth Harmon's signature makeup? For one, it's all about lipstick. Ditch your gloss for a day, and swipe on a slightly Bordeaux shade or mauve, "colors specifically planned for the individual scenes and the individual ages," as Parker told Marie Claire. Even Beth's dark-pink lip color was purposefully "similar to her second mother's as an ode to her," reflecting their bond. 
Apart from lipstick, playing with messiness is key, especially with eyeliner. "Beth gets incredibly drunk while dancing to 'I'm Your Venus' by Shocking Blue, and then she does this rather outrageous eyeliner to look like [lead singer] Mariska Veres," Parker said. With jet-black floating eyeliner circling the eyes, this beauty look recalls '60s icon Twiggy — with just a bit of Harmon chaos.
"West Side Story" actress Natalie Wood was Parker's main inspiration for Beth's beauty looks, particularly her cat-eye liner and flipped, curled bob. By the end of the season, Harmon shifts into a woman in control, and her makeup reflects it. As per Parker, "here, we're talking that real classic 1950s and '60s makeup," including ink-black liner, individual false eyelashes, and MAC Cosmetics' Matte Lipstick in Russian Red. This final winning look "is mature, more assured, and the most femme in the series." Slightly "domineering," too, reflecting her victory, this look is all about "satined" hair, "sexy and red" makeup, and just looking "drop-dead gorgeous." Queen's gambit, it is!