Jimmy And Rosalynn Carter Reveal The Secrets Behind Their Remarkable 75-Year Marriage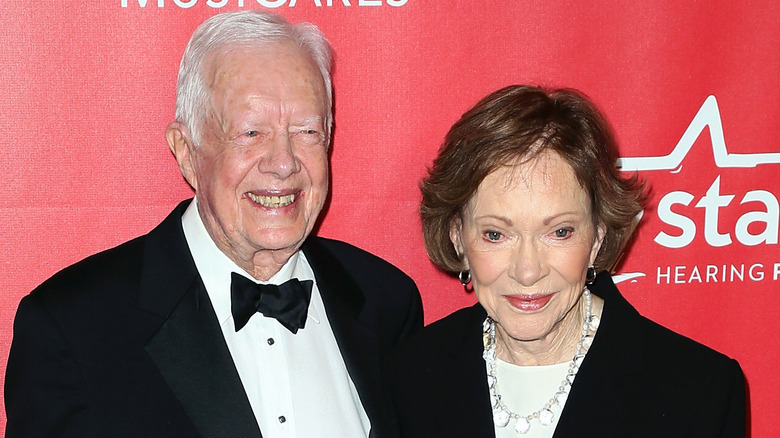 David Livingston/Getty Images
Former President Jimmy Carter may have only been a one-term president, but his impact on the world has lasted much longer. Among his many accomplishments: brokering peace between Israel and Egypt following the Seven-Day War; helping build hundreds of homes through his work with Habitat for Humanity; and creating the Carter Center, an organization that has helped improve the state of health and democracy in more than 80 countries (via The Atlanta Journal-Constitution). His efforts have earned him both the Presidential Medal of Freedom and the Nobel Peace Prize.
But President Carter would be the first to say that his greatest achievement has been his marriage to his wife, Rosalynn. Their partnership has lasted 75 loving years — making President Carter both the oldest-ever living president and the one with the longest marriage. The couple met through President Carter's sister Ruth, who was a good friend of the formerly named Eleanor Rosalynn Smith. They quickly fell in love and married on July 6, 1946, after President Carter's graduation from the U.S. Naval Academy.
Their union, President Carter says, "has been the most wonderful thing in my life." In a recent interview with ABC News, the former president said, "For 75 years of marriage we've always gone deeper in our love for one another. I think that's a kind of extraordinary thing. Doesn't happen to very many couples, but it certainly happened to us." Here, they talk about the secrets to a lasting marriage. 
What keeps President Jimmy and Rosalynn Carter together after 75 years?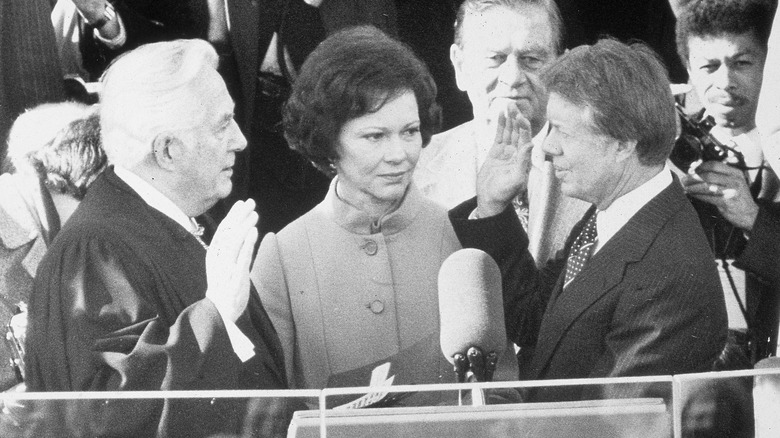 Hulton Archive/Getty Images
The Carters shared some of the secrets to their happy marriage. Their strong Christian faith plays a large part in it: The couple makes a point of reading the Bible aloud every night. "When I'm overseas and Rose is at home, we know we're reading the same biblical text, and even though we're separated physically, it makes us think about the same scripture and admonition from God, direction from God, before we go to sleep," President Jimmy Carter told ABC. They also follow the age-old marital advice of "never go to bed angry."
Though the couple enjoys doing a variety of activities together — especially their mutual hobby of fly-fishing — they don't stay joined at the hip. "Each (person) should have some space. That's really important," Rosalynn Carter told the Associated Press (via USA Today). And though she gave up her goal of college in order to marry her handsome midshipman, the first lady used her time in the White House to help promote mental health care legislation. She has also worked alongside her husband in his work at the Carter Center and Habitat for Humanity and says she enjoys their world travels: "Everything with Jimmy Carter has been an adventure."
And no marriage would be complete without special loving gestures. In June, to commemorate their diamond anniversary, President Carter presented Rosalynn with a diamond necklace with the number 75 on the back. She's worn it ever since.