Inside LeBron James' Marriage To Savannah Brinson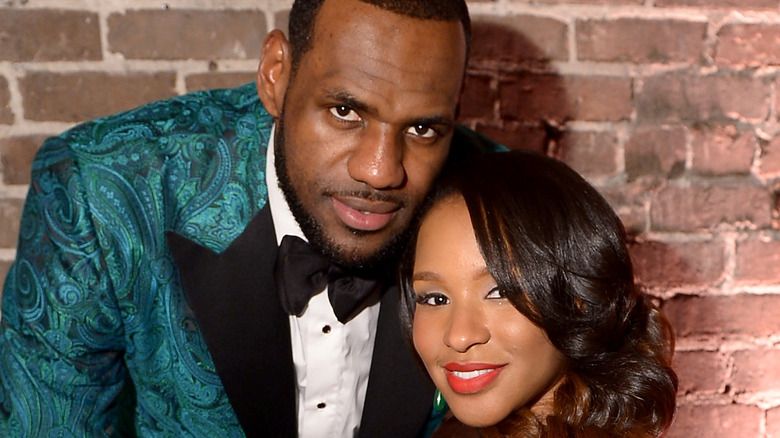 Michael Loccisano/Getty Images
LeBron James and his wife Savannah Brinson are the definition of high school sweethearts. The couple shares a long history together that dates back to their teenage years, per Good Housekeeping. LeBron and Savannah reportedly met when the NBA superstar was just 17 years old. The duo grew up in the same city of Akron, Ohio. However, LeBron made a name for himself at St. Vincent-St. Mary High School, where he became one of the most talked-about high school basketball players of all time. Meanwhile, Savannah attended a rival high school. However, the couple just happened to share a mutual friend, who helped them start their romance after LeBron asked for Savannah's phone number. LeBron eventually invited her to one of his basketball games and their romance began to blossom.
According to Bustle, Savannah didn't know much about LeBron's basketball talent when they began dating. However, she was supportive, and LeBron credits her for helping him succeed in the sport. "Savannah was with me shooting in the gym when I [had] absolutely nothing ... [Savannah] was down when I was at my high school, no cameras, no lights. And she was there with me. You wouldn't be talking to me right now if it weren't for her," LeBron told The Hollywood Reporter back in 2018. LeBron graduated from high school in 2003 and was drafted straight into the NBA by his hometown Cleveland Cavaliers. However, that wasn't the only life-changing event that happened for the couple that year.
LeBron and Savannah married in 2013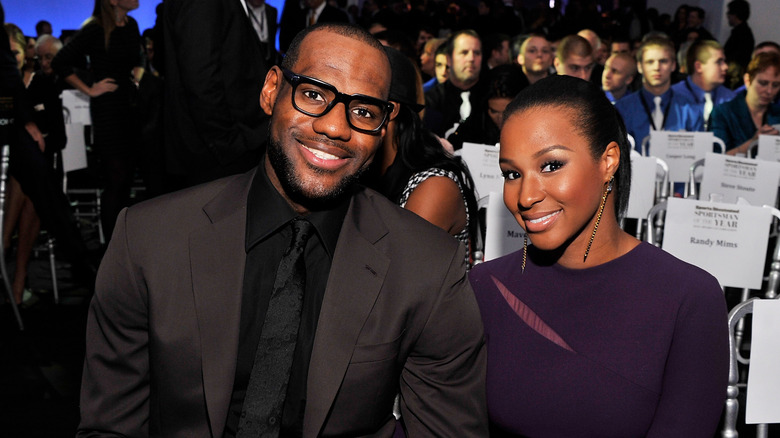 Stephen Lovekin/Getty Images
While LeBron James was busy navigating his rookie year in the NBA, his then-girlfriend Savannah Brinson was finishing her senior year of high school. That same year, Savannah found out that she was pregnant with the couple's first child, per Good Housekeeping. Although Savannah admitted that she was scared about having a child so young, it was LeBron who promised her that things would work out for the couple and he was right. The pair welcomed their first son, LeBron James Jr. or "Bronny," as they call him, in October 2004. The couple continued to go strong and three years later they expanded their family again when their second son, Bryce Maximus, was born. Finally, in 2011, after 10 years together, LeBron popped the question on New Year's Eve.
"I was nervous. It felt like before a finals game," LeBron told Oprah Winfrey of the proposal in 2012. "I had been thinking about it for a while, but it just came to me one day and I was like, 'This is a part of growth for me. This is the lady and the woman I have been with through all the good and all the bad.' She's been there for a long time and I wanted her to continue to be there with me, so I felt like at that moment it was time," the NBA star stated. The pair tied the knot in September 2013 and one year later welcomed their third child, a daughter named Zhuri.
LeBron and Savannah continue to thrive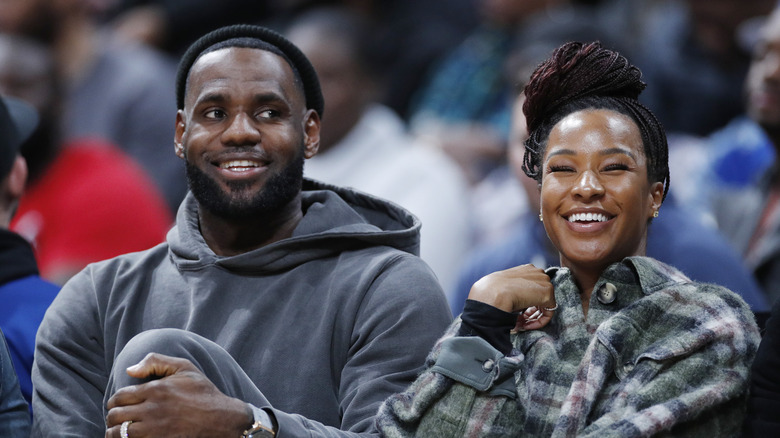 Joe Robbins/Getty Images
Today, LeBron James and Savannah Brison have traded their hometown in Ohio for the bright lights of Los Angeles. However, they continue to raise their family and work on their passions. For LeBron, that includes basketball and winning another NBA Championship, as well as his other endeavors such as movies and television. Savannah also keeps busy as a mother-of-three and a philanthropist who works to help empower young women and girls (via Good Housekeeping).
As for the couple's marriage, Savannah says that she's still in awe of LeBron all these years later. "He is truly a king to his queen, if you will," Savannah told Cleveland Magazine of her famous husband. "He treats me with so much respect — I mean, it's hard to not love him, with the way that he is with me and the kids and his mom and just everyone who's around him. He's a really, really humble guy for everything that he has and everything that he's done," she added. While some athletes make headlines for infidelity, it certainly appears that the James' have a solid foundation and sturdy relationship.