Paris Jackson's Stunning Net Worth Revealed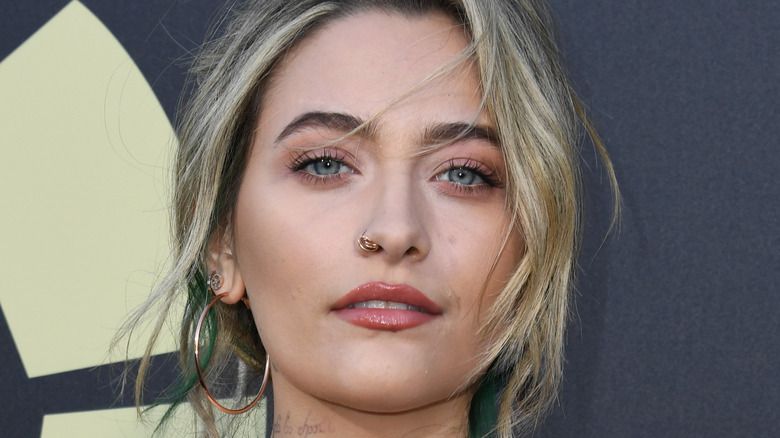 Jon Kopaloff/Getty Images
The late Michael Jackson was almost mind-bogglingly wealthy. Indeed, per Celebrity Net Worth, the star had a net worth of $500 million at the time of his death — being one of the most successful artists in the world pays pretty well. And of course, his children look to be following in his footsteps.
Paris Jackson, Michael's middle child, has remained very much in the public eye over the years. Having tried her hand at modeling, singing. and acting over the years, she's clearly a woman of many talents and has been keeping herself busy in recent times. She had a chat with Willow Smith on Facebook Watch's "Red Table Talk" in June 2021, and has opened up about her relationship with her siblings too. 
She might not be quite the household name her father was throughout his life, but she's slotted seamlessly into the world of celebrity. While it's still early on in her career, does she have a bank account to match her high profile? Let's take a look at Paris Jackson's stunning net worth. 
Paris is worth more than you think
It doesn't look as if Paris Jackson will be short of cash anytime soon. The singer-songwriter is worth a cool $100 million (via Life & Style). While she might have a way to go to surpass her father's massive fortune, she's definitely doing well for herself at this stage in her career.
Of course, belonging to a wealthy family helps. Indeed, Paris – along with her two brothers – will have inherited money from their dad's estate. Page Six reported back in 2014 that Paris, Prince, and Bigi get $8 million each year. With the children all now adults, could they be receiving more? Well, when they all turn 33, they'll get equal shares of half Jackson's estate, while at 40 they'll inherit the rest of the estate.
Paris has grown her wealth through hard work as well, however. She signed with IMG Models in 2014, released her first solo music in 2020, and is joining the upcoming Season 10 of FX's "American Horror Story" (via Dazed).