Here's How Paris Jackson's Family Reacted To Her Coming Out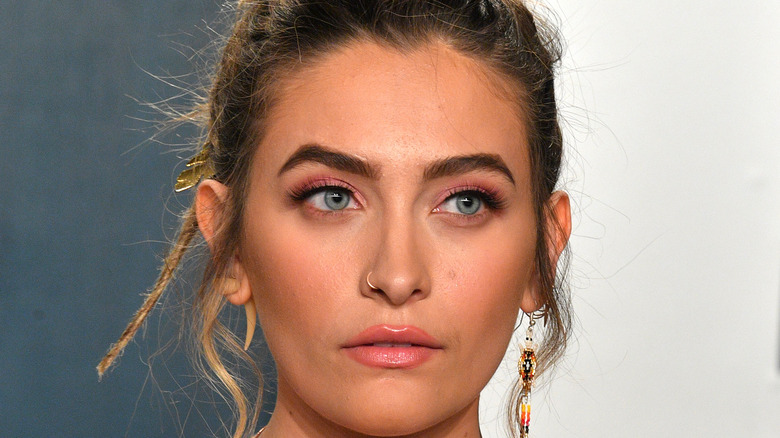 George Pimentel/Getty Images
In a recent episode of Facebook Watch's "Red Table Talk," Paris Jackson joined Willow Smith for a chat. The pair, both the offspring of world-famous celebrities, discussed what it was like to grow up in the public eye, and touched on sexuality too. Smith came out as bisexual in 2019 (via Pride), while Jackson has previously spoken about her attraction to different genders. While she's declined to label herself as bisexual, she's explained that she has dated both men and women before (via Elle).
Being the daughter of the late Michael Jackson, the 23-year-old belongs to one of the most famous families in showbiz. After her father died in 2009, Jackson and her siblings were placed in the custody of their grandmother, 91-year-old Katherine Jackson (via The Guardian). It's quite a large family, with Katherine having eight surviving children, but how did they all react to Paris coming out?
Paris Jackson doesn't discuss her sexuality with her family
Many of Paris Jackson's family members are "very religious," as she put it on "Red Table Talk," and admitted that after coming out, it's not something the family often talks about. Speaking to Willow Smith, she said, "I'm still kind of figuring it out ... My family is very religious and a lot of, like homosexuality, is very taboo, so we don't talk about it, and it's not really accepted. I've gotten to a point where I respect them and I have love for them. I respect their beliefs. I respect their religion."
Her grandmother, Katherine Jackson, is a Jehovah's Witness, and raised her children accordingly (via Los Angeles Times), but it looks as if her grandchildren aren't as devout. Paris revealed that her siblings, Michael "Prince" Jackson Jr., 24, and Bigi Jackson, 18 (via BestLife) were supportive of her after she came out, but admitted that it can still be a little lonely. 
"There were moments where it was really hard," she confided to Smith. "You feel alone. You feel excluded."