Beth Behrs Reveals A Funny On-Set Story From 2 Broke Girls - Exclusive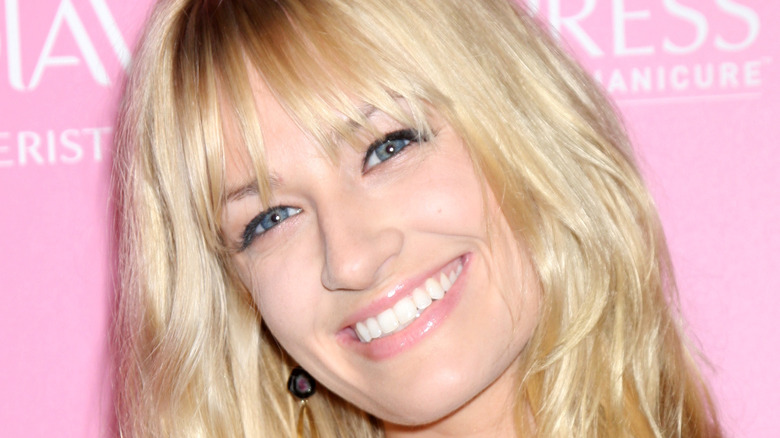 Shutterstock
In the breakout role that made her a star, Beth Behrs was cast as the sweet, spunky — and sometimes clumsy — Caroline Channing on "2 Broke Girls." The socialite-turned-waitress has her fortune abruptly taken away, and, newly fallen from grace, finds a job at a diner. Although she is out of her element, to say the least, she befriends her audacious coworker, Max, played by Kat Dennings, and there is never a dull moment on screen for the pair. The dynamic duo, who are still friends IRL, serve up just the right amount of sugar and spice, and had audiences laughing for six seasons. 
We sat down with the multitalented actress over Zoom to celebrate her new partnership with Woodbridge Wines and Major League Baseball, which she said combines her two favorite things — "wine and baseball." And, of course, we couldn't help but reminisce about her time on "2 Broke Girls" which Behrs said for Dennings and herself "was pretty much our whole twenties and changed both of our lives in such a beautiful way." 
Although the highly adored sitcom was suddenly canceled, which "shocked" the starlet, she looks back on her "2 Broke Girls" stint with great fondness. When asked for a funny story from its set, she let us in on a behind-the-scenes secret involving a special guest appearance by a famous actress.
The funny scene involved Lindsay Lohan and a wedding dress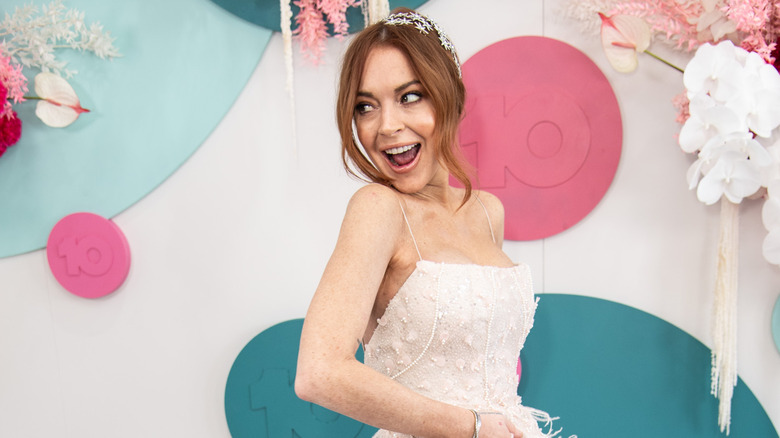 James Gourley/Getty Images
The memorable moment that Beth Behrs recalled from the set of "2 Broke Girls" involved none other than another comedy darling, Lindsay Lohan. The "Parent Trap" star was cast as a bride-to-be who asks Caroline and Max to make her wedding cake. With Lohan's character behaving as a bridezilla, things don't run smoothly for the trio, and hilarity ensues. The icing on the cake — no pun intended — is this scene that will live on in infamy. 
"... There was a bridal dress and I was supposed to run after Kat in her dress and I genuinely tripped in real life," Behrs revealed. "Fell flat on my face and was trying to grab onto the end like that and that ended up staying in the show."
Art definitely imitated life on set, and many times, producers incorporated Behrs' natural reactions into the series. "A lot of my clumsiness as Caroline was really just Beth in front of a live audience," she quipped.
Beth Behrs is having just as much fun on The Neighborhood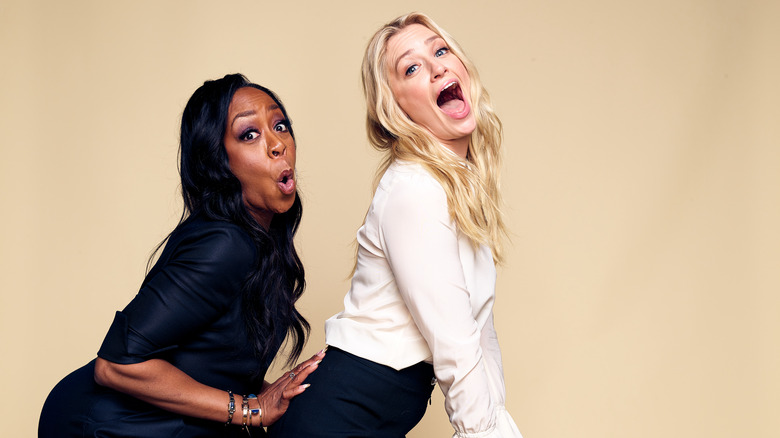 Robby Klein/Getty Images
A year after "2 Broke Girls" ended, Beth Behrs was snatched up for another sitcom that was premiering on CBS. On "The Neighborhood," the blonde beauty plays Gemma (via IMDb), which is quite a departure from Caroline, since the character is a mom with a baby on the way. And from speaking with the actress about her experiences on the show, which is entering its fourth season this fall, it's safe to say that she will find fun on any set she is on. The 35-year-old credits her hilarious coworkers for entertaining her on and off camera, "because I work with some of the funniest people in our business," she explained. 
There is one cast member whom she singled out for being her comedic partner in crime. "Especially with Tichina Arnold, my co-star on The Neighborhood ... We like to jump off the comedy cliff with each other and surprise each other. So there's definitely been times where I break."   
Beth Behrs and Woodbridge Wines — the first official wine of Major League Baseball — are inviting fans to revel in the many "Celebratory Firsts" they'll experience again this summer. Be sure to check out WoodbridgeWines.com and follow @WoodbridgeWines on Instagram and @Woodbridge_Wine on Twitter to learn more about the "Celebratory Firsts" campaign and giveaway and more.