Beth Behrs Opens Up About The Unexpected 2 Broke Girls Ending - Exclusive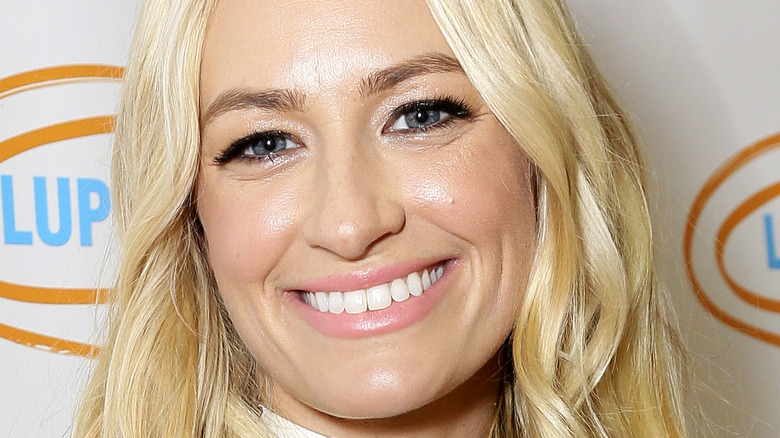 Tiffany Rose/Getty Images
For Beth Behrs, "2 Broke Girls" will always hold a special place in her heart. Not only did the show provide her with her breakout role of Caroline Channing, but the cast and crew were so tight-knit that she became part of a big, happy TV family — one she still keeps in touch with to this day. On the beloved sitcom, she played a sweet, spunky — and sometimes clumsy — socialite who becomes a waitress after losing her father's money.
We sat down with the actor over Zoom to chat about her new partnership with Woodbridge Wines and Major League Baseball, and, of course, we couldn't help but ask about her feelings on the series getting canceled without warning after six seasons. "I mean, it was really sad ... [especially] when you've been on a show that many years, and for Kat [Dennings] and I, it was pretty much our whole 20s, and changed both of our lives in such a beautiful way," she said.
When asked if she'd do a reboot, Behrs didn't miss a beat, immediately responding, "Yes, of course!" In the meantime, as a bit of consolation prize, "The Neighborhood," the series in which she now stars, is also on CBS, so half of its camera crew came from the set of "2 Broke Girls." "I've worked with some of the same camera people since I was 24 years old, and they've seen me grow up and they're sort of all uncles at this point," she said.
The show's cast and crew didn't get to say goodbye
When "2 Broke Girls" ended — pretty much out of nowhere — in 2017, the news didn't just stun fans, but the cast as well. "We were shocked, obviously. Everyone was, because you saw the season finale was not a series finale," Beth Behrs explained. 
And as Behrs looks back on the end of the fan-favorite series, she is saddened by the fact that she was unable to properly say goodbye to her on-set family. "There was something about not getting to thank the crew and say goodbye to those people who were with you during one of the most important times of your life," she said.
That's why she was "crying the whole time" when she watched the recent "Friends" reunion. "I was just thinking about how much I love the cast and crew of "2 Broke Girls," she gushed.
Beth Behrs and Kat Dennings are still close IRL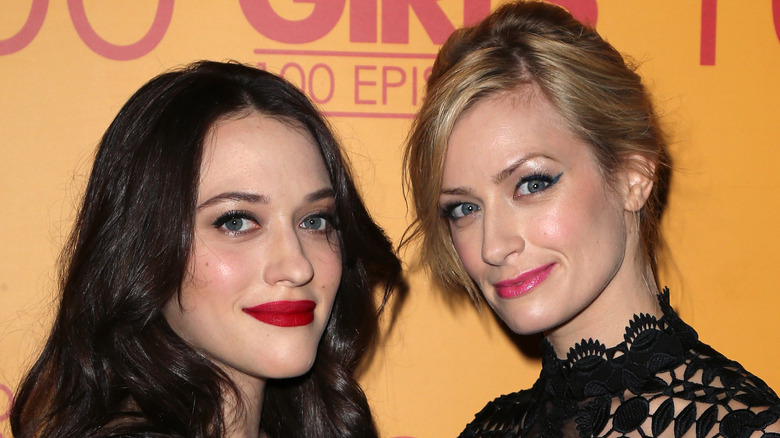 David Livingston/Getty Images
On the pilot episode of the series, which aired in 2011, Beth Behrs' character, Caroline, befriended fellow waitress Max Black, played by Kat Dennings. It was apparent from their first scene together that the two had undeniable chemistry (via YouTube). In fact, another part of the show's abrupt ending that upset Behrs is that they never had proper send-offs for their characters. "I wished we had had that way of ... saying goodbye to the characters, being able to see what happened to Max and Caroline," she lamented.
Since being cast together, the pair became just as close off camera as they were on. So now that the show's been off the air for years, we had to ask how often the lovable TV duo talk. "Pretty often!" Behrs replied. "Through the pandemic, we haven't really been able to hang out, but through text, yeah. I was just talking to her the other day about our gardens, because she's the gardening expert."
Beth Behrs and Woodbridge Wines — the first official wine of Major League Baseball — are inviting fans to revel in the many "Celebratory Firsts" they'll experience again this summer. Be sure to check out WoodbridgeWines.com and follow @WoodbridgeWines on Instagram and @Woodbridge_Wine on Twitter to learn more about the "Celebratory Firsts" campaign and giveaway and more.