Dave Bautista's Tattoos Explained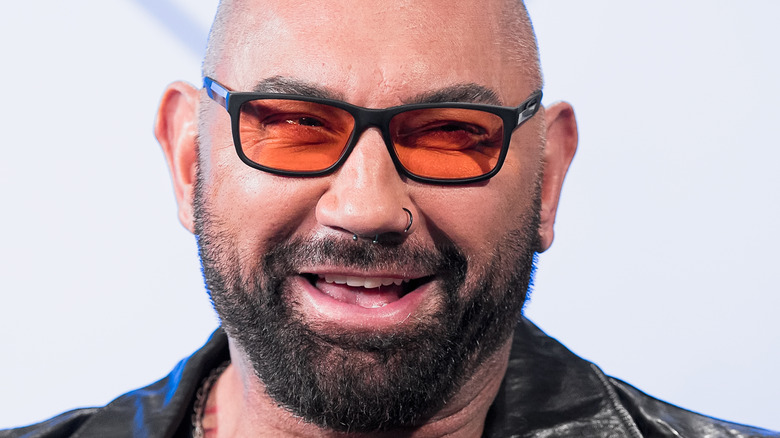 Rich Polk/Getty Images
Dave Bautista's knockouts aren't restricted to his wrestling moves. The former WWE wrestler has become the face of Marvel's Drax the Destroyer and has taken on many roles since the iconic Batista, per IMDb. His "Guardians of the Galaxy" co-star Chris Pratt may have forgotten that Bautista ranks as one of the world's highest paid wrestler, as he accidentally challenged the two-time WWE champion to a wrestling match. "I think I can wrestle you, bro," was the text Pratt sent Bautista when he was on Ambien. "Dave would kill me so fast," Pratt told James Corden in an appearance on "The Late Late Show."
If you've ever watched a Batista bomb, you would know Chris Pratt isn't a likely winner. You've also probably noticed a few hundred inches of ink on Bautista's arm slamming his opponent down with him. The wrestler and actor has as many tattoos as protruding veins, and they symbolize everything Bautista cares about.
Bautista's tattoos pay tribute to where he comes from
To start with, according to Tattoo Me Now, Bautista wears his heritage on his sleeve; the flags of Greece the Philippines are on his left arm (to pay tribute to his mother and father, respectively). He also has caricatures of his dogs on his right thigh, featured on Instagram, and Kanji characters that spell "Angel," dedicated to his ex-wife Angie. Recently, he revealed on Instagram that "There's a new lady in my life." A sultry Medusa takes centre stage on Bautista's abs, crowned by the Eye of Providence on his chest — a symbol of an all-seeing God.
Bautista also had "I Can't Breathe" and "We The People" inked on each hand as a response to the death of George Floyd and in support of the Black Lives Matter movement (via Instagram). He also takes inspiration from John Lennon's "Imagine," with a tattoo of the song's title spelled out in a bold cursive on his torso.
One of his first tattoos, he told Inked, was a tattoo of a heart that said "Heart of Stone," in a place the tattoo artist was reluctant to call his canvas. "I didn't want my dad to see it, so I got this tattoo on my ass," Bautista told Inked. While we may not see it often, Dave Bautista broadcasts his tattooed butt on Twitter every once in a while, and we should be considered lucky.