The Unexpected Reason David Schwimmer Was Just Called Despicable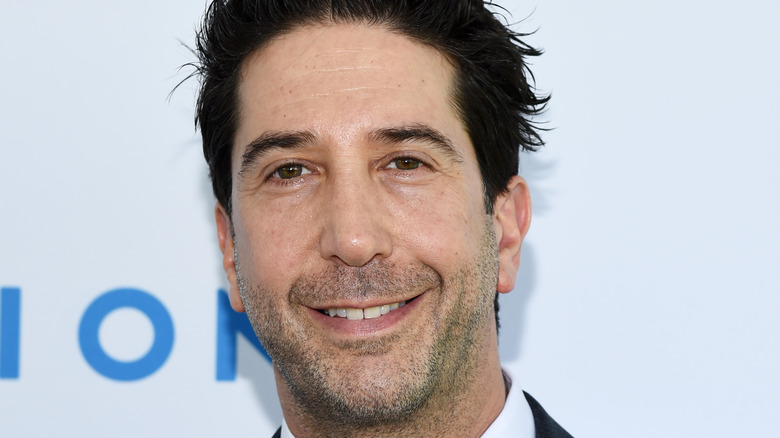 Amanda Edwards/Getty Images
One of the best parts from the HBO Max unscripted "Friends" reunion back in May was when the entire cast gathered on stage in front of a live audience. Jennifer Aniston, Courteney Cox, Lisa Kudrow, Matt LeBlanc, Matthew Perry, and David Schwimmer even took questions from fans, and many of their replies garnered some big laughs from those in attendance. At one point, the cast was asked if there was anything about filming the series that they didn't like. This is where Schwimmer told a story about the monkey that famously played his character Ross' pet Marcel on the show (via E! Online).
Schwimmer admitted that he wasn't always thrilled to film with the animal, as it sometimes made his job as an actor a bit more difficult. "Obviously it was trained and it had to hit its mark and do its thing right at the perfect time, but what inevitably began to happen was we would all have choreographed bits kind of timed out and it would get messed up because the monkey didn't do its job right," the actor said. Schwimmer also added that the monkey's trainer would often feed the animal "live grubs" while it was sitting on his shoulder. "I'd have monkey grubby hands all over. It was time for Marcel to f–k off," he joked. 
Now, the monkey's trainer is speaking out about the experience, and he has some harsh words for Schwimmer.
Animal trainer blasts Schwimmer for recent comments
According to The Sun, the trainer who was responsible for the monkeys who portrayed Marcel on "Friends" is speaking out. Mike Morris recalls his memories about working with David Schwimmer over 20 years ago. "Schwimmer was fine with the monkeys for the first couple of episodes and happy to be there," said Morris. "But people would laugh at the monkey and I think he got jealous because it wasn't him getting the laughs. He seemed to get a little bitter about them being there after that. And of course the monkeys didn't like working with him after he turned on them."
Morris went on to bash Schwimmer for speaking poorly about the animals that he trained for the show after all these years. "Schwimmer was talking ill of the dead when he made those comments," said Morris of one of the animals, who died from cancer. "I find it despicable for him to still be speaking ill of her."
Although Schwimmer and the monkeys who played Marcel on the series didn't seem to get along, the episodes of "Friends" where Ross and the monkey are featured continue to be fan favorites.