Inside George Stephanopoulos' Marriage To Actress Alexandra Wentworth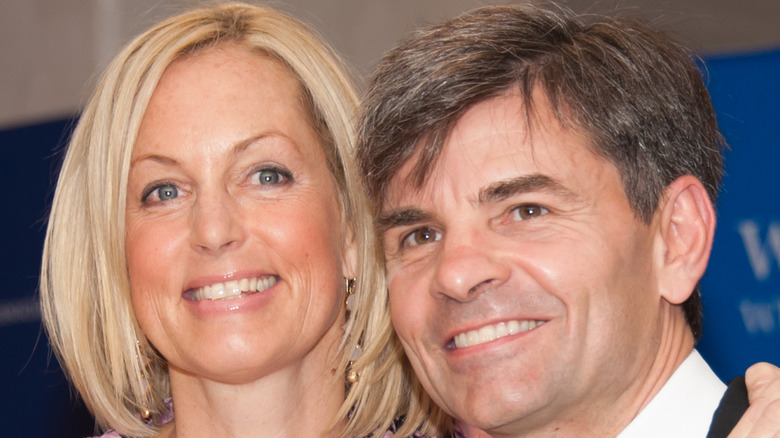 Shutterstock
While George Stephanopolous never physically appeared on the show "Friends," he is involved in a key plot point in the show's first season, in which Monica, Rachel, and Phoebe realize he lives across the way when they're accidentally given his pizza order, seen here on YouTube. The girls then spy on Stephanopoulos and are desperate for him to drop his towel.
However, the girls would be sad to discover that not only is Stephanopoulos taken in real life these days, he's been happily married to actress Alexandra "Ali" Wentworth for close to 20 years (via Us Weekly).
The pair first met when they were set up on a blind date in 2001. Initially, Wentworth wasn't interested: Stephanopoulos comes from the world of politics — most famously serving in the Clinton administration as a senior advisor to the president on policy and strategy — and Wentworth had grown up surrounded by politics (via ABC News). She was more interested in the likes of, say, Matthew Perry or Hugh Grant.
But the writer and actress (best known for her work in "In Living Color," "Jerry Maguire," "It's Complicated," and more, per IMDb), couldn't resist Stephanopoulos and he felt the same. The two were married just six months later.
"I knew within 24 hours, I would not ever dare risk losing her," Stephanopoulos told the New York Times.
Keeping the love alive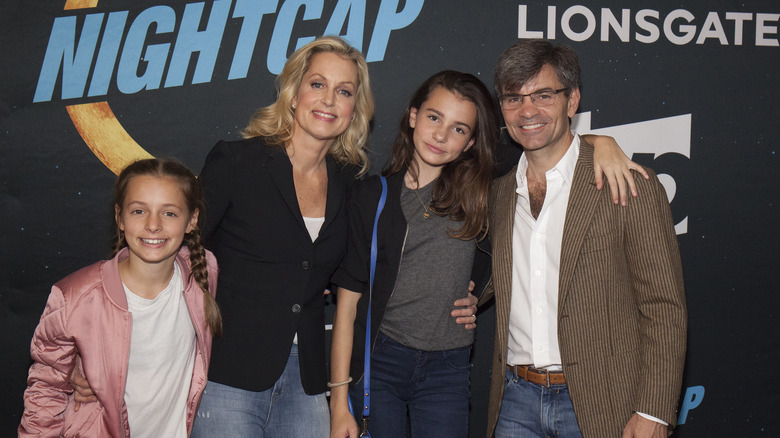 Santiago Felipe/Getty Images
Today, Wentworth and Stephanopoulos share two daughters, Elliott, who was born in 2002, and Harper, born in 2005 (via US Weekly). Now that Stephanopoulous has a slightly unorthodox schedule — thanks to his gig as co-anchor of "Good Morning America" — Wentworth makes it a priority to ensure she goes to bed at the same time as her husband, even if that means going to bed very, very early.
"When he got this job, I made a very conscious decision that I would go to bed with my husband," Wentworth explained. "My feeling was if I don't get to bed with my husband and I don't wake up with my husband, then he's just my roommate" (via Good Housekeeping).
Wentworth has a penchant for telling like it is when it comes to her marriage — something that took Stephanopoulos a moment to get used to. Per Wentworth, when a reporter from The Washington Post once called and asked if there was any truth that she and Stephanopoulos were divorcing, Wentworth replied, "You show me a couple that has sex twice a day that's getting a divorce" (via People). While her husband initially was enraged, he's since come to understand that's how she is.
Whatever their secret is, it appears to be working. As Wentworth said back in 2012, "I'm telling you, my heart skips a beat when he walks in the door."