The Truth About Doug Emhoff's Religion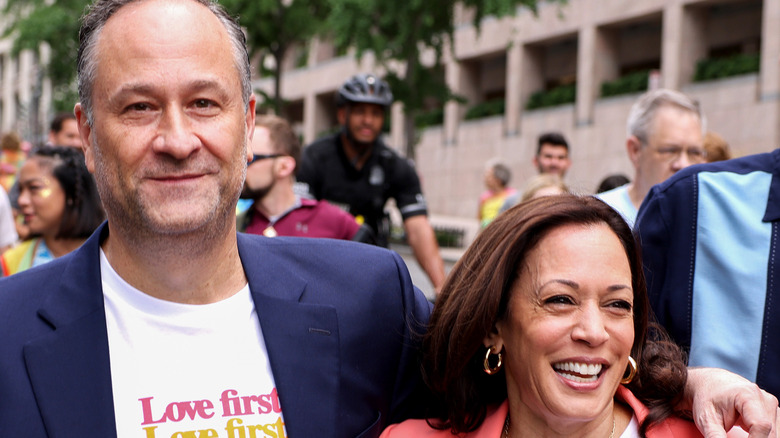 Anna Moneymaker/Getty Images
Kamala Harris wasn't the only person to break new ground when she became the vice president of the United States. Yes, the moment President Joe Biden was sworn into office, his running mate became the first woman, person of Asian descent, and Black person to ever hold the position of vice president (via The New York Times). Talk about shattering glass ceilings. However, the man who stood by Harris' side earned a couple of firsts as well. For one thing, until that moment, the United States had never had its own second gentleman.
In a piece Harris' husband, Doug Emhoff, penned for GQ, he recognized the weight of his new title while keeping a posture of humility. "I am honored to be the first male spouse of an American President or Vice President," he wrote. "But here's the truth: generations of women before me have used this platform to advocate for causes they believe in and build trust in our institutions at home and abroad — often without much accolade or acknowledgment. It's on their shoulders I stand. And it's their legacy of progress I will try to build on as Second Gentleman."
However, becoming the first second gentleman (it's a mouthful, we know!) isn't the only feat Emhoff accomplished during the swearing in ceremony, for he also became the first Jewish person married to a U.S. president or vice president (via The Times of Israel). Here's what we know about his ties to the religion.
When Doug Emhoff married Kamala Harris, he joined his religion with hers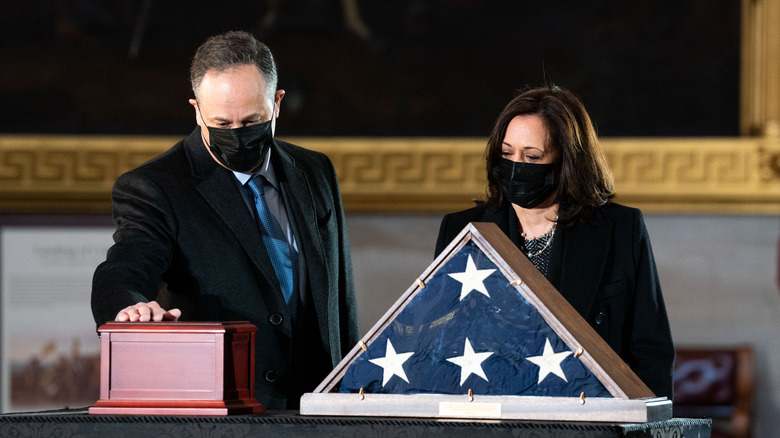 Pool/Getty Images
Long before Doug Emhoff celebrated his wife's election victory, he took home trophies of his own at the Jewish camp he attended each summer (via The Times of Israel). Growing up on the east coast, Judaism was an integral part of his surroundings and daily life. When asked about her son's religious upbringing, Emhoff's mother coyly responded, "He was bar mitzvahed in New Jersey, I can tell you that." According to his friends, the second gentleman isn't particularly observant, but rather "one who identifies strongly with, and is deeply shaped by, Judaism," via The Times of Israel.
While he was in high school, Emhoff's family moved to Los Angeles, where he eventually attended the University of Southern California. By the time a mutual friend set him up on a blind date with the Kamala Harris (per People), he'd been working as a lawyer for some time. "The moment I met Kamala, I knew I was in love," he wrote in GQ. The pair walked down the aisle a year later, and began melding their various values. 
"As we built our lives together, we began joining our families and traditions," he said. Harris, for her part, was raised with both Hinduism and Christianity and now considers herself a "Black Baptist," per America Magazine. According to Emhoff, melding his faith with that of his wife's has been a powerful experience. "I found that as I began dipping my toe into Kamala's world, it brought us even closer together," he wrote (via GQ).