Regina King Has An Actress Sister Who Looks Just Like Her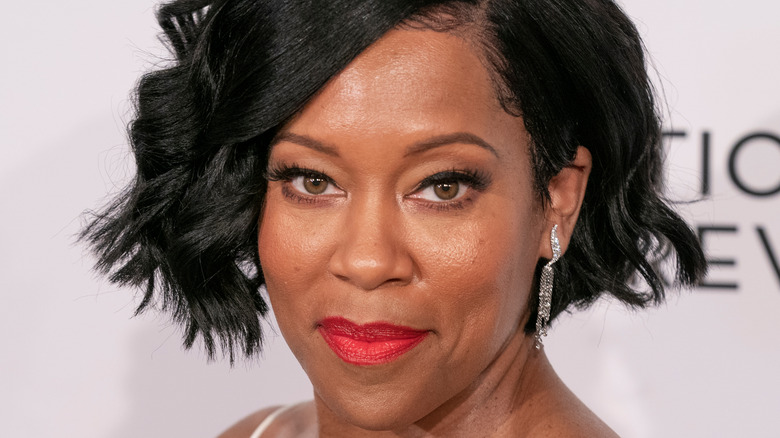 Shutterstock
Named by Time magazine as one of the most influential people in the world in 2019, per Hello Beautiful, Regina King has truly made her mark in the entertainment industry.
The Oscar winner started her career when she was just 14 years old in the NBC sitcom "227" which ran for five seasons (via Empire). From there, Regina landed roles in some of Hollywood's biggest films like "Boyz n the Hood," "Jerry McGuire," and "If Beale Street Could Talk," as well as on the small screen in "24," "The Leftovers," "Shameless," and "Watchmen."
It would seem that her acting success runs in the family, as her younger sister Reina King is also paving her way in the industry. Born four years apart, the sister share a tight bond – especially through their names, which translate to Queen in Spanish and Latin (via Amomama). "My father did that on purpose," Regina explained to Essence, adding, "When Reina was born, I realized we were both 'Queen Kings.'"
Regina and Reina co-own a production company called Royal Ties
Described by Regina King as a surprise "bonus child" (via YouTube), Reina King also started acting at quite a young age. Her first role was on the ABC sitcom "What's Happening Now!" where she played Carolyn Williams through its first season (via IMDb). Reina also starred in her sister's show in an unnamed role for an episode, before starring in "Scrooged" as Lanell Cooley and "To Sleep In Anger."
Reina hasn't appeared on screen since her role in the 1998 short "A Hollow Place" and has instead opted for work behind the camera. This would eventually lead to a collaboration with Regina, when they formed the boutique production company Royal Ties. Combining their experiences in front of and behind the camera, the King sisters have helped develop and produce a variety of projects including "Scandal," "Pitch," "Greenleaf," and "The Catch."
Through Royal Ties, Reina and Regina want to tell stories "about the Black American experience that don't just involve slavery," as Regina explained to Marie Claire. "I want to continue to tell stories that reflect the stories I've been working on."