The Moment At Gwen Stefani And Blake Shelton's Wedding That Had Everyone In Tears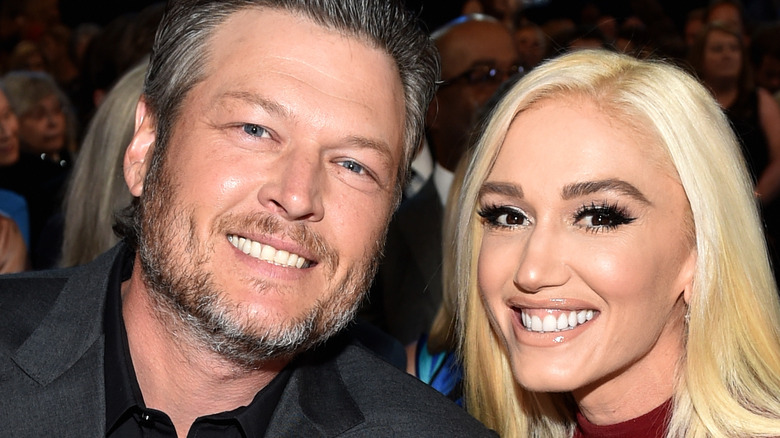 John Shearer/acma2018/Getty Images
Blake Shelton and Gwen Stefani are finally married. The couple tied the knot in a small chapel that Shelton had built on his property in Oklahoma, per The Sun. The pair didn't have a huge gathering for their wedding, either. Instead, they decided to keep the ceremony intimate, with only about 40 friends and family members in attendance (via People). "They purposely kept the wedding simple. They didn't want a circus. In the end, they just wanted to have this moment with their loved ones," an insider told the outlet. "They're a very family-oriented couple, and that's exactly what the wedding was about. Family was at the center of everything," the source added. The informant went on to reveal that having the wedding at home was the best for the couple's family to feel comfortable, and Shelton was happy to oblige anything that his bride wanted. "Blake wanted the day to be perfect for Gwen. His love for her is so deep."
Meanwhile, the source claimed that Shelton and Stefani were very excited about their big day, and couldn't wait to celebrate with their family members. "They already felt like husband and wife long before the wedding and have been operating as life partners. This day was a formality that was important to the whole family," the insider dished. Now, the couple's close pal, Carson Daly, is sharing even more intimate details about the wedding, including the moment that had everyone in tears.
Blake wrote a special song for Gwen for their wedding day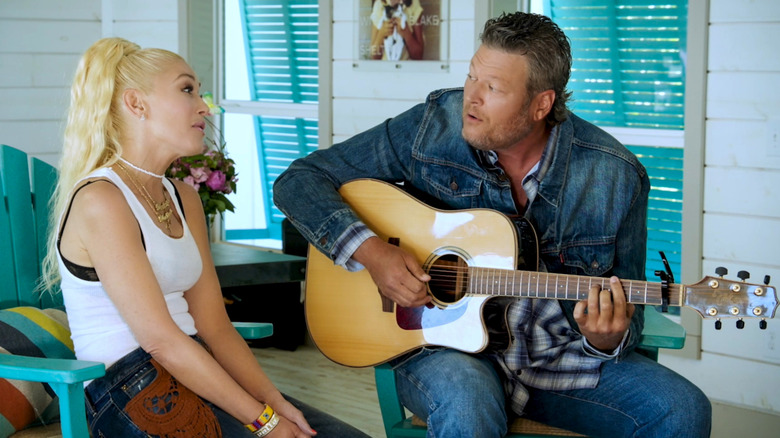 Getty Images/Getty Images
People reported that Blake Shelton and Gwen Stefani's close friend, Carson Daly, was asked to officiate the couple's wedding. "The Voice" host said he was honored by the request. "I've known Gwen for 25 years. I was friends with them both when they met separately. I love Blake to death. He's like the brother I never had," Daly told "Today" of his part in the wedding, adding that he and Stefani "share a deep sense of faith" that bonds them.
Daly also opened up about the most emotional moment of the ceremony. "At the wedding, Gwen starts and she wrote this [speech] saying, 'Since I was a little girl, blah blah blah' and she crushes [it] — not a dry eye in the church. It was so perfect that I said to Blake when she was done, 'Top that, buddy,'" Daly recalled. "Guitar comes in, stool, next thing you know, he wrote her a song, and he sings her a song, while he's crying, that he wrote specifically for her. 'Reach the Star,' I think it was called. Not a dry eye in the house. That was a highlight."
Daly went on to admit that if Shelton would ever choose to release the intimate song that he wrote for his bride, it "will put everybody in the wedding at that moment. You will be transformed onto that hilltop in the middle of Oklahoma." It appears that Shelton and Stefani did truly have a magical wedding day, and fans couldn't be happier for the pair.