Meg Ryan's Home Is Absolutely Gorgeous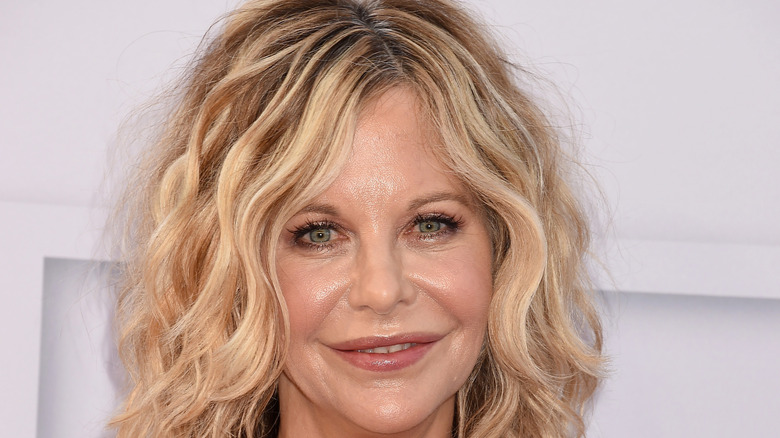 Shutterstock
For Meg Ryan, renovating houses is nothing new, but her New York City home might be her best yet  – and hey, she can afford it. Per Architectural Digest, the actress roped in both designer Monique Gibson and architect Joel Barkley for the project, and her loft in the Big Apple is certainly eye-catching. The ninth home she's renovated, she describes decorating as her chance to be in charge, and she's certainly put her experience to good use.
"I love renovating," she told the outlet. "I think it's tied to living the actor's life. As an actor, you are so rarely in control. You're always saying words that someone else has given you ... But with decorating I am in control; it's a chance for me to bring my vision into the world."
Maybe Ryan's love for renovation is why we don't hear about her so much anymore? Either way, let's go inside!
Meg Ryan's style really shines through in her NYC loft
The kitchen in Meg Ryan's New York City loft has a primarily off-white color scheme, with a wooden table in the dining area and industrial lights that Architectural Digest reports the "When Harry Met Sally" star obtained from a salvage shop in Maine. The walls are covered in white brick, while marble shelving holds some of Ryan's favorite photographic prints, along with some books and, of course, some kitchenware, in case you forgot that you were in a kitchen and not in an art gallery. 
As for the living room in the loft, it has a classic, cozy look with brown wooden sofas (and an ottoman) decorated with Rogers & Goffigon fabrics, and a custom-made gray rug. Plenty of light comes in through the tall windows, but there are task lamps too, which sit on a vintage worktable for extra illumination. More photographic prints dot the walls, with plants and books around as well.
The New York City loft features a media room
The master bedroom keeps the off-white (with brown wood) theme going, woolen bed curtains hanging over a bed with a dark brown frame, and wooden chairs of the same color sit either side of a Jacques Adnet cocktail table. Moving into the master bathroom, there's a patterned tile floor with a step up to the bath itself and two basins either side of the room with marble tops. Again, the walls are white brick, giving a stripped-back, minimalist appearance (via Architectural Digest). 
Appropriate for someone with such a rich acting career, Meg Ryan's loft boasts a media room too. Here, she's been able to sit back and watch movies on her bronze-footed sofa which sits next to a dark brown coffee table which features an assortment of Scandinavian pottery from Wyeth. However, since inviting Architectural Digest inside, she's put the home on the market (via Hello!) — it could be yours if you've got a spare few million dollars lying around...