How To Heal Your Dry Cracked Heels In Time For Sandals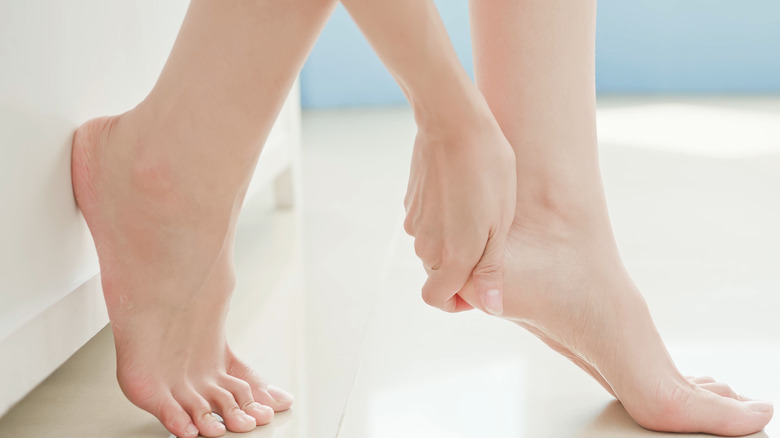 Shutterstock
With sandal season upon us, you may be excited to wear those flip flops to the beach or those strappy sandal pumps on date night, but before donning your warm weather shoes, it's always a good idea to make sure your feet are feeling and looking healthy. If you have cracked skin on your heels known as fissures, you are far from alone; roughly 20 percent of Americans are in the same boat (via Medical News Today). While such dryness and cracks are, for the most part, only cosmetic issues, they can become problematic if left untreated; this is because if the fissures deepen, they can become painful or become prone to infections. 
Luckily, there are some easy, at-home remedies to help you treat these fissures and get your feet back in sandal shape in no time! Plus, who doesn't love an excuse for soaking up a little self-care time or scheduling at home spa day?   
Steps and products to heal cracked heels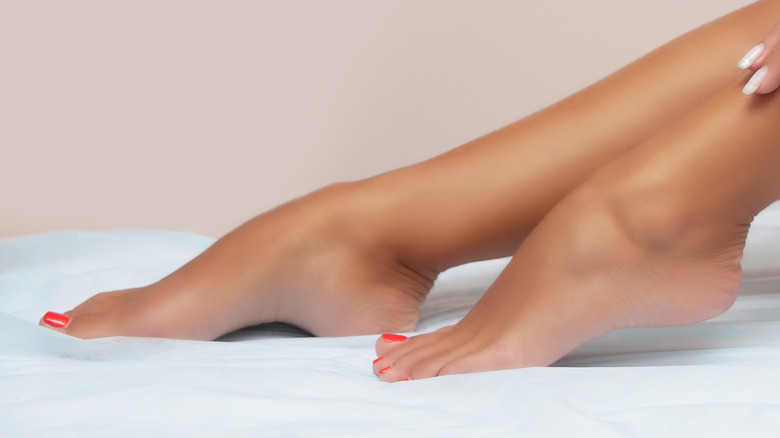 Shutterstock
According to Mayo Clinic, there are several steps you can take to help heal those heels. First, and most simply, make sure you are using a heavy moisturizer on them at least twice a day. Consider thicker options like Eucerin or Cetaphil. You might also consider creams that contain ingredients meant to exfoliate and soften skin like urea, salicylic acid, or alpha hydroxy acid. These ingredients help to remove dead skin cells. 
Another way of helping to remove layers of dead, cracked skin is to soak your feet in warm water for about ten minutes, and then pat your feet dry. Then gently rub the bottoms of your feet and your hels with a loofah or other type of foot scrubber to help remove the dead skin. It's best if you do this at bedtime so that the next steps can work overnight. 
After you've exfoliated, apply an oil-based moisturizer like Aquaphor or plain petroleum jelly and then put on a pair of thin cotton socks. The socks will help the moisturizer soak in overnight rather than wiping off on your sheets or drying out. In the morning you should see softer, healthier heels! Do this routinely until you get the results you want, and if this doesn't fully work, ask a doctor for their treatment recommendations.