John McCain's Net Worth At The Time Of His Death May Surprise You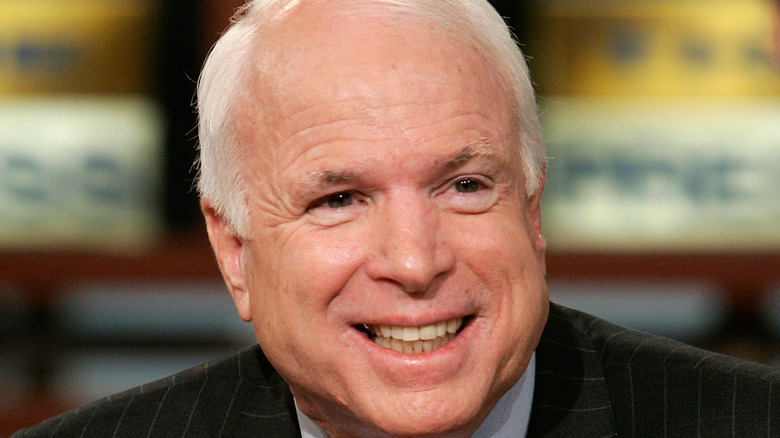 Alex Wong/Getty Images
In August 2018, the Vietnam war veteran, senator, and presidential candidate John McCain died at the age of 81. As the BBC reported, John was survived by his wife Cindy McCain and his seven children, including "The View's" Meghan McCain. In addition to a highly respected political legacy, the late Arizona senator also left behind a hefty net worth. But, how much was John worth at the time of his death?
According to Celebrity Net Worth, John was worth an estimated $16 million at the time of his death in 2018. Although an impressive figure, the late politician's widow, Cindy, is reportedly worth a massive $400 million after inheriting the beer distribution company, Hensley & Co. According to The Sun, John's daughter, Meghan, is also raking in the big bucks and is thought to be worth roughly $10 million as of 2021. 
Per the BBC, John was diagnosed with a brain tumor in July 2017. After undergoing treatment for almost a year, John decided to end treatment in the summer of 2018. In August that year, the McCain family made the sad announcement that the former presidential candidate had died. Speaking shortly after her father's death, Meghan said she aimed to "live up to his example, his expectations, and his love."
John McCain enjoyed a long career in politics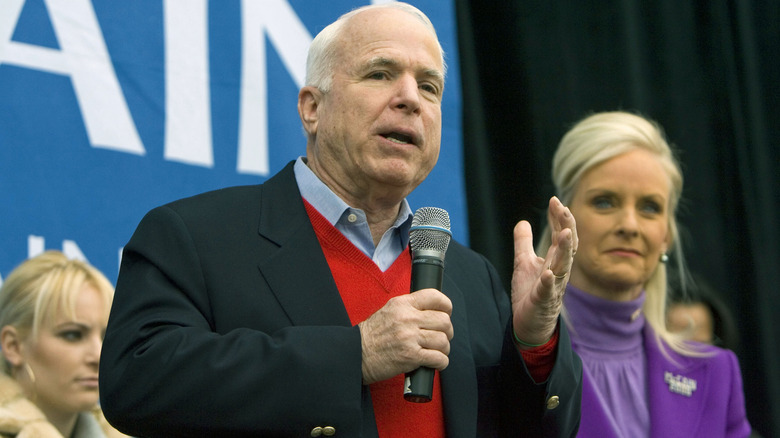 Bloomberg/Getty Images
Per the Daily Mail, a 2018 statement announcing his death from the office of John McCain read, "Senator John Sidney McCain III died at 4:28 p.m. on August 25, 2018. With the senator when he passed were his wife Cindy and their family. At his death, he had served the United States of America faithfully for 60 years."
In a heartfelt social media statement posted at the time of John's death, his widow Cindy McCain tweeted, "My heart is broken. I am so lucky to have lived the adventure of loving this incredible man for 38 years. He passed the way he lived, on his own terms, surrounded by the people he loved, in the place he loved best."
Prior to his long political career, McCain lived for more than five years as a prisoner of war in Vietnam. After returning to the United States as a war hero, he later ventured into the world of politics and served as a U.S. senator for Arizona for over three decades. In 2008, John was the official GOP nominee for the presidential race against former president Barack Obama (via The Daily Mail).