Lady Gaga's Racy Instagram Post Has The Internet Talking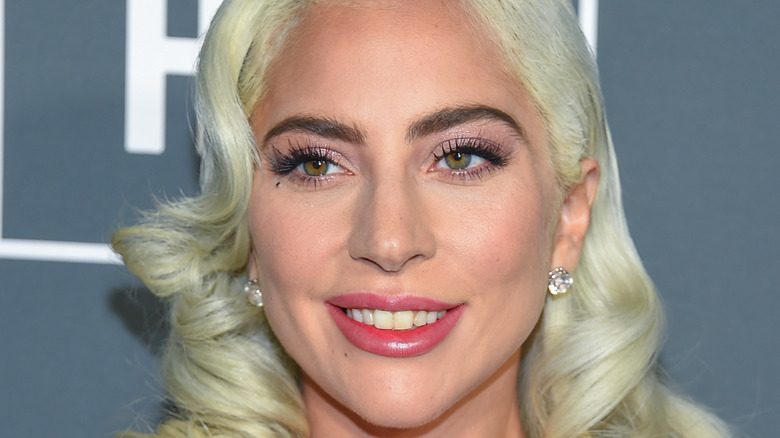 Shutterstock
Lady Gaga is one of the biggest stars on the planet, and when she posts on social media, we go running to check it out — and a recent Instagram post from the "Rain On Me" singer has got people talking even more than normal. 
In the short clip uploaded to Gaga's Instagram yesterday, the 35-year-old appeared makeup-free, topless and unfiltered. We might be familiar with Gaga's, um, experimental style — remember the infamous meat dress from 2010? However, on social media she's been giving us more stripped-back, no-makeup videos and snaps recently, and this is just the latest. 
"May your heart shine like the sun," her caption read — albeit with emojis depicting the heart and the sun — and it certainly looked as if the sun was shining while she was taking the post, her hair moving in the wind too as she takes the footage. In the comments, a number of famous pals showed their support for the star's latest look, and the post has won plenty of likes from her fans.
Gaga has gone makeup-free and unfiltered
Lady Gaga also traded her signature blonde hair for a natural brunette look, something we've seen from the star a little more often in recent years than we did earlier in her career, and showed off her trumpet tattoo on the inside of her right bicep too, a piece of ink that was designed by her friend, the legendary singer Tony Bennett (via Billboard).
Per Women's Health, Gaga has quite a simple skincare routine that doesn't involve much, but does involve the use of hydrating products like vitamin C serums and purifying face masks — just in case you'd like to recreate her post at home. 
In recent days, she's also shared a post in which she shows off the makeup she uses, and another in which she let us know that she arrived in New York. Where does she find the time for it all? Either way, she's certainly had tongues wagging online over the last week...