Bella Hadid's Mystery Man Revealed
Edward Berthelot/Getty Images
It looks like Bella Hadid is definitely in a new relationship! The 24-year-old (super rich) model recently shared a series of photos on Instagram, and included a slightly blurry shot of herself embracing a mystery man. Hadid didn't tag the man in the photo, but eagle-eyed fans are convinced that his name is Marc Kalman. Hadid was previously photographed with Kalman back in June, as noted by Page Six.
This would be Hadid's first public relationship since her on/off situation with The Weeknd, which lasted from 2015 to 2019. That relationship ended quite publicly, with the pair calling it quits and then working the same fashion show together. Hadid explained to Teen Vogue that the breakup was her first, which made it even more challenging.
"It was my first breakup — or second, next to the horse — and so public. As an outsider, you might think I handled it so well, but it's always in your heart, and you always feel it very heavily," she said.
Bella Hadid left her relationship with The Weeknd with love and respect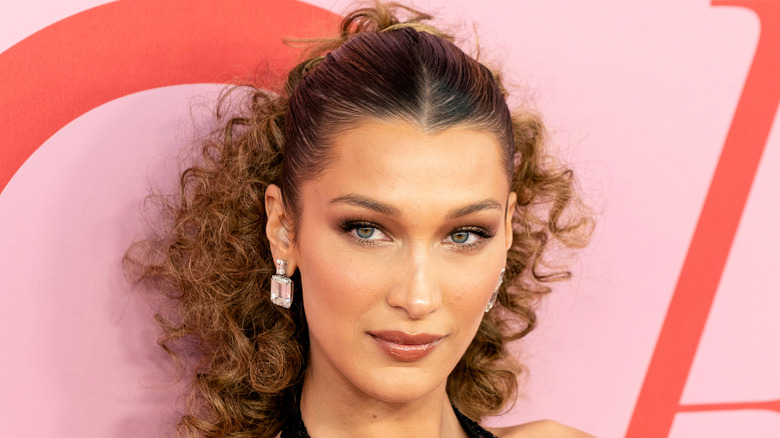 Shutterstock
Bella Hadid, who is now in a relationship with a new mystery man, also explained to Teen Vogue that she knew she just had to get through the pain of ending her relationship with The Weeknd. "It'll be hard for a while," she said. "Love hurts, but you have to pull through."
Hadid paused in the interview with Teen Vogue, before adding that she only had positive feelings left for her ex. "I'll always respect him, and I'll always love him," she said. "Sometimes you want to be sad about it or handle it differently, but at the end of the day, you never want to burn a bridge that you've fought so hard to build."
It could be some time before we learn anything else about Hadid's new man, especially considering how public her last relationship was. Hadid is always notoriously private in most areas of her life. In June, she spoke out after invasive photos of her home were shared online, noting on Twitter that the violation of privacy might even spur her to move. "On another note — whoever thinks it's OK to photograph into someone's home and private space is straight up sick, sad and f***ed up," she tweeted at the time, as noted by W Magazine. "Time to move." So will we see more pics of her and her new beau soon? Time will tell.