Nicole Kidman And Tom Cruise's Daughter Bella Shows Off What She Looks Like Today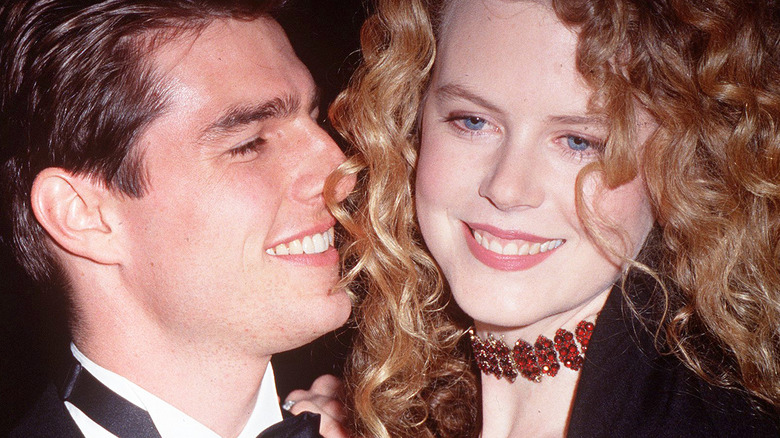 Kypros/Getty Images
Before there was Hailey and Justin, Kim and Kanye, and even Brad and Jen, there was Tom Cruise and Nicole Kidman. Cruise and Kidman first met in 1990 on the set of their film "Days of Thunder" (via Hollywood Life). It didn't take long for the actors, who were playing lovers, to take their romance off screen. By the end of the year, Cruise and Kidman would become married, spawning an 11-year-long relationship. 
Kidman was absolutely smitten with the "Top Gun" star. "He basically swept me off my feet," Kidman told Vanity Fair in 2002. "I fell madly, passionately in love ... I was consumed by it, willingly." Though the couple seemed like the perfect Hollywood duo, continuing to film movies together like "Eyes Wide Shut," Kidman notes the moment she knew her marriage was doomed. "I felt I became a star only by association," she told Easy Living magazine (via Marie Claire). "We would go to the Oscars and I would think, 'I'm here to support him.' I felt it was my job to put on a beautiful dress and be seen and not heard."
The marriage eventually ended in 2001, with Cruise agreeing to pay "tens of millions" in child support for the pair's two adopted children, Connor and Isabella (via Daily Mail). Since the couple's very public relationship ended, both children have mostly managed to stay out of the spotlight ... until now. 
Bella Kidman-Cruise posted a rare selfie to her Instagram Story
Nicole Kidman and Tom Cruise's daughter, Isabella "Bella" Kidman-Cruise, posted a rare selfie in July 2021 to her Instagram Story while watching England vs. Denmark in the Euro 2020 semi-final (via Daily Mail). Along with the black-and-white photo (similar in tone to the one above), Kidman-Cruise included the caption, "My face during extra time ... fingers crossed," punctuated by the flag of England emoji (via Instagram). 
Kidman-Cruise lives away from the spotlight in South London. Her website, Bella Kidman Cruise, features a number of designs including totes, prints, and t-shirts. While the artist was married in 2015 to computer programmer Max Parker (via E! Online), neither parent nor her brother was present for her nuptials. It is alleged that Kidman is estranged from both of her adopted children, as both Kidman-Cruise and her little brother have followed in their father's footsteps as practicing Scientologists.
Kidman has stated that she "utterly" respects her adopted children's beliefs and calls them "generous, kind and hardworking" (via E! Online). It's unclear what kind of relationship Kidman-Cruise has today with her mother, stepfather Keith Urban, and half siblings, Sunday and Faith, but Kidman-Cruise turned heads when she began liking her mother's Instagram posts in the fall of 2020 (via Daily Mail). We hope the Hollywood royalty clan can heal their rift and become a family once again.