These Are The Best Carrier Oils For Your Skin Type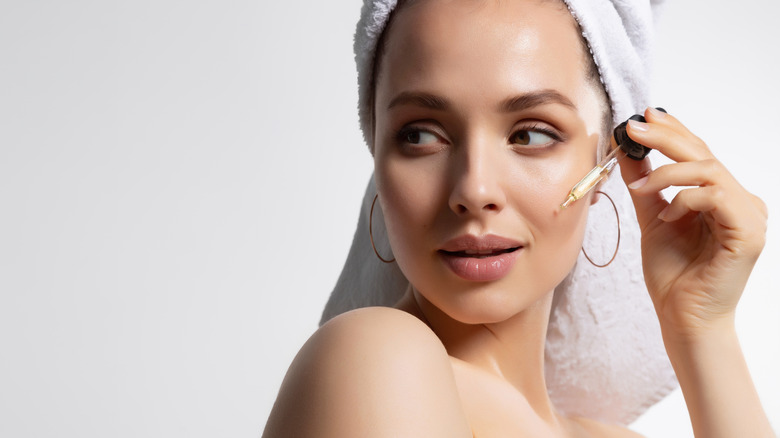 Shutterstock
If you've ever used an essential oil on your skin, you'll know how important your carrier oil selection is. Since many ingredients aren't safe to apply directly to your body, these types of oils help dilute them enough so you can use them on a regular basis. Good HouseKeeping explains that these types of oils come from natural sources such as plants, seeds and nuts.
When it comes to your skin health, carrier oils help seal and moisturize your cells — especially when you find the right one. For instance, apricot kernel oil is a universal hydrator that works for most skin types. If you have a serum that needs diluting or want to apply essential oils, this one can be your new staple. "It is very rich in vitamin A and nourishes the skin by keeping it hydrated," Adebola Dele-Michael, M.D., a dermatologist, explains to the outlet. Marula oil also serves as a powerful moisturizer that fights irritation. "This soothing oil is rich in omega fatty acids," adds Debra Jaliman, M.D., a dermatologist. "It's not heavy, so you won't feel greasy."
Lastly, sweet almond oil works as a carrier oil for most skin types with its soothing and nourishing properties. However, if you've never used an oil on your face, try it on your body first to see if it works for you and your skin type.
You can use a carrier oil for a variety of treatments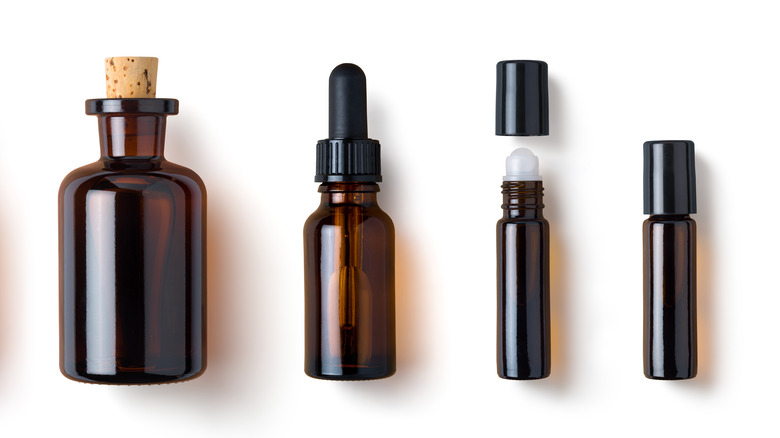 Shutterstock
Beyond adding a carrier oil to your skincare routine, having your favorite one on hand can work as a worthwhile addition to your entire wellness regimen. "Essential oil blends diluted in carrier oils are ideal for massage and hydrotherapy (baths) as well as for skincare on the face, body, hair, feet, and nail bed," essential oil formulator and aromatherapist, Hope Gillerman, notes to Byrdie.
She continues, "Carrier oils are a fully active ingredient for inclusion in serums, face oils, nurturing masks, cleansers, scrubs, creams, lotions and balms. Unrefined, unbleached, unfiltered oils expressed with minimal heat retain more of the nutrients of oil found in the nut, seed, or fruit."
For those with oily skin, lighter oils like jojoba work best — especially since its Vitamin E content protects against free radical damage and helps prevent wrinkles, Good HouseKeeping reports. Kitchen classics like avocado and olive oils may leave oily skin looking even more so; consider spot testing these on your body before using on your face. "Each contains very high levels of oleic acid (omega 9) and absorbs deeply into the layers of the skin. They can be soothing and super hydrating for eczema and all skin types, especially aging and irritated skin. Olive oil is an anti-inflammatory and sometimes infused with calendula for rashes and to increase the cooling, soothing properties," Gillerman explains.
From here, you'll need to find the dilution ratio for the oil — i.e. how much carrier oil you need per amount of essential oil. Byrdie reports that 5% essential oil and 95% carrier oil works for body oil, while only 1% essential oil should be present for anything going near your face.