Andie MacDowell Reveals A Stunning New Red Carpet Look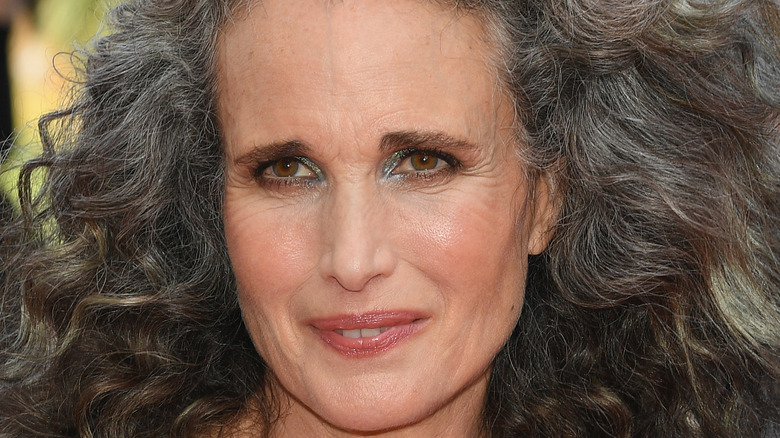 Pascal Le Segretain/Getty Images
Through the years, moviegoers have been dazzled by former model Andie MacDowell in films such as "Four Weddings and a Funeral" opposite Hugh Grant, "Groundhog Day" starring Bill Murray, and "Magic Mike XXL," where she shared an onscreen romance with Joe Maganiello, per IMDb. With her soft Southern voice and thick head of curls, there is no mistaking MacDowell when she steps onto the screen.
And her look has gotten better with time as witnessed at the 2021 Cannes Film Festival. McDowell walked the red carpet in a Prada dress "in shades of seafoam and sky blue, with intricate beadwork forming a chevron pattern on the bodice" (per W Magazine). While her signature curls remain, they are now a show-stopping mix of silver and brunette. MacDowell finished off her look with metallic eyeshadow and a nude lip, all of her makeup courtesy of L'Oréal, the beauty company she has been a spokesperson for since the '80s (per Allure). 
MacDowell has been open about aging in Hollywood. "It's something that has always bothered me," she told Harper's Bazaar. "It's been a part of our culture and society and I personally didn't know how to change it on my own. I love the fact that the whole world has caught fire with the idea that ageism is a terrible concept to put on people. It's painful to be told that you're no longer beautiful, or that life is not going to be enjoyable for you because you're dismissed."
Andie MacDowell's daughters encouraged her to embrace her silver locks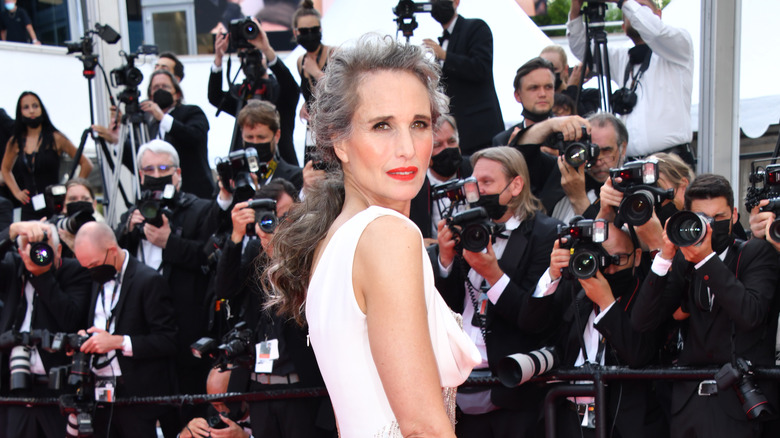 Lionel Hahn/Getty Images
Andie MacDowell made quite the entrance at the 2021 Cannes Film Festival while walking the red carpet for the premiere of the film "Annette." Spectators were blown away not only by her stunning ensembles, but her trademark curls are now a gorgeous mix of silver and brunette. The 63 year-old recently told Drew Barrymore that her two daughters, Rainey and Margaret, encouraged her to get comfortable with her new look.
"I wasn't coloring my hair and you could see my roots, and my daughters kept telling me that I looked badass. And that idea that I could look badass appealed to me," MacDowell, 62, said on The Drew Barrymore Show (per People). "So I went for it, and I'm loving it." She added that her new hair is silver, not gray — and that she is definitely not "letting myself go, I don't think of it that way."
MacDowell also doesn't rule out another color change in the future. "I don't know what's going to happen in five years, I may color my hair again. But I'm enjoying it right now," she explained.