How Chelsea Clinton Saved Her Parents' Marriage After Bill Clinton's Affair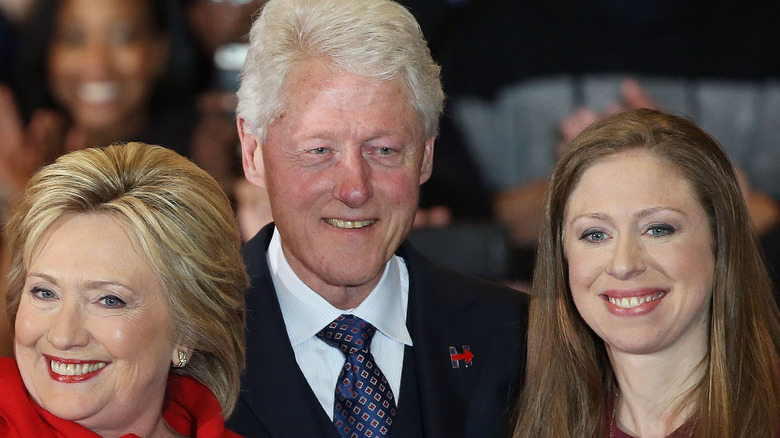 Win Mcnamee/Getty Images
It was the affair that rocked the world and rocked the foundations of the United States' government, but the relationship former president Bill Clinton had with White House intern Monica Lewinsky also rocked a marriage — the Clintons' marriage. While the affair was a public one for the world to see and speculate about, it was also a private affair tearing apart a marriage with a teenage girl in the middle. That teenage girl is now mother of three, Chelsea Clinton, and she may have been the one to keep her parents, Bill and Hillary Rodham Clinton, together.
Bill admitted to having an inappropriate relationship with Lewinsky under oath to a grand jury, but he had already denied an affair in earlier testimony, which gave the House of Representatives reason to impeach him for perjury. He had also asked Lewinsky to sign an affidavit stating they never had an affair, but she had already confessed to a friend, Linda Tripp, about what happened and Tripp had tapes. Whitewater independent counsel Ken Starr also recommended articles of impeachment for obstruction of justice and witness tampering due to the affidavit (via History). Bill was eventually acquitted by the Senate in 1999 and remained president until his term ended. All of this played out with the world watching — and with Chelsea wanting to keep her family together.
Hillary Clinton had to decide what to do about her marriage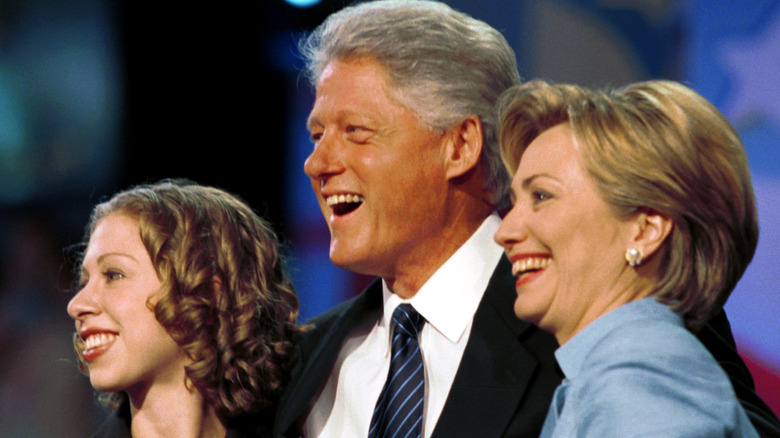 Robert Nickelsberg/Getty Images
Bill Clinton and Hillary Clinton remained married in the decades that followed his high profile affair, and maintained high profile political careers. In 2020, Hillary released a short documentary series about her life simply called "Hillary," where both Clintons reflected on the affair and what it did to their family, and how Chelsea Clinton put herself in the middle — literally.
"I was just devastated," Hillary said in the documentary. "I just could not believe it. I was just so personally hurt and, 'I can't believe this. I can't believe you lied.' It was — anyways, horrible. And I said, 'If this is going to be public, you've got to go tell Chelsea,'" (via Newsweek).
At the time, Hillary knew she had to stand behind her husband politically because she did not believe he should be impeached, but personally, things were quite different.
"I defended and stood by him because I thought the impeachment process was wrong, but that wasn't the necessary answer to what I would do with my marriage," she said in the Hulu documentary. "It was not — to me — the same. I still had to decide whether I wanted to stay in the marriage, whether I thought it was worth saving."
This moment will always be remembered by Chelsea Clinton's parents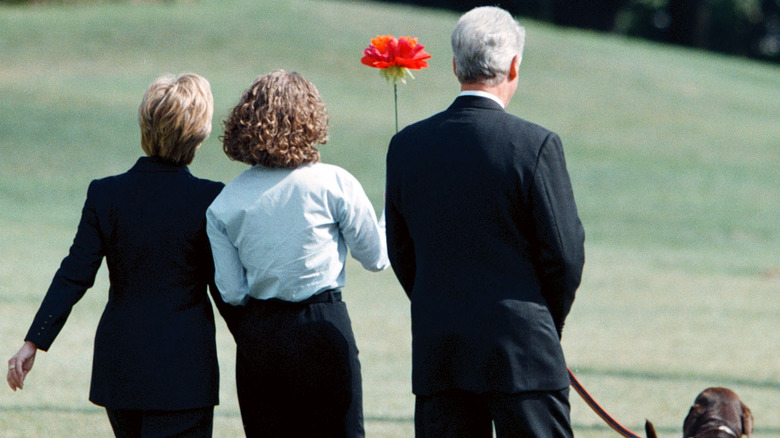 Georges De Keerle/Getty Images
In her 2020 Hulu documentary "Hillary," Hillary Clinton admitted that it was Chelsea Clinton who kept her and Bill Clinton together after the Monica Lewinsky affair and impeachment upended their lives. When the family appeared together in public, a photo was snapped of Chelsea between her parents and holding their hands as a sign of unity, according to Newsweek.
"That was not anything other than her just trying to keep us together," Clinton said. "When she did that, 'Oh my gosh,' I thought, That's just so incredible — so strong and so wise.'" (via Newsweek)
As for the former president, Bill remained contrite about that point in his life as of 2020, before sharing that he is a completely different person now as to who he was in office. "It's ... you feel like you're staggering around. You've been in a 15-round prize fight that's been extended to 30 rounds and here's something that will take your mind off it for a while," Bill Clinton said in the documentary. "Everybody's life has pressures and disappointments, terrors and fears of whatever." Luckily for the political duo, their daughter stepped in and saved the day.