The Real Reason Melania Trump Disappeared From Public View For Almost A Month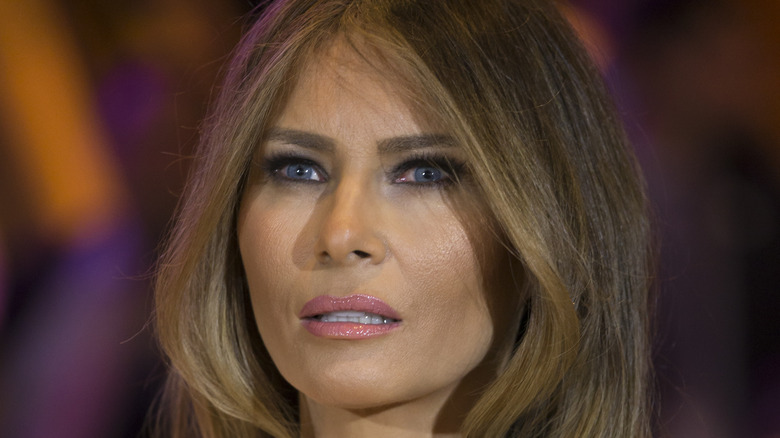 Shutterstock
In 2018, Melania Trump caused social media buzz when she was not seen in public for weeks. There was speculation that she was no longer living in the White House, she had gotten plastic surgery, or left her husband, former president Donald Trump, for good. It turns out none of those things were the truth. The former first lady had a medical condition that needed to be treated and she didn't want it to become public.
Some of the speculation about her whereabouts came from vague statements from the White House. Melania was seen in public on May 10, 2018, at Andrews Air Force Base greeting American prisoners North Korea had just released. Four days later, the White House released a statement saying that the first lady had an "embolisation" procedure for a "benign kidney condition," according to The Guardian, but the length of time she was out of public site made people wonder if that was true.
When the press asked Donald where she was while he was outside on the White House grounds, he pointed to a window and said, "She's doing great. Right there. She's doing great. Just looking at us, right there."
That just fueled even more speculation as nobody could see her through the window when they looked up (via The Guardian). 
A tell-all book about Melania Trump cleared up her mysterious disappearance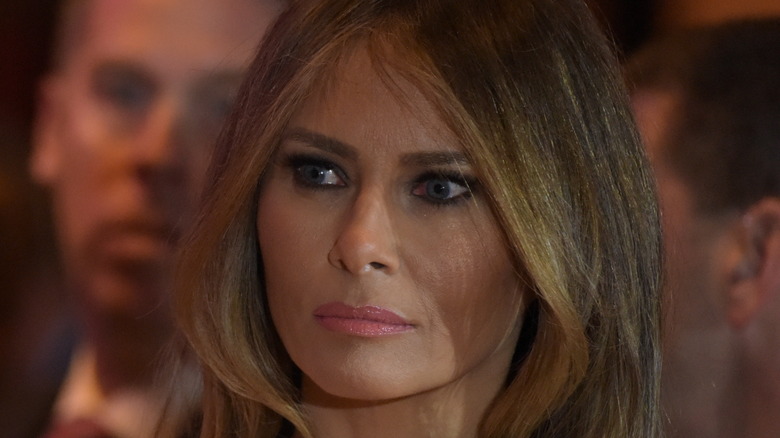 Shutterstock
After a significant amount of time without being spotted, Melania Trump finally broke her silence on May 30, 2018, tweeting, "I'm here at the White House with my family, feeling great, & working hard on behalf of children & the American people!"
In the fall of 2020, the mystery surrounding Melania's disappearance from the public eye was solved via the book "Melania and Me," written by the former first lady's former best friend, Stephanie Winston Wolkoff. Although Melania and Wolkoff were no longer friends at the time of publication, they were still talking to one another at the time of the 2018 vanishing incident.
Wolkoff wrote about a conversation she had with Melania about all the speculation about her health, which apparently seemed to amuse her. "Face lift? I'm too scared!" she said to her friend. "Nervous breakdown? I'm like, seriously? They don't even know me," via The New York Times. She then told Wolkoff that another friend had said to her, "You give people nervous breakdown, you don't have it your own!" Still, her flippant response and Donald Trump's odd White House comments didn't help things. 
Melania Trump's post-White House life is very private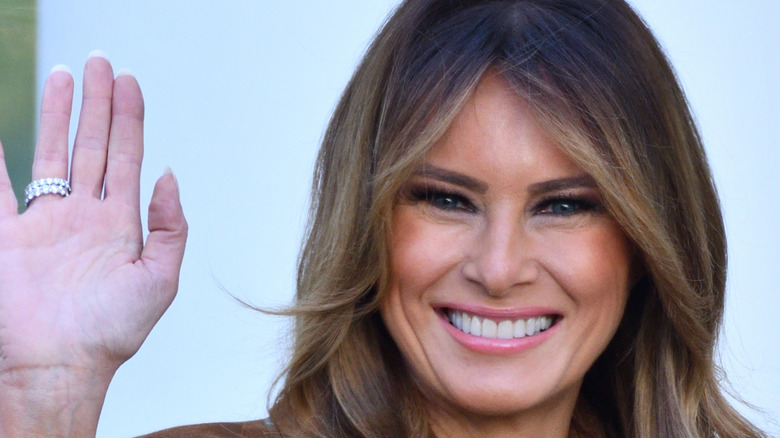 Shutterstock
Melania Trump does indeed march to the beat of her own drum. Reporting from CNN about life after the White House noted that Melania was not seen often at Mar-a-Lago like Donald Trump in the months after his presidency ended. Instead, she mainly kept a private life and enjoyed spa time several times a day, and she made a point to spend time with her parents and teenage son, Barron Trump, rather than with her husband.
However, when she would join her husband at dinner, both Trumps would sit at a roped-off table on the Mar-a-Lago dining patio and not sit down until they received a standing ovation, according to a book by Michael Wolff entitled "Landslide: The Final Days of the Trump Presidency," via Business Insider. Wolff even wrote that it's not clear how much time she even spent at Mar-a-Lago in the spring of 2021.
In July 2021, Melania was spotted outside Trump Tower in New York City, with word that she'd be splitting her time between her old residence and her husband's golf resort in Bedminster, New Jersey, according to People.