Why Britney Spears Is Lashing Out At Her Critics Over Her Latest Selfie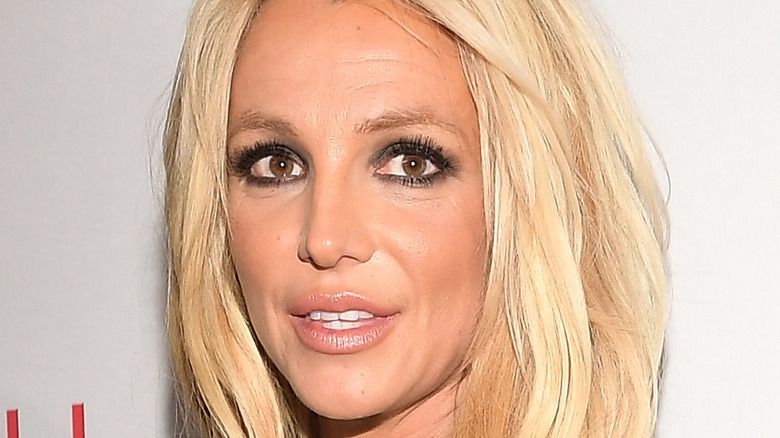 Matt Winkelmeyer/Getty Images
Britney Spears surprised social media fans this week when she took to her Instagram account to share a racy new photo, per The Sun. In the snap, Britney is seen standing nude in the bathroom and appears ready to step into the bathtub. Britney stood with her back to the camera and her arms at her sides for the photo, which cut off just below her waist. Her muscular back and trim midsection were on full display as she wore only a dainty necklace. Her long, blonde hair was pushed over her shoulder to show off even more skin. However, fans immediately noticed that something was missing from the pic.
Britney's tattoos, which include ink on the back of her neck as well as a fairy on her lower back, weren't seen on her skin in the Instagram snap. This led to a discussion in the comments section about where the tattoos went (via PopSugar). Some fans believed that Britney may have had them removed, while others speculated that it wasn't Britney in the photograph at all. However, the "Toxic" singer is now clearing things up and bashing her online haters in the process.
Britney Spears explains her missing tattoos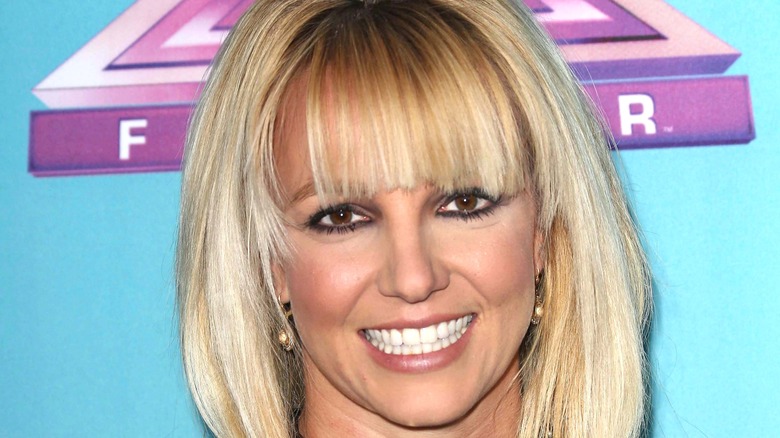 Shutterstock
According to People, Britney Spears returned to Instagram on Thursday night to address the rumors about her missing tattoos and the speculation that it wasn't her in the nude photo. Britney shared a meme that featured a woman holding up her middle finger and which read, "While you're talking behind my back feel free to bend down and kiss my a**." In the caption of the post, Britney explained why her tattoos weren't visible in the revealing pic. "Ok so ... I edited out my tattoo on my neck cause I wanted to see what it would look like clean ... and yeah I like it better so while you guys are talking behind my back go ahead and kiss my a** haters!!!!!" she wrote.
Meanwhile, Britney recently spoke out about her neck tattoo, which she revealed is one of her favorites. In June, the pop star posed in a bright pink bathing suit as she turned around and lifted her hair to show fans the ink. "Have you seen the tattoo on the back of my neck before ???? It's Hebrew, it's a language written backwards !!!! It says Mem Hey Shin and means healing," Britney wrote in the caption. "It's my favorite tattoo but ironically you never see it." It appears that Britney isn't afraid to speak out, as proven in her conservatorship hearing last month. Fans are just happy to see the singer living life and continue to offer her support.