Christina Haack Opens Up About Her New Boyfriend For The First Time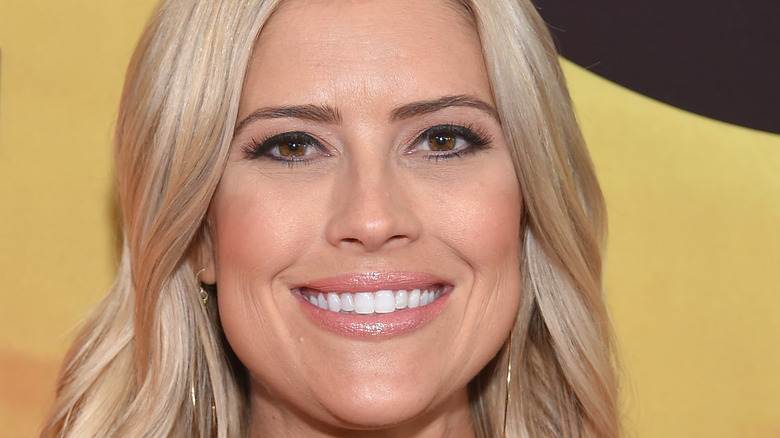 Shutterstock
Fans of HGTV star Christina Haack were shocked to see her stepping out with a new boyfriend less than a month after her divorce from Ant Anstead was finalized (via USA Today). Who was this mystery man? At first, all we knew was his name and profession: Joshua Hall is a realtor who used to be a policeman. The two were snapped by photographers en route to Mexico to celebrate the reality star's birthday. And now that the cat is out of the bag, Haack has opened up about the new relationship in a lengthy Instagram post.
First, it's worth noting that the two have actually known one another for a while, with Us Weekly reporting they met years ago at a real estate conference. But upon reconnecting recently, according to Haack, the connection was instant and undeniable.
"When we met this past spring, the synchronicities hit us so hard and fast they were impossible to ignore," the mom of three wrote as part of a caption to a photo of the new couple enjoying their Mexican vacation. But before sharing this, Haack made an odd admission about her state of mind when she crossed paths with Hall.
Christina Haack doesn't care what you think about her relationship
"I met Josh when I wasn't in a state of fear or fight-or-flight ... I had taken time off social, hired a spiritual coach and smoked a Bufo toad (which basically reset my brain and kicked out years of anxiety in 15 mins)," Haack wrote in her Instagram post. According to Yahoo!, Bufo toad is toad venom which is known to have a psychedelic effect on people.
Haack went on to say that she felt "crazy protective" of Hall, and wanted to get to know him "before the tornado (media attention) hit." She continued by sharing, "We've had a few solid months of just us getting to know each other and I've loved every second of it."
"When I saw a camera behind us at the airport my heart started beating out of my chest and my hands shaking," Haack revealed, going on to explain this feeling was "for him." She added, "I know they dig and dig and I didn't ever want to see him stress over the media stalking him and his family."
She opined, "That's partly why there is so many failed celeb relationships, they turn new relationships into a circus." Haack added she won't be "looking at all the nonsense online." 
Ultimately, Haack said she "may be a bit crazy" and "definitely not perfect." No matter what people say, she is in another relationship and noted, "guess what. I'm 38 -I'll do what I want."