The Truth Behind Karen E. Laine's Good Bones Retirement - Exclusive
According to their bio at Two Chicks and a Hammer, the first home mother-daughter duo Karen E. Laine and Mina Starsiak Hawk worked together on was a fixer-upper Hawk bought for herself. Since this initial home in 2007, Laine and Hawk have built a home renovation empire with their company and their smash HGTV hit "Good Bones."
"Good Bones" is now in its sixth season, and it's shaping up to be very different from those prior. Hawk gave The List an exclusive interview in which she opened up about these differences, saying, "I've got two kiddos now. My husband and I have both always worked, so that's a new human for us both to balance ... the show is just a lot of the really fun, same crazy stuff." But beyond her new baby and the intense show and work schedule, the biggest Season 6 difference is that Laine, her mom, is partially retired. Here's the truth behind Karen E. Laine's "Good Bones" retirement.
Mina Starsiak Hawk and Karen E. Laine were at different places in their lives
Why, if Two Chicks and a Hammer and "Good Bones" are so successful, would Karen. E Laine retire? Mina Starsiak Hawk revealed the reasoning behind her mom's choice to The List, saying, "I think for us it got a little stressful at the end, because we're in such different places in our lives, and I'm like, 'All right. Let's go. I'm building an empire.' And she's like, 'Well, yeah, let's slow down, girl. You're going too fast. You're doing too much.'" Seems like Laine made the right call, and Hawk agrees. "So, although it's definitely been a transition, I think it probably has us both in more comfortable places where we want to be," she added.
And Laine seems to be enjoying her partial retirement immensely. "She's feeling like she has time," her daughter explained. "Her husband's been retired for a few years, and so that's been a little bit of a pull on her to want to be around more. So, she's getting to do that and is getting to travel." But Laine isn't completely gone from "Good Bones." The talented mother and designer, according to Hawk, is "having her moment to shine with some pretty awesome landscapes at the houses and her usual fun DIY projects, and they're just bigger and cooler than ever."
Karen E. Laine and Mina Starsiak Hawk are still close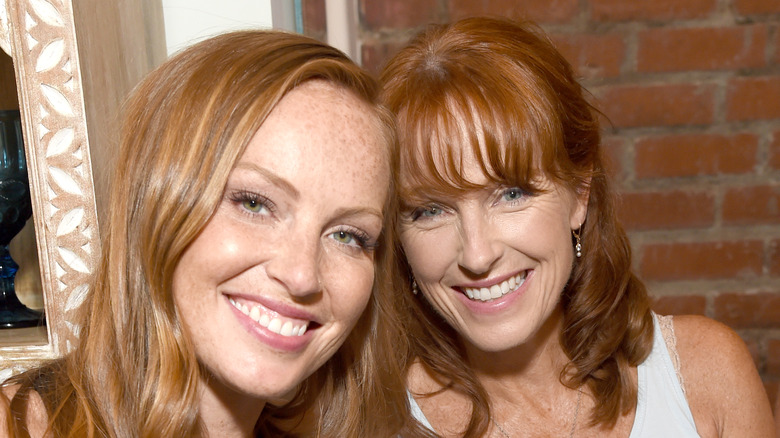 Michael Kovac/Getty Images
Mina Starsiak Hawk and Karen E. Laine's relationship is one of the best parts of "Good Bones" as it shows a truly normal mother-daughter dynamic, complete with both love and fights. "We had our ups and downs," Hawk told The List when asked about her relationship with her mother. "We had periods where we weren't close and didn't really talk much. And then we had periods where we were probably dysfunctionally close. And then you settle somewhere in between there."
Fans might be worried that Laine's retirement will strain that relationship — but they shouldn't. "I think with her semi-retirement it's helped us get a little bit of perspective. We were just in such different places with where we were trying to go with our lives," Hawk explained. "Particularly the business, and her husband's retired, and she wanted to slow down and spend time with him, and I'm rearing and ready to go." Some might even argue that the retirement brought the two closer together, as Hawk revealed, "we fight like anyone else, but end of the day, it's family, so we're thick as thieves." 
"Good Bones" airs Tuesdays at 9 p.m. ET/PT on HGTV and new episodes are available to stream the same day on Discovery+.