The Real Reason Olympian Allyson Felix Is Speaking Out About Nike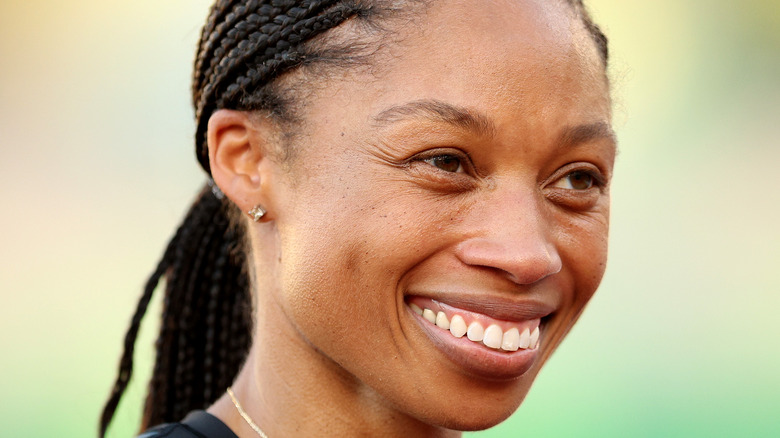 Patrick Smith/Getty Images
For the fifth time in her life, track and field athlete Allyson Felix will be competing in the Olympics. Felix's influence in the sport can be summed up by the fact that she has won more world championships than any other athlete in the history of the sport. In fact, according to Time, if Felix secures just one more medal, she will become the most decorated female track and field athlete in the history of the Olympics. To date, Felix has won six gold medals and three silver medals at the Olympic games, per Team USA's website. Unlike her time spent competing in past Olympic games, though, Felix's appearance at the 2021 Tokyo Olympics is truly a miracle.
Back in 2018, Felix gave birth to her first child — daughter Camryn — and the pregnancy came with quite a few complications. In an interview with Time published yesterday, Felix revealed that she had developed preeclampsia during her pregnancy. The condition, marked by high blood pressure and the possibility of developing other complications, made her delivery of Camryn fraught with risk. Felix eventually gave birth via C-section. Though her daughter's delivery went well, Felix struggled to return to her rigorous training schedule afterward. What's more, her pregnancy had also threatened the stability of a contract that she had with Nike.
Allyson Felix is calling out Nike for its hypocrisy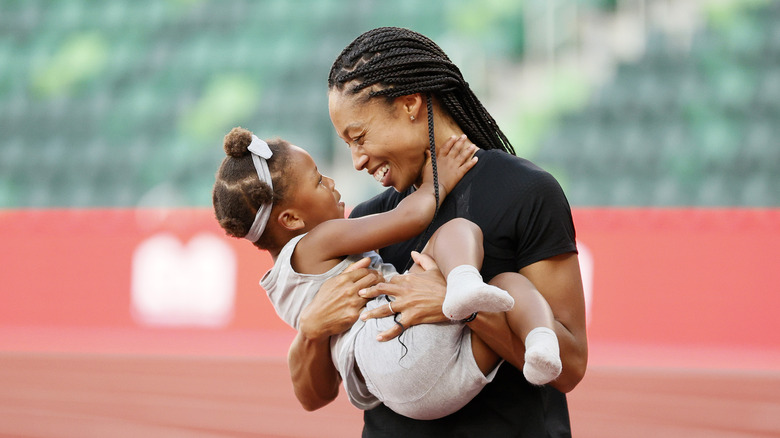 Steph Chambers/Getty Images
Similar to other athletes of her caliber, Allyson Felix's income mainly consists of endorsement deals with large companies like Nike. In 2017, as Felix's contract with Nike was set to expire, she set out to negotiate a new deal that give her certain maternity protections, as she was pregnant at the time. However, back in 2019, Felix penned an op-ed in The New York Times which accused the brand of being unsupportive of pregnant women and new mothers. According to Felix, Nike refused to give her the maternity protections she desired and offered a 70% pay cut in her new contract.
Felix is calling the brand out once again in a Time interview published yesterday. Felix told the magazine that, while attempting to secure maternity protections with the company in her contract that were ultimately denied, she was asked to participate in an ad about female empowerment. "I was like, this is just beyond disrespectful and tone-deaf," Felix told Time. "Nike sometimes, they feel like you don't have another option. So they can get away with stuff like that because, where are you going to go? And I think that's how I was always perceived: 'She's never going to say anything. She's never going to speak out.'"
Thankfully, for Felix, she has since left Nike behind and signed a contract with women-focused athletic apparel brand Athleta, according to Time.