John Lennon's Last Words To Paul McCartney Were Heartbreaking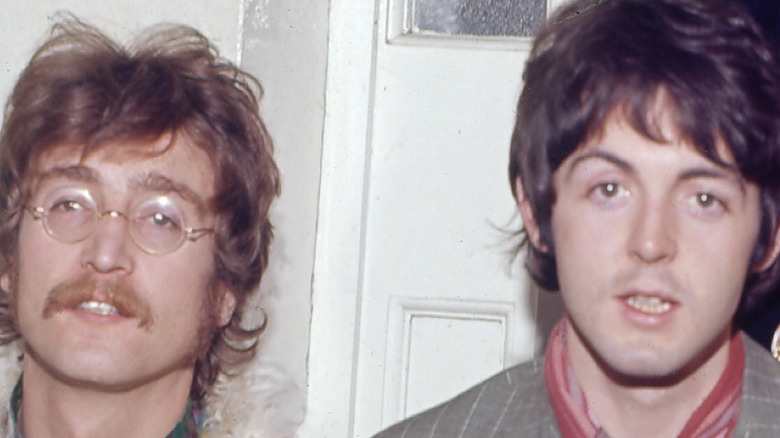 Icon And Image/Getty Images
When John Lennon was murdered outside his New York City apartment on December 8, 1980, he wasn't especially close to his former Beatles bandmates, per The Express. However, after the initial tension and hard feelings that came along with the band's breakup, they were beginning to mend fences.
According to Ultimate Classic Rock, it had been two years since he'd seen George Harrison and the last ex-Beatle to see Lennon alive was Ringo Starr, who happened to be in New York several weeks prior.
"I hadn't seen him for a while because, you know, we see each other wherever we are. And he came over with Yoko for an hour," Harrison recalled during an interview with Barbara Walters. "And we had such a great time, 'cause they stayed five hours. And it didn't matter that it was a year between we didn't see each other, it was always fine when we did – but it was a particularly great time that we, that I had, anyway."
Two days before his murder, Lennon gave his final interview with journalist Andy Peebles and opened up about what he described as the "lifelong sibling rivalry" between he and Paul McCartney (via The Express). However, the pair was in touch at the time of Lennon's murder even though they hadn't seen each other in several years. Lennon elaborated on his relationship with McCartney and it really did sound like a bond between brothers.
John's final words to Paul are now song lyrics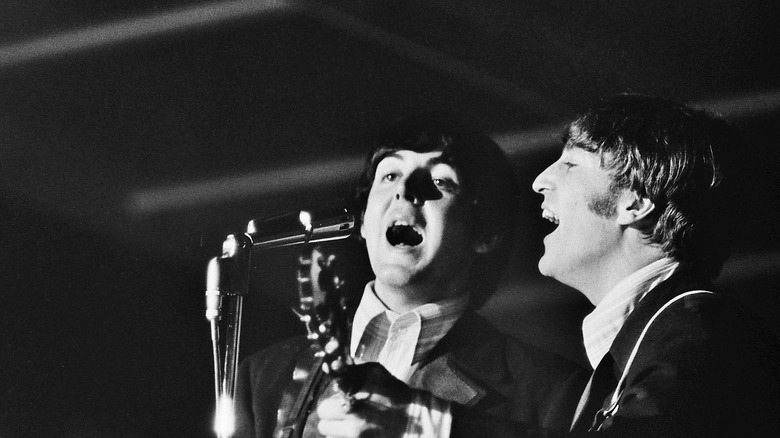 Icon And Image/Getty Images
In the '80s, UK journalist Andy Peebles interviewed John Lennon, per The Express, in which he wrote, "He explained how he loved living in New York, and how much he missed England. He told me about McCartney turning up at the Dakota and ringing the doorbell, and John not letting him up, yelling down, 'I'm baking bread and looking after the baby! If you think I'm coming out clubbing, you've gone mad!'"
As mentioned by the outlet, a grieving McCartney requested to meet with Peebles for a private conversation shortly after Lennon's death and asked for reassurance that Lennon still loved him "despite all the post-Beatles fallings-out." Peebles responded that Lennon had spoken about McCartney during the interview. "He was sarcastic, funny and irreverent but there was no doubting his fondness for you," he recalled telling McCartney. "We both became very emotional. I knew Paul well enough... I felt awful for making him cry."
Paul McCartney's wife, Linda, shared the last thing Lennon ever said to McCartney, according to Ultimate Classic Rock, and it's heartbreaking given what was to come: "Think about me every now and then, old friend."
Lennon's final words to his former bandmate and friend can be found in the song "My Old Friend," which Carl Perkins was inspired to write after meeting with McCartney several months after Lennon's tragic death. Per Ultimate Classic Rock, the lyric "Think about me every now and then, old friend" caused McCartney to leave the room in tears.