Olympian Simone Manuel's Net Worth May Surprise You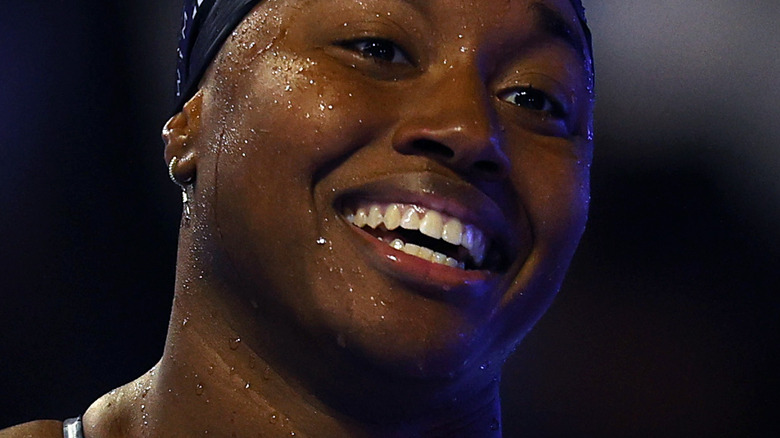 Shutterstock
Twenty-four-year-old Olympic gold-medalist Simone Manuel has made a serious name for herself as one of the best competitive swimmers in the country, known for her unbeatable sprint freestyle. As per USA Swimming, she became the first African-American woman to win an individual Olympic gold medal in swimming back in 2016, and she hasn't stopped ever since. She's won a jaw-dropping four Olympic medals, coming after back-to-back wins at her alma mater of Stanford. The Sugar Land, Texas-native is the epitome of "goals" in every aspect of her career, which she often posts about on Instagram. Winning countless 50m, 100m, and 4x100m freestyle competitions, Manuel has gone on to star in several ad campaigns, too, so it's no wonder her net worth is as stunning as it is. 
Manuel rose to fame after attending the 2016 Rio de Janeiro Olympics at just 20 years old, where she won two gold medals for the 100m freestyle and 4x100m medley relay, rounding out her victories with two silver medals to boot (via Swim Swam). Making history with her Olympic achievements, Manuel didn't stop there: she has won 10 gold medals at the FINA World Championships, winning a record-breaking seven of them in 2019. And her records started young: she broke a U.S. record for the 100-yard freestyle before graduating from Fort Bend Austin High School in 2014. With her Olympic career getting a glorious head start even before her intended college graduation, Manuel is swimming's wonderkid and we love to see it.
All about Manuel's net worth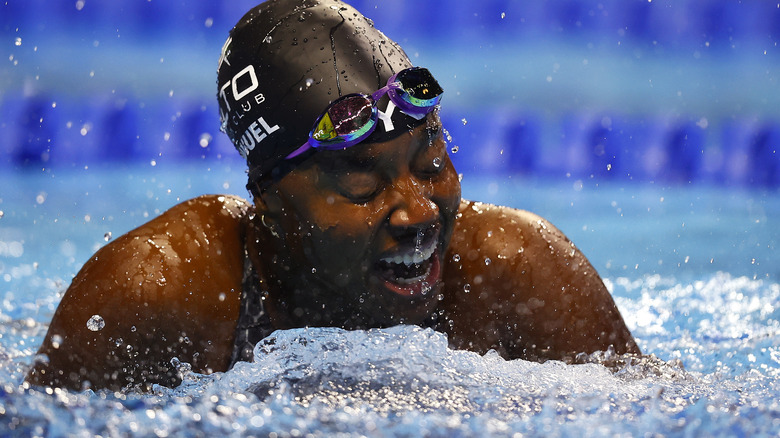 Tom Pennington/Getty Images
Simone Manuel officially went pro back in 2018, resigning from her college career and the rest of the NCAA to further her professional swimming career. Winning the sought-after Honda Cup that same year for the U.S.'s best female college athlete, it became clear the freestyle swimmer's future was bright (via Swim Swam). Since her groundbreaking 2016 Olympics experience, the Texas-born swimmer has won in the 2018 U.S. National Championships, the Pan Pacific Championships that same year in Japan, and the 2019 World Championships in South Korea, where she brought gold home for the U.S.
It's no wonder all her achievements made brands take notice of her career, which led to seriously lucrative endorsement deals (cha-ching!). She signed her first deal with swimwear brand TYR in 2018, which famously included an inclusion rider for hiring a diverse group of people to work on the collaboration (via Forbes). In short, Manuel sure is successful, but she also truly cares about making an impact on the world and her community.
The Olympic swimmer has also signed hefty brand deals with Coca-Cola, Toyota, and Nike (via The Washington Post). As per her Instagram, she is also sponsored by dermatological brand Skinceuticals and Tide detergent. With all of her megawatt corporate sponsors, and with experts predicting she will rise to superstar status at this year's Tokyo Olympics, it's no surprise Simone Manuel's net worth is impressive. At a whopping $3 million (via Celebrity Net Worth), Manuel's future has been written in the stars.