The Truth About Princess Anne's Absence From Harry's Christening At Windsor Castle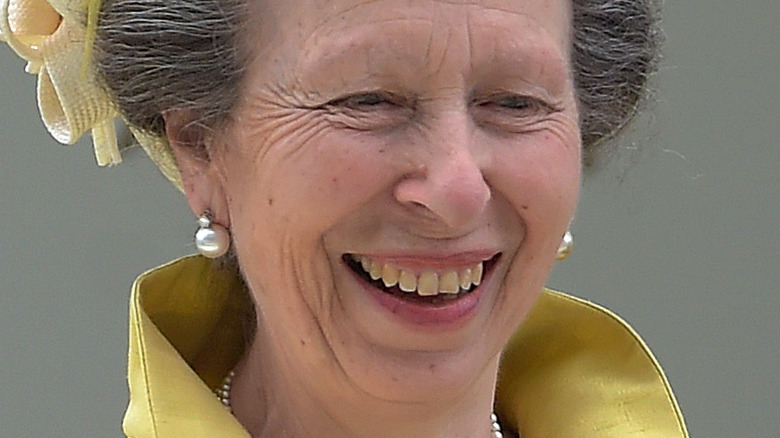 Antony Jones/Getty Images
Family relationships are never easy to navigate, and we can only imagine that these ties become even more complicated when a high-profile clan like the British royal family is involved, where every slight — real or imagined — is remembered, not only by close relatives, but by the public as a whole.
With the coming of Prince Harry and Meghan Markle's daughter Lilibet Diana, an old tale involving christenings, Prince Harry, and his aunt, Princess Anne, is being dusted off and retold, because the princess royal was not present at Harry's christening at Windsor Castle in 1984. The Mirror quoted a palace statement at the time which said that unfortunately, Princess Anne and her then-husband Mark Phillips couldn't make it and that "They will be arriving in Windsor later in the day."
Reports suggest Anne's absence was actually due to a "full-scale row" that had erupted between Anne and her brother and sister-in-law, Prince Charles and Diana, Princess of Wales. One royal correspondent from the Daily Express reported that the argument erupted because she felt slighted that she was not named Harry's godmother.
Princess Anne had a prior engagement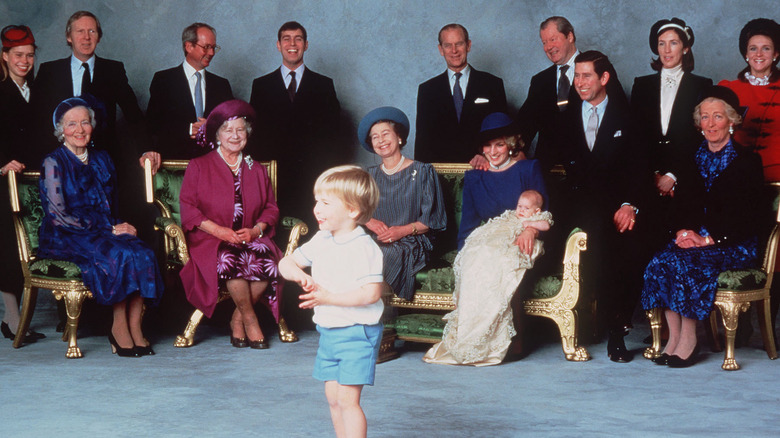 Anwar Hussein/Getty Images
When Princess Anne finally got to tell her side of the story, she did so during an interview with an Australian correspondent. She said it had been a "shame" that they had missed Prince Harry's christening, but "I was only given the choice of one day" (via the Daily Express). 
She continued, "As far as we were concerned, it was a date my husband had fixed and he was away in Australia when all this came up," adding, "It was actually one of those rare occasions when we had actually made a plan a long way in advance, which is rare with us ... We had received a lot of hospitality from people over the years and this was really one move ... We felt we couldn't really put it off."
Another royal was conspicuously absent when Harry's son, Archie Harrison, was christened decades later. His great-grandmother, the queen, had a prior engagement, and ended up sending her regrets. Town & Country pointed out then that her absence was not unprecedented, because she had missed Prince Louis' christening, too. 
Royal christenings are bound by tradition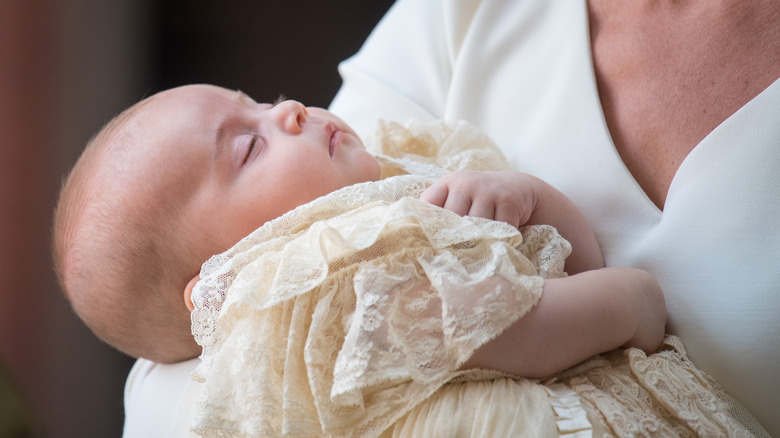 Wpa Pool/Getty Images
In order to understand why Princess Anne's absence seemed like a big deal at the time, we'd have to understand what goes into planning a royal christening itself.  
Christenings may be important affairs for families who have them, but they are more so for families who prize tradition like the British royal family. All royal babies are normally christened when they are between two and three months old. Until the son of Prince Edward and Sophie Wessex was christened, all that came before him — including his sister — wore a gown that dated back to 1841, and which was commissioned by Queen Victoria (that gown has been replaced with a copy made by Queen Elizabeth's dressmaker, Angela Kelly). All christenings make use of a silver-gilt font, and with water drawn from the River Jordan, where Jesus was said to have been baptized. And the christenings of all senior royals are conducted by the Archbishop of Canterbury (via Vogue).
And it doesn't stop there. On christening day, the saved top tier of a royal baby's parents' wedding cake is served. This is a tradition Vogue suspects did not happen at Archie's christening.
But no matter what conventions were broken at Prince Harry's christening, we cannot even begin to imagine what traditions will likely come to an end with the christening of his daughter, if such an event is even likely to take place at all.