The Truth About Alex Morgan's Marriage To Servando Carrasco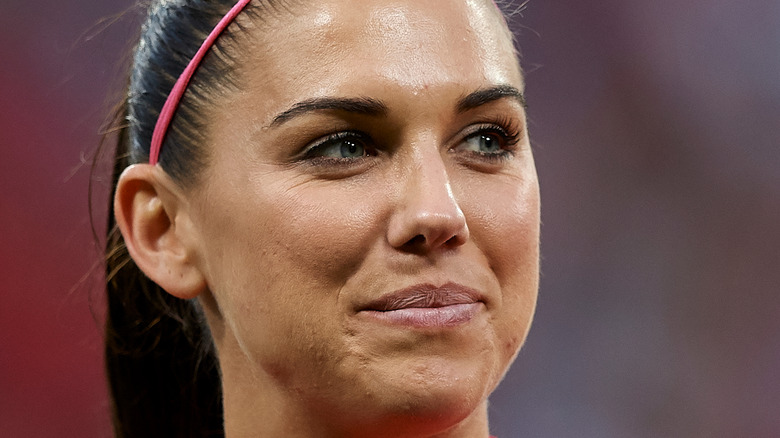 Shutterstock
Alex Morgan and Servando Carrasco are the love story that's captured the hearts of soccer fans around the world. Extremely high-caliber players on both the men's and women's side of this worldwide sport, fans can't get enough of their sweet story and growing family. In a meet-cute for the ages, the two soccer stars met back in college days, at the University of California in Berkeley (via Good Housekeeping). Carrasco was senior co-captain of the Golden Bears and Morgan was blazing trails to NCAA Tournaments.
Unfortunately, fate would try to separate this destined duo as Carrasco was drafted to the Seattle Sounders while Morgan went to the Western New York Flash in 2011, followed shortly by Morgan's trip to the World Cup in France. Fortunately, the two managed to continue making time for each other, and in 2013 after years together and Carrasco "popped the question" while they were together in Manhattan Beach, California. Says Morgan of the surprise proposal, "We rode our beach cruisers to my dad's house to celebrate and have champagne with our family and friends" (via The Knot).
Soccer royalty and so sweet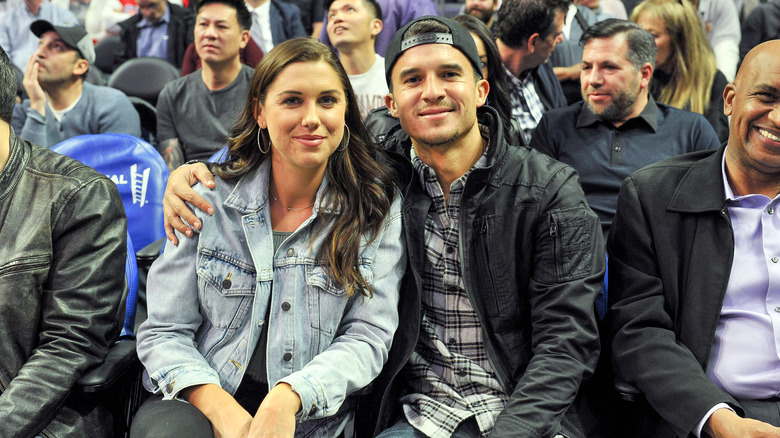 Allen Berezovsky/Getty Images
The couple married on New Year's eve in 2014. "To be surrounded by our family and friends tonight in such a beautiful location, and on New Year s Eve to boot, has just been magical," said Morgan (via People). "We are both so happy, grateful and excited to start our lives together as Mr. and Mrs. Carrasco," she added. "I truly married my best friend." And while the couple are clearly on the same team, they also — quite literally — aren't. 
These two soccer superstars have changed teams as their careers evolve, still placing them in opposites coasts or distant continents. While they are seasoned at making distance work, adding a growing family has made the time apart a bit more difficult. Shared Morgan on being away from Carrasco in 2021, "Obviously, in the last 10 years that we've been together, we've spent a lot of time away from each other, but we haven't had a baby or a daughter, and that creates a more difficult element of being apart from each other" (via People).
But clearly, these two understand the demands of the career and prioritize making their time together work.
A happy couple plus one more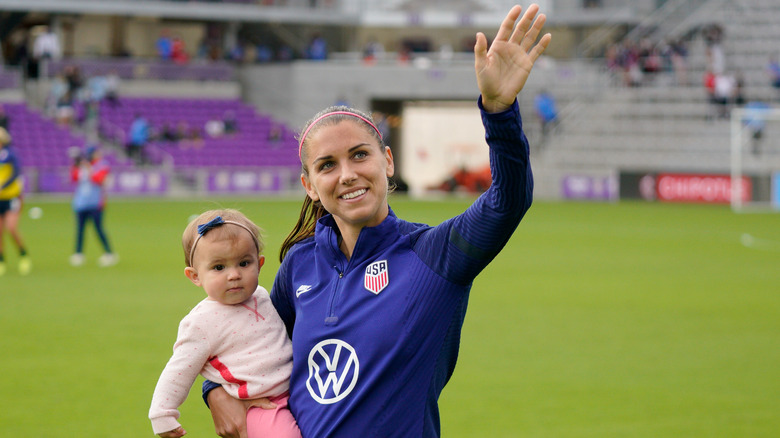 Brad Smith/isi Photos/Getty Images
Morgan and Carrasco welcomed baby girl Charlie on May 7, 2020 (via People). Sharing about the pandemic downtime that year, Morgan described how the closures at least had some plusses for this family of three. "As terrible as the pandemic is for so many businesses, for so many people, for so many families and those who lost loved ones, I feel very fortunate to be able to see the positives in this," she said. "And that is to be able to spend way more time with my family than I ever had imagined before."
And you can see the joy of this little family on Morgan's Instagram with posts of baby joining her parents everywhere from games to goofing off. Earlier this spring they shared the sweetest family photo as they prepped her 1st birthday party with the proud mom stating, "My baby girl is 1! I love watching every little moment as Charlie makes her mark in this world. My everything and more, happy birthday sweet girl" (via Instagram).