The Fragrance-Free Clean Skincare Brand You Need To Try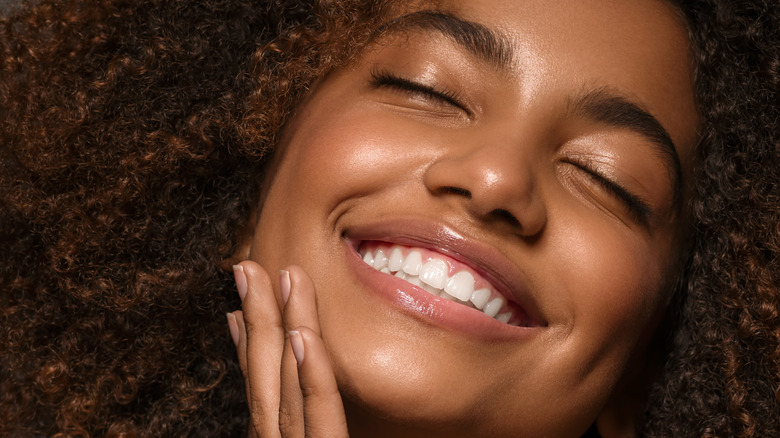 Shutterstock
If you're looking to achieve a clear complexion, and clean beauty is your goal, there are certain ingredients you should avoid. According to WhoWhatWear, one brand in particular identifies these ingredients as the "Suspicious 6" — chemical sunscreen, sodium lauryl sulfate, alcohols, essential oils, silicones, and most importantly, fragrance.
Fragrance in your skincare products could be an irritant or cause of allergic reactions for those with sensitive skin or certain skin conditions, per PopSugar. "Fragrances are known as one of the leading causes of allergic contact dermatitis (ACD) and can also cause other skin conditions such as irritant contact dermatitis, contact urticaria (hives from application of an allergen such as cinnamic aldehyde, menthol, balsam of Peru, cinnamates), photo-allergic reaction, [and] phototoxic reaction," dermatologist Melissa Kanchanapoomi Levin told PopSugar.
If you're having trouble finding a skincare brand where every single product happens to be fragrance-free, don't give up just yet. There is a certain clean brand that can fulfill all your sensitivity needs, and then some — the one and only Drunk Elephant.
Drunk Elephant's fascinating backstory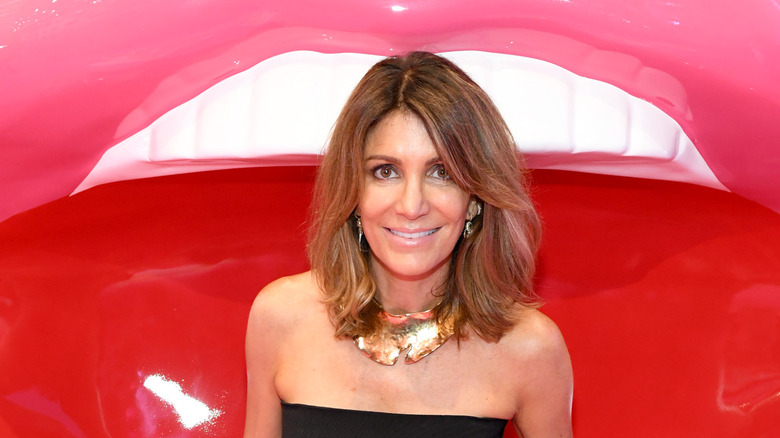 Craig Barritt/Getty Images
Drunk Elephant was founded in 2013 by Tiffany Masterson, while battling her own frustrations with sensitive skin. After finding no brand that seemed to work for her, she decided to tackle the problem from the root by identifying key problematic ingredients and isolating the most beneficial ones. "I formulated the products using a high percentage of active ingredients at skin-friendly pH levels, and I made sure that all of the ingredients were recognized by the skin and easily absorbed," she wrote on Drunk Elephant's official website.
Masterson started her career in skincare by selling a cleansing bar, and quickly decided that she wanted to branch out on her own after not being satisfied with the product. Her focus from the beginning was all about staying true to herself and meeting customer needs as opposed to making money. "I want to just still develop and have all of my ideas come from my gut instead of from other brands. I never want to stop questioning things," she said in an interview with Fashionista.
Drunk Elephant derives its quirky title from its main ingredient, Marula, after the myth that elephants become loopy, i.e "drunk", once they've consumed it.
Drunk Elephant reigns supreme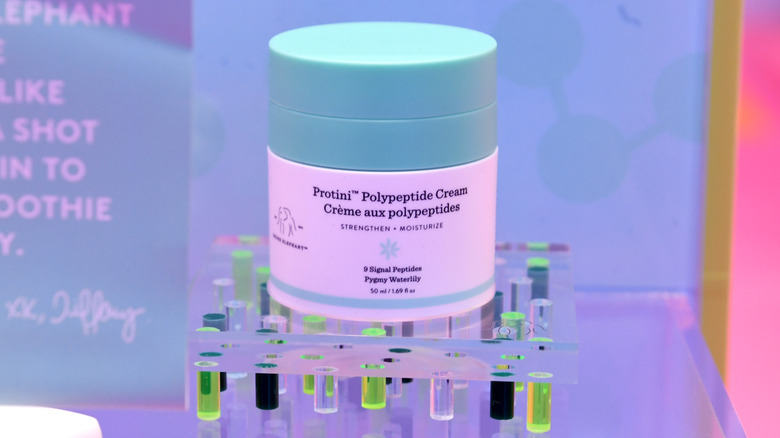 Craig Barritt/Getty Images
Don't let its whimsical name fool you — Drunk Elephant is one of the most reliable brands on the ever-evolving skincare market. Not only does this highly reviewed (via Byrdie), luxury skincare brand contain absolutely zero fragrance in any of its products, you will not be disappointed in the way Drunk Elephant makes your face look and feel.
Per Teen Vogue, sunscreen is one of the most important ingredients in your daily skincare routine, so you won't want to miss out on their Umbra Sheer™ Physical Daily Defense Sunscreen in SPF 30 (via Sephora). This hydrating sunscreen forms an essential protective layer from dangerous UVA/UVB rays, and leaves your skin with a fresh, dewy look.
One of the worst things you can do for your skin is to not take your makeup off at the end of the day (via Bustle), which is why finding the right cleanser is a top priority. Slaai™ Makeup-Melting Butter Cleanser (via Sephora) is a unique "balm" that is highly buttery and soft in texture, and gently melts your makeup off, unlike other cleansers that can strip the skin.
Overall, fragrance-free Drunk Elephant products are more than worth it if you have sensitive skin or clean beauty is your goal. Drunk Elephant can be purchased from Sephora or directly on their website (although we recommend Sephora to rack up those beauty insider points.)